Program Description: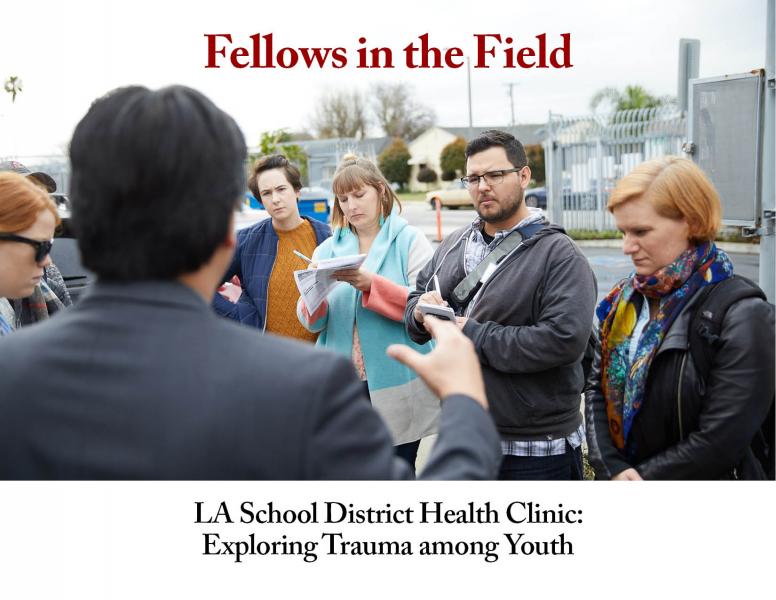 The Center for Health Journalism helps reporters advance their skills in "impact reporting," which combines powerful narratives, unassailable dataand engagement to maximize the potential for impact. The Center embraces an expansive definition of health journalism based on the core idea that our health is shaped by conditions in homes, schools and communities – as well as in health care settings.
The 2021 California Fellowship explored how neighborhood life, social inequities, systemic racism, a lack of educational opportunities and environment harms can influence health, as well as how the COVID-19 pandemic displayed in stark relief our state's longstanding race- and ethnicity-based health disparities. Taught by prize-winning journalists, community health leaders, policy analysts and health care experts, the program focused on several broad themes during a weeklong program that will be held this year via Zoom because of the pandemic:
How neighborhood, school and environmental conditions, social inequities, access to a quality education, jobs and transportation 

–

or the social determinants of health and health disparities 

–

can influence health and life outcomes
How systemic racism can shape health and health outcomes
Barriers to access to affordable and quality health care
The role of trauma and toxic stress on health 
Reporting on COVID-19 and its disproportionate toll on disadvantaged populations and communities of color 
Domestic violence as a public health issue  
Click here for a list of the 2021 California Fellows and links to their profiles and blog posts about their Fellowship projects.
Program Highlights
Former Stockton Mayor Michael Tubbs, founder of Mayors for a Guaranteed Income and a special adviser for economic mobility and opportunity to Gov. Gavin Newsom, gave the keynote talk, "Upset the Setup: The Power of Data and Narrative to Drive Social Change."  
USC Professor Manuel Pastor, PhD, director of the USC Equity Research Institute, discussed how California can build a more equitable society post-pandemic in a talk titled "No Going Back: Building a More Equitable Post-Pandemic California."
2020 National Fellows Dan Diamond of the Washington Post and Neil Bedi of Pro Publica, along with 2016 National Fellow Kathleen McGrory of the Tampa Bay Time, shared their strategies as part of a Center presentation on its  model for "Impact Reporting," led by Center Director Michelle Levander. 
An academic, a journalist and a farmworker advocate provided perspectives on Farmworker Health and the Pandemic: Sergio Aguilar-Gaxiola, MD, PhD, director of the UC Davis Center for Reducing Health Disparities; 2020 National Fellow Valeria Fernandez, freelance reporter for Radio Bilingüe and PRI's The World; and Luis Magaña, founder of Lucha Migrante Movimento.
In another session featuring a journalist and an expert, "Being a Patient While Black," one of our 2019 Impact Fund grantees, Gabrielle Horton, discussed NATAL, a podcast docuseries about having a baby while Black, in which more than a dozen Black parents tell their stories about encountering racism while giving birth. Cheryl Woods Giscombe, PhD, a professor in the School of Nursing at the University of North Carolina at Chapel Hill,  shared her research on building resiliency among Black Americans in the context of racism by the medical establishment.
Three California journalists who have covered the COVID-19 pandemic from the start discussed Reporting on the Pandemic: Challenges and Next Steps: 2016 California Fellow Leonardo Castañeda,  staff writer for the Bay Area News Group; 2009 California Fellow Victoria Colliver,  California Health Care Reporter for POLITICO; and 2015 California Fellow Soumya Karlamangla,  health care reporter for the Los Angeles Times
Moira O'Neil, PhD, vice president of research interpretation for the FrameWorks Institute,  teamed up with 2020 National Fellows Anita Hofschneider of Civil Beat and Nathan O'Neal and Colton Shone of KOB-TV to discuss Frameworks: Reporting on Community Strengths and Resilience.
Linda Villarosa, a contributing writer to The New York Times Magazine and head of the journalism program at City College New York, shareed her narrative reporting techniques for helping readers understand the impacts of health disparities on communities of color, the subject of her upcoming book.
Pulitzer Prize winner Eli Saslow of the Washington Post talked about why he switched from conventional narrative storytelling during the COVID-19 pandemic to compiling oral histories that showcase interviewees' own words.
Marissa Evans, who covers health care and communities of color in California for the Los Angeles Times gave an interactive data workshop, Telling Data Stories on the Social Determinants of Health.
Ashley Alvarado, engagement editor for Southern California Radio, and the Center's engagement editor, Danielle Fox,  teamed up for an interactive workshop on how practicing engaged journalism can strengthen storytelling.
The final day of the Fellowship ran concurrently with the first day of the Center's two-day Symposium on Domestic Violence.  Rachel Louise Snyder,  a journalist and author of "No Visible Bruises: What We Don't Know about Domestic Violence Can Kill Us," and Melissa Jeltsen,  a freelance writer, opened the symposium with a discussion of what journalists should know about domestic  violence.
Two Harvard professors, Karestan C. Koenen, PhD, and Eve Valera, MD,  discussed The Science: How Domestic Violence Trauma Affects Our Brains, Memory and Bodies. 
Three journalists who have reported extensively on domestic violence provided tips on Trauma-Informed Storytelling: Natasha Senjanovic, Pulitzer Center grantee and freelance journalist; Andrea González-Ramírez, a freelance writer; and Brandon Stahl, an investigative reporter for KARE 11 in Minneapolis.
Leigh Goodmark, JD, Marjorie Cook Professor of Law and Co-Director of the Clinical Law Program at the University of Maryland, and Mimi Kim, executive director and founder of Creative Interventions, discussed alternatives to the criminal justice system.
Each Fellow will receive a $2,000 reporting stipend to defray costs associated with substantive investigative or explanatory reporting projects that focus on the topics above. Larger grants of $2,500 to $10,000 were awarded for exceptionally ambitious reporting proposals, including those that involve newsroomwide, multi-newsroom or mainstream-ethnic media collaborations. In addition, five California Fellows will be chosen to receive specialized mentoring over six months and supplemental grants of $1,000 to $2,000 for community engagement. [Click here to learn more about our community engagement initiative, and click here for a FAQ on the engagement grants.]
Each applicant proposed a substantive reporting project that can be completed in the five months following the Fellowship week, with guidance from one of our Senior Fellows (journalists who serve as mentors). Fellows are required to attend a one-hour monthly meeting via Zoom with a Senior Fellow and other Fellows in their group. For the 2021 California Fellowship, we were most interested in projects that would:
Illuminate or expose critical community health issues. Proposals can focus on a specific health topic or delve into a confluence of circumstances and conditions that impact health in a community, including environment; social class; crime and violence; urban development; access to health resources; school discipline policies; access to healthy food, transportation or affordable and safe housing; and the role of racial, ethnic, economic or geographic disparities on health and well-being
Investigate the disproportionate impact of the COVID-19 pandemic and the associated economic problems on essential workers and their families; people of color; or specific disadvantaged populations like prisoners, foster youth, farmworkers or homeless people
Explore how systemic racism impacts health, health care or community safety and well-being
Illuminate promising innovations in preventive health and equitable health care delivery, including community-led efforts 
Explore the root causes of domestic violence and a public health approach to preventing it. 
Who Can Apply:
Our annual California Fellowship trains competitively selected professional journalists, including freelancers, from print, broadcast and online media outlets throughout California and for national correspondents with a California-focused project. Applicants can be health beat reporters or have a demonstrated reporting background in health, education, social welfare, environmental justice or child and family issues, broadly defined to include the health of communities (see more below). 
We prefer that applicants have a minimum of three years of professional experience; many have decades. Journalists writing for ethnic media are strongly encouraged to apply. Proposals for collaborative projects between mainstream and ethnic news outlets receive preference, as do projects produced for co-publication or co-broadcast in both mainstream and ethnic news outlets. Freelancers are welcome to apply. They need to have a confirmed assignment and earn the majority of their income from journalism. Applicants must be based in the United States. Students and interns are ineligible.
Why Apply?
Knowledge and Skills: During seminars and interactive workshops, participants learn from top investigative journalists and leaders in community health, health policy and social services. Workshops provide practical reporting tips, expert sources, community engagement strategies and informed policy perspectives on the circumstances that shape health or ill health in communities across California. Participants also gain insights into how to document health and demographic trends in their local communities through our "impact reporting" model. 
Financial Support and Mentoring:  California Fellows each receive a reporting stipend of $2,000 to offset the costs of ambitious investigative and explanatory journalism.  Reporting grants of $2,500 to $10,000 will be made for exceptionally ambitious reporting proposals, including those that involve newsroom-wide, multi-newsroom or mainstream-ethnic media collaborations.  Fellows also receive six months of mentoring from senior journalists as they usher their projects to completion.