Program Description: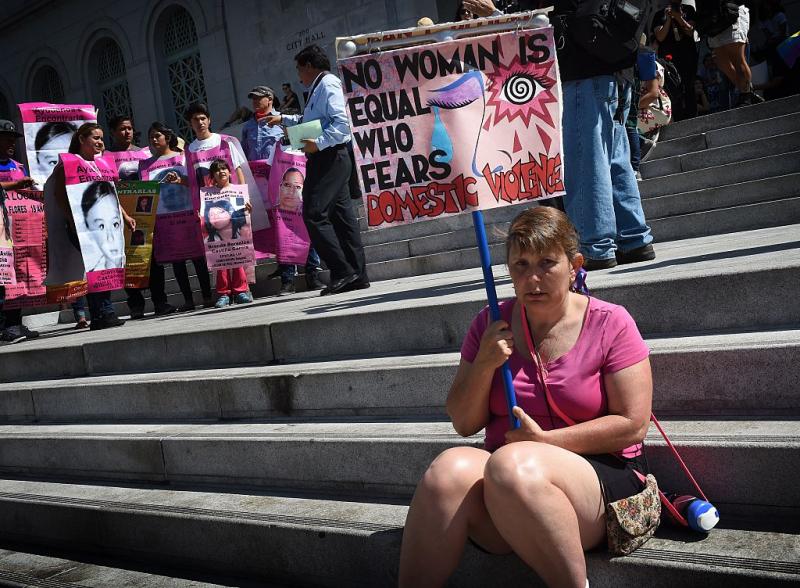 (Photo Credit: Mark Ralston/AFP via Getty Images)
Domestic violence affects tens of millions of Americans each year, according to the U.S. Centers for Disease Control and Prevention. Data from CDC's National Intimate Partner and Sexual Violence Survey (NISVS) indicate that about 1 in 4 women and nearly 1 in 10 men have experienced contact sexual violence, physical violence, and/or stalking by an intimate partner, with over 43 million women and 38 million men reporting psychological aggression by an intimate partner sometime in the past.  In California, more than half of families have been touched by domestic violence, according to a 2017 study, yet for the most part, the issue is rarely discussed in public policy circles or reported on by journalists. Media outlets mostly treat incidents as "cops" items, if they cover them at all, as opposed to treating domestic violence as a public health problem. 
Interested in deepening your reporting on these important themes?
The USC Annenberg Center for Health Journalism is hosting a two-day virtual Symposium on Domestic Violence on Zoom from 9 a.m. to 3 p.m. on consecutive Fridays, April 16 and April 23, followed by the launch of a Domestic Violence Impact Reporting Fund.  We'll talk about the role of the "twin pandemics" of COVID-19 and systemic racism on domestic violence and lasting after effects. You'll also hear from leading journalists who will share a vision for trauma-informed reporting on domestic violence. 
Program Highlights Include:
Essential Insights for Reporting on Domestic Violence, with award-winning journalist and author Rachel Louise Snyder, author of "No Visible Bruises: What We Don't Know About Domestic Violence Can Kill Us," in conversation with noted domestic violence reporter Melissa Jeltsen 
How to Attend the Symposium
The free two-day symposium is open to all journalists who have an interest in the topic, as well as community storytellers who would like to participate in the initiative. No application is required. Just register at this link by April 1. 
How to Apply for the Domestic Violence Impact Reporting Fund
The Domestic Violence Impact Reporting Fund welcomes applications for reporting grants from professional journalists, including freelancers, from print, broadcast and online media outlets throughout California and from national correspondents proposing a California-focused project. Ethnic media journalists are strongly encouraged to apply. In addition, two to three grants will be awarded to community storytelling projects proposed by non-journalists.
Attendance at all sessions of the two-day symposium is required to apply. 
Most grantees will receive a $2,000 reporting stipend to defray costs associated with substantive investigative or explanatory reporting projects that focus on the topics above. Larger grants of $2,500 to $10,000 will be awarded instead for exceptionally ambitious reporting proposals, with documented additional costs, including those that involve newsroomwide, multi-newsroom collaborations (such as print and broadcast partners), mainstream-ethnic media collaborations or news outlet/community or youth storyteller projects. We are also interested in receiving applications from journalists for projects that involve partnering with community-based organizations and their clients in first-person storytelling. The stories must involve participants in California. Click here for more details about what we're looking for in these proposals for community storytelling partnerships.
Journalists selected as Domestic Violence Impact Fund Grantees will receive five months of mentoring from a veteran journalist as they usher their reporting projects to publication or broadcast. They will also be offered the opportunity to apply for community engagement mentoring and a $1,000-$2,000 engagement grant as well. 
We seek project proposals for reporting that explores root causes of and structural contributors to domestic violence. We welcome proposals for investigative and explanatory reporting on themes including:
The effects of the pandemic on domestic violence
Systemic racism as a contributor
The role of intergenerational trauma
The effects on health and mental health
Economic and financial repercussions
Domestic violence over the life course, from the growing problem among teens to the surprising prevalence among the elderly
The intersection with child abuse
Effects on children witnessing domestic violence
The role of domestic violence in causing homelessness
The heavy toll on transgender intimate partners
Racial disparities in responses from the criminal justice and health care systems
Policy questions around resources for crisis intervention vs. prevention and early intervention
The role of firearms
The debate about batterer intervention programs
Cyber abuse
Promising prevention strategies
Promising treatment strategies for abusers
And emerging community responses
Applications for the Domestic Violence Impact Reporting Fund are Due by May 7.
Journalists who are applying for grants should have a minimum of three years of professional experience.  Freelancers are welcome to apply, but need to have a confirmed assignment and should earn the majority of their income from journalism. Applicants must be based in the United States. Students and interns are ineligible.
Before applying for a grant, we strongly encourage you to talk with us about your idea for a reporting project. Please contact Martha Shirk at CAHealth@usc.edu to arrange.  
Click here for more details about what's required in an application and a link to the online application.
This initiative is made possible by the generous support of the Blue Shield of California Foundation.