Program Description: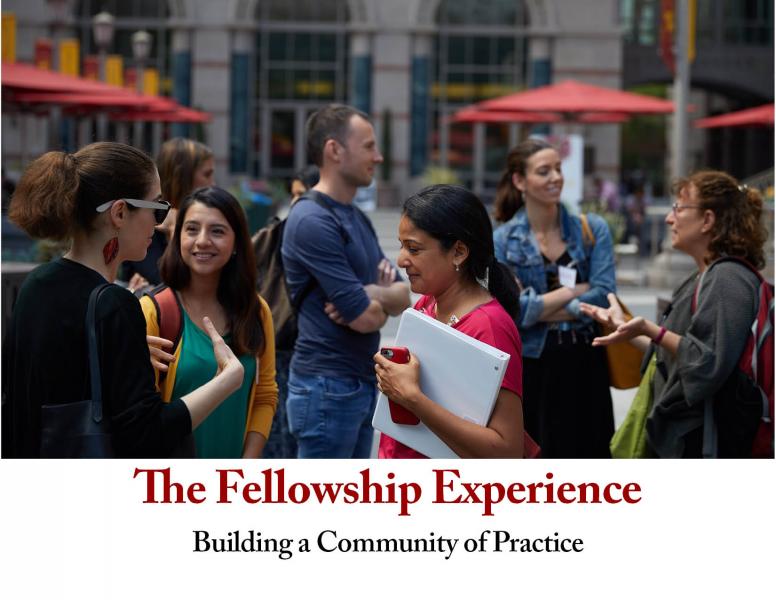 The USC Annenberg Center for Health Journalism's 2021 National Fellowship  helped journalists and their newsrooms report deeply and authoritatively on the health, welfare and well-being of children, youth, families and communities, as viewed through the lenses of COVID-19 and systemic racism.
At a time of continuing collective national trauma, the 2021 National Fellowship provided journalists a chance to step back from breaking news and take a deeper look at how the coronavirus pandemic laid bare pervasive social and economic inequities in the United States and the lasting health effects of systemic racism and exclusion. Fellow learned from nationally renowned health experts, policy analysts and community health leaders, from top journalists in the field and from each other. Participants "graduated" with a multitude of story ideas and sources and a thorough understanding of the root causes of ill health and disparities in outcomes and why the pandemic has had a disproportionate effect on people and communities of color.
Now in its 14th year, the National Fellowship annually offers five days of informative and stimulating discussions, plus reporting grants of $2,000-$10,000, engagement grants of up to $2,000 and six months of expert mentoring as Fellows work on ambitious explanatory or investigative projects.   In all its training institutes, the Center emphasizes impact journalism, solutions journalism and community engagement approaches that help journalists to make a difference.
To ensure the health of participants as the nation continues to confront COVID-19,  the National Fellowship was offered a a virtual program over Zoom. The Fellowship was held for six hours a day. In addition, Fellows were required to participate in four remote programs once a month from August through November 2021.
For our 2021 National Fellowship, the Center  solicited project proposals to investigate and to explore the racial, ethnic and geographic health disparities that are emerging each day for vulnerable children, youth and families as the pandemic proceeds; unequal access to economic relief and recovery opportunities; the performance of local, state and federal government agencies and nonprofit organizations during the crisis; how communities of color are faring differently; what risks "essential workers" continue to face; and policy options to address the longstanding weaknesses in our social safety net that have been thrown into sharp relief by this crisis and that create uneven outcomes and opportunities for our nation's families. Each Fellow had to commit to the publication or broadcast of the project by December 31, 2021.
Click here for a list of the 2021 National Fellows and links to their profiles and project descriptions.
Click 
here
 to read the hundreds of impactful stories that our Fellows have produced over the years, spurring community conversations, influencing policy and winning journalism awards along the way.
In conjunction with the National Fellowship, we administer two funds that underwrite specialized reporting on domestic health and social welfare issues and a third fund that underwrites community engagement efforts:
The Dennis A. Hunt Fund for Health Journalism is a competitive grants program that supports substantive reporting on community health issues in underserved communities. Each Hunt grantee participates in the National Fellowship and receives a $2,500 to $10,000 grant, instead of the National Fellowship's $2,000 stipend, to support reporting on a community health topic. The Hunt Fund supports investigative and explanatory projects that will broaden the public's understanding of community health – examining how poverty, race, ethnicity, pollution, crime, and land-use and urban planning decisions influence the quality of life of residents as well as innovative ways to address these disparities. Past grantees have explored themes including environmental health; chronic disease and its disproportionate toll on certain communities; access to care for diverse communities; health reform innovations and challenges; and transportation challenges that interfere with prospects for good health.  The Hunt Fund is supported by donations from The California Endowment and relatives and friends of the late Dennis Hunt, who co-founded the Center for Health Journalism.
The Fund for Journalism on Child Well-Being,  supported by the Annie E. Casey Foundation and the Robert Wood Johnson Foundation, underwrites substantive reporting on vulnerable children and families. Each grantee participates in the National Fellowship and receives a $2,500 to $10,000 grant, instead of the National Fellowship stipend, to support investigative or explanatory reporting on the impact of poverty and childhood trauma, including youth as they transition into adulthood. Reporters may also choose to examine the performance of the institutions and government and private programs that serve these families. We're interested in proposals for projects that look at child welfare and child health and well-being, including, but not limited to, the impact of toxic stress; the intersection between partner violence and child abuse; the role of policy in improving prospects for children, including those in juvenile detention; and innovative approaches to the challenges that children in underserved communities face.
The Community Engagement Fund provides supplemental grants of $2,000 to underwrite innovative community engagement strategies. Click here to read more about how we define community engagement and what we're looking for in community engagement proposals.  
Who Can Apply:
The National Fellowship is open to professional journalists who work for or contribute to print, broadcast and online media outlets throughout the United States, including freelancers. Applicants do not need to be full-time health reporters, but should have a demonstrated interest in health, social welfare or child and family issues, broadly defined to include the health of communities (see more below). 
We prefer that applicants have a minimum of three years of professional experience; many have decades. Journalists writing for ethnic media are strongly encouraged to apply. Proposals for collaborative projects between mainstream and ethnic news outlets receive preferential consideration, as do projects produced for co-publication or co-broadcast in both mainstream and ethnic news outlets. Freelancers are welcome, but need to have a confirmed assignment and should earn the majority of their income from journalism. Applicants must be based in the United States. Students and interns are ineligible. 
Each applicant must propose a substantive reporting project that can be completed in the five months following the Fellowship session. For the 2021 National Fellowship, we will consider proposals for projects that:
Investigate the disproportionate impact of COVID-19 and associated economic problems on disadvantaged populations, essential workers and communities of color
Expose critical community health issues or explore the influence of social, economic and environmental factors on health, including social class; exposure to crime and violence; urban development, transportation or city planning; barriers to health care resources; exposure to toxins; and racial, ethnic, economic or geographic disparities.
Explore child welfare, juvenile justice and child health and well-being issues, including, but not limited to, the impact of chronic stress and childhood trauma on child development; inequities in the juvenile justice system; the intersection between partner violence and child abuse; childhood obesity; the role of policy in improving prospects for children; and innovative solutions to the challenges facing children in underserved communities
Investigate threats to the health and social welfare safety nets or illuminate health care innovations and reforms that benefit disadvantaged populations.
 Why Apply?
Knowledge and Skills: During field trips and seminars, participants hear from respected investigative journalists and leaders in community health, health policy and medicine.
Workshops provide practical reporting tips, expert sources, community engagement strategies and informed policy perspectives on the circumstances that shape health or ill health in communities across America, with a focus on children. Participants also gain insights into how to document health and demographic trends in their local communities through innovative storytelling and data visualization techniques.
Financial Support and Mentoring:  National  Fellows each receive a reporting stipend of $2,000 to offset the costs of ambitious investigative and explanatory journalism or grants of $2,500 to $10,000 from our two topic-focused journalism funds. The grants are payable either directly to the Fellow or his or her media outlet. Journalism fellows also receive six months of mentoring from senior journalists as they usher their projects to completion.
How to Apply
Click here  for details about what's required in an application. Please contact Martha Shirk at CAHealth@usc.edu if you have questions about your eligibility or what we're looking for in a project proposal. We strongly encourage a conversation in advance of applying.
Highlights:
The agenda for the 2021 Fellowship is still being developed. Here are highlights of the 2020 program, which focused on the extra burden on people of color of COVID-19, as well as its effects on children, youth and families already coping with poverty, lack of educational opportunity, housing and food insecurity and trauma.
In her opening keynote, Linda Villarosa, a contributing writer to the New York Times magazine and journalism program director at City College of New York, share her reporting methods for the narratives she frequently produces about health disparities. (Read a blog post about her talk here.)
Professor David R. Williams, chairman of the Department of Behavioral and Social Sciences at Harvard T.H. Chan School of Public Health, discussed the extent of the disproportionate impact of COVID-19 on people of color and the reasons for it, which date back hundreds of years and include slavery, restrictive housing covenants and redlining and the burden of chronic diseases in populations of color. Click here to read a blog post about his presentation.
Dr. Jack Shonkoff, director of Harvard's Center on the Developing Child, discussed the growing body of research findings on child development that demonstrate that trauma during the early years can cause changes in the brain's architeture and physiology.  Click here to read a blog post about his presentation.
Native Americans living on reservations comprise the ethnic group most impacted by COVID-19. A panel of three Native Americans talked about the reasons why and what tribes are doing to prevent more cases: Dr. Mary Owen, director of the Center for American Indian and Minority Health at the University of Minnesota Medical School in Duluth; Joaqlin Estus, a reporter for Indian Country Today and former National Fellow; and Dr. Michelle Tom, a family physician at the Winslow Indian Health Center, whose patients include many Navajos from the nearby reservation.
Among the most longest-lasting effects of the pandemic will be the educational deficits that children and youth are left with after months of remote learning, a difficult task especially for children living in broadband deserts or lacking home computers. Three experts discussed their concerns in a Fellowship session that was also offered as a webinar: W. Steven Barnett, PhD, senior co-director of the National Institute of Early Learning Research at Rutgers University; Joel E. Cisneros, director of mental health for the Los Angeles Unified School District; and Tawnell D. Hobbs, national education reporter for the Wall Street Journal.  You can listen to an archive of the webinar here.
After spending months gathering information, many reporters choke up when facing the challenge of organizing the material in their notebooks into a compelling project.  2016 National Fellow Kathleen McGrory of Tampa Bay Times provided advice about how to manage a big project. Kat is adept at producing big, high-impact projects. Her most recent reported on the reasons for a rise in children's deaths at John Hopkins All Children's Hospital in Florida, which was a finalist for a 2019 Pulitzer Prize in Investigative Reporting.  
In a session moderated by Director Michelle Levander, 2016 National Fellow Wendy Ruderman of the Philadelphia Inquirer, a Pulitzer prize-winning investigative reporter,  and 2014 National Fellow Bob Ortega of CNN Investigates, an award-winning investigative journalist, shared their strategies for ensuring that their Fellowship projects had impact.
Furthering our emphasis on engaged journalism, we brought in Ashley Alvarado, director of community engagement at Southern California Public Radio (KPCC), to share tips about how to produce journalism that engages and gives back.  Ashley will serve as an engagement mentor for six months for five National Fellows who received supplemental engagement grants.
And much more!
Here's what some 2020 National Fellows had to say about the experience:
Elizabeth Hvalinka, MedPage Today: You ask, What did I learn? What didn't I learn?! I learned about whole health and how physiologic outcomes cannot be separated from the environment and the social systems in which we live. I learned it's okay to not know everything, and that we need to be humble and transparent in what we don't know in our reporting. I learned about the importance of community engagement and will carry with me some ways to continue following up on my stories to enact real change. I've learned the difference between impact and advocacy, and I feel more confident moving forward about all of these aspects in my reporting.
Jessica Bedolla, Radio Bilingue: I am thankful to the Center for this amazing experience. The program has provided me valuable tools, data, information. I feel better equipped to go back to my newsroom with a wider angle lens and report the reality of what's is going on in our communities and why the pandemic is hitting our society disproportionately. Amazing training and presentation! Honored and humble to be part of this program.
Spencer Kent, NJ Advance Media: The trove of resources and other information provided during the sessions will be an immediate asset in my reporting. But above all, what I am already applying is the questions that the sessions taught me to ask myself. Michelle Levander and Bob Ortega brought this home during their session on Friday, telling us to ask, What is the core problem? What am I trying to achieve? What are my best/worst-case scenarios? Can I involve community members in the process? What really helped me was understanding that engagement is not advocacy. I believe this limited me in the past, thinking that I wasn't allowed to engage with community members in certain ways. I came away feeling inspired, seeing all that's possible through reporting.
Alissa Zhu, Jackson, MS Clarion-Ledger: Whether we realize it or not, all journalists have become health journalists during the pandemic. It's not my normal beat, but COVID-19 and the Fellowship have opened my eyes to all the ways systemic inequalities, race and other factors shape health and healthcare in America. During the Fellowship, I got a chance to take a step back and think about all the stories we're missing in my community. It was inspiring to hear from others on how we could be better covering these important topics. One of the big takeaways for me was realizing that raising awareness is not enough. For big projects moving forward I'll be thinking about impact -- what should be changed and how do you change things? This may seem like a basic lesson, but no one has ever framed it like that to me before. I'll be taking this framework into my reporting on corrections and the criminal justice system. This has been a great opportunity and I am very thankful for the chance to participate in the fellowship. I know it will help me become a better and more critical reporter.
Pedro Rojas, Univision Network News: The Fellowship is a great tool to get up to date on developing news reports about health related topics. It is also an important network of journalists that are capable of providing in-depth resources for any news coverage. It has already opened up new areas for me to explore journalistically.  It gave me a new perspective that I can apply to our daily coverage. I am deeply grateful for the opportunity.
Dan Diamond, Politico: It was a wonderful opportunity to convene with reporters from around the country — truly, given that my Fellowship class included journalists from Alaska, Hawaii and seemingly every corner of the U.S.— and discuss some of the most pressing health issues affecting vulnerable communities. It's particularly important to step back from the daily news cycle and reflect thoughtfully on disparities that get relatively little media attention. It was wonderful to hear from data journalists and Pulitzer-honored investigative reporters about their craft. The Fellowship gave me new perspective on disparities, data and tactics that I'm looking forward to applying in the coming months as I pursue my project. The data sessions, in particular, armed me with new tools and insights on how to interpret reports about coronavirus cases and outcomes. Kaiser Health News' Liz Lucas and Wall Street Journal's Paul Overberg completely changed the way I think about making data comparisons between coronavirus outcomes. They both illustrated the power — and the fallacies — of making blunt assertions about disparities, and how easy it is to misrepresent data if it's not adjusted. I'm already looking at data stories with a much more careful eye. 
Nathan O'Neal, KOB 4, Albuquerque: The Center for Health Journalism's Fellowship program was extremely helpful and enlightening. For someone who has not had a lot of experience in covering in-depth health issues, it was a valuable crash course in learning how racial and economic disparities play into someone's health. I had a basic understanding of many health disparities at play, but the idea of the concept of toxic stress was a new one for me. That really change my perspective on how these disparities can physically manifest. The program has given me a variety of resources to pull from when reporting on health. I hope to share many of the resources with other reporters in the newsroom and offer up what we've learned through the fellowship.