Date and Time:
Monday, March 13, 2023 to Friday, March 17, 2023
Signup Deadline:
Thursday, January 26, 2023 - 11:45pm
Program Description: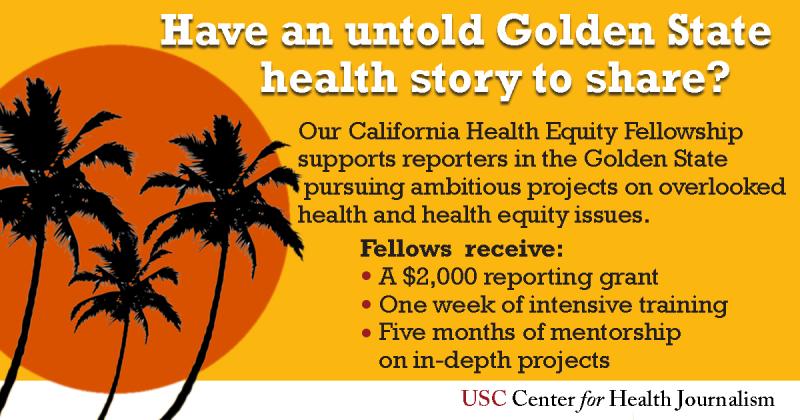 Our California Fellowship is designed to support reporters in the Golden State as they pursue ambitious, enterprising projects on overlooked health and health equity issues. You decide what stories need to be told in your community to improve health outcomes and we work to support you. 
Fellows meet in-person on the USC Annenberg campus from March 13-March 17 and then work with us through August 14, 2023.
Admitted Fellows will receive: 
A $2,000 stipend to defray reporting costs
One week of in-person intensive training
Five months of professional mentorship
Fellows also are eligible to apply for five months of professional mentorship in engaged journalism and $1,000-$2,000 to support those creative efforts.
We encourage interested journalists to reach out to us ahead of time to discuss their project idea. To set up an appointment with our outreach consultant, please fill out this quick form. 
Who can apply? 
California-based professional journalists (including freelancers and national correspondents with California-focused projects). We have accepted reporters in the past across all levels, from the smallest rural newspapers to national outlets. 
We give preference to: 
Applicants who have a minimum of three years of professional journalism experience

Reporters pursuing collaborative projects between mainstream and ethnic news outlets
A few broad reporting themes that we support: 
We embrace a broad view of health, which  doesn't just happen at doctor's offices and hospitals. Health is shaped by our environment — our schools, our neighborhoods and our communities. We strive to admit Fellows whose work reflects that. 
Systemic racism and root causes of health inequities 

Domestic violence as a public health issue

School-to-prison pipeline as a health issue

Social determinants of health 

Whether our justice system, our schools and health systems serve all Californians – and who is left out or disproportionately harmed. 

Systemic barriers to health tied to race, poverty, and economic opportunity
For inspiration, check out some of the thousands of stories our Fellows have produced. 
Click here to read our Frequently Asked Questions. Don't see your question answered there? Reach out to us directly: editor@centerforhealthjournalism.org.
Interested in applying? Click here to fill out an application:
---
This program is made possible thanks to the generous support of The California Endowment and the Blue Shield of California Foundation.