Program Description: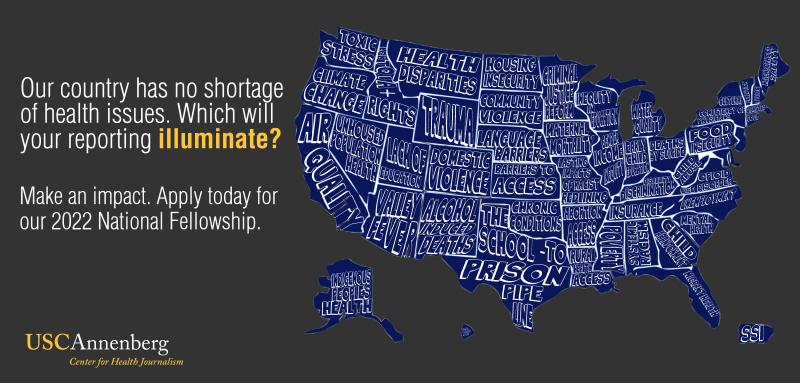 The USC Annenberg Center for Health Journalism's all-expenses-paid 2022 National Fellowship helped journalists and their newsrooms report deeply and authoritatively on the health, welfare and well-being of children, youth, families and communities.
Today, as a nation, we confront a time of continuing collective national trauma as we emerge from a historic pandemic. In this unique moment, the program provided journalists a chance to step away from breaking news to take a deep look together at pervasive social and economic inequities in the United States and the lasting health effects of systemic racism and exclusion on families and communities.
Fellows learned from nationally renowned health experts, policy analysts and community health leaders, from top journalists in the field and from each other. Participants "graduated" with a multitude of story ideas and sources and a thorough understanding of the root causes of ill health and disparities in outcomes, including why the pandemic is having a disproportionate effect on people and communities of color, the role of childhood trauma in shaping lifelong health and an exploration of environmental and community conditions that can influence how long we live and the quality of our lives.
The National Fellowship annually offers five days of informative and stimulating discussions, plus reporting grants of $2,000-$10,000, engagement grants for new community-journalism partnerships and five months of expert mentoring as Fellows work on ambitious explanatory or investigative projects. In all its training institutes, the Center emphasizes impact journalism, solutions journalism and community engagement approaches that help journalists to make a difference.
Participants in the 2022 National Fellowship were eligible to apply to one of several funds, each with its own specialized reporting focus. We solicited proposals for reporting projects that would delve into what works, including innovative approaches to the challenges that children, youth and families in underserved communities face:
The

Dennis A. Hunt Fund for Health Journalism

supported substantive reporting on community health and health equity issues in underserved communities, including how economic and neighborhood conditions, systemic racism and educational, health and social benefit opportunities impact health and well-being. 
The

Fund for Journalism on Child, Youth and Family Well-Being

underwrote substantive reporting on children, youth and families, including topics such as the impact of poverty and childhood trauma, challenges for youth as they transition into adulthood and the performance of the institutions and government and private programs that serve children, youth and families. 
The

 

Kristy Hammam Fund for Health Journalism

 

supported impactful reporting on  the mental and developmental health challenges of children and youth and the potentially lifelong effects of pandemic-related societal changes.

The National Fellowship Fund underwrote substantive reporting on health conditions in community, health access, the performance of health systems and more, all framed around a health equity lens. 
All admitted applicants were eligible to apply for The Community Engagement Fund, which provided supplemental grants to up to five admitted Fellows to underwrite innovative community engagement strategies by journalists and community partners.  Click here to read more about how we define community engagement and what we're looking for in community engagement proposals.   
2022 Application Period Closed 
Who could apply? 
U.S.-based professional journalists with a minimum of three years of professional experience

Reporters who hold full-time staff positions in newsrooms that are both large and small

Freelancers who  earn the majority of their income from journalism and have a confirmed assignment for their proposed projects
We gave preference to reporters pursuing collaborative projects between mainstream and ethnic news outlets.
Click here to read the hundreds of impactful stories that our Fellows have produced over the years, spurring community conversations, influencing policy and winning journalism awards along the way. 
The 2022 National Fellowship was made possible thanks to the Robert Wood Johnson Foundation, the Annie E. Casey Foundation, The California Endowment and the Internet Brands/WebMD Impact Fund, an initiative of the Social Impact Fund.