Fellowship Story Showcase
Part 3: Hand-Washing Station Vendors Collected Millions of Dollars in Payments From the City While Some Units Went Dry.
Portable hygiene station vendors picked up a major client just as events came to a screeching halt, when the pandemic emerged a little over a year ago. The city with the largest unhoused population in the country needed to roll out hundreds of portable hand-washing stations and toilets to dozens of encampments across the city. Not only that, they needed the units to be serviced at least once a day, indefinitely.
The job paid hundreds of thousands of dollars each month and was ultimately split between a few vendors. United Site Services (USS), the nation's leader in portable toilet rentals, delivered more than 200 hand-washing stations and the majority of the nearly 200 porta-potties. Andy Gump, a local family-owned business based in Santa Clarita, supplied around 50 hand-washing stations. Later National Construction and a few other suppliers delivered less than 15 units each, as nationwide demand for hand-washing stations reportedly grew as a result of the pandemic. None of the vendors agreed to comment on this series of stories.
The pandemic "accelerated the growth of the hand washing station industry," according to an exclusive January report from Reuters, announcing that Beverly Hills based buyout firm, Platinum Equity, put USS on the market for roughly $4 billion (about three times what they reportedly paid for the company four years ago). Overall, the industry is expected to grow by more than half a billion dollars in the next six years, according to market research cited by Reuters.
The demand for portable sinks and bathrooms was a lifeline for vendors who might not have survived the pandemic otherwise. The last recession nearly put Andy Gump out of business. "The single most difficult part of the recession is having to lay people off." The late Barry Gump told reporter Angela Melero in 2015 while reflecting on the 2008 recession. The company has been in business for more than 60 years. "We pride ourselves in having quality people. When you have to call them in and tell them that there's not enough work for them to continue, you feel like you've failed and yet it's really out of your hands."
Last year, Andy Gump Inc., received more than $2.5 million in Paycheck Protection Program (PPP) loans to help keep their nearly 200 employees on staff, pay for healthcare and rent during the pandemic.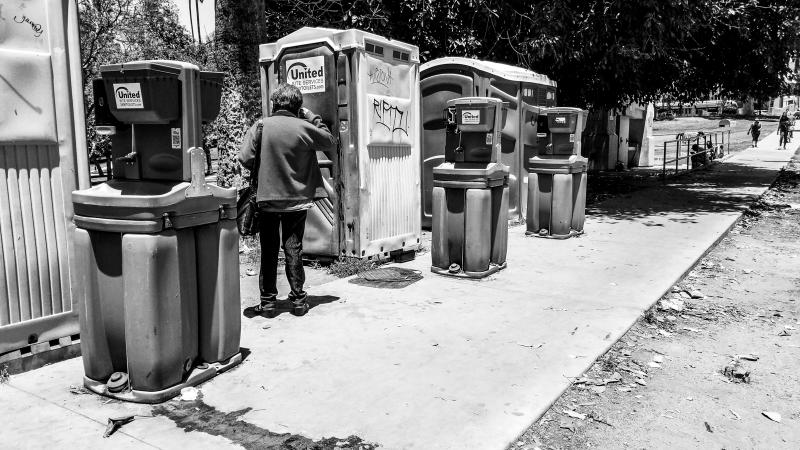 While vendors watched their market share increase and collected money from the city and federal government, an L.A. TACO analysis found that hundreds of hand-washing stations and porta-potties went days, weeks and in some cases more than a month without being serviced by vendors between April and August of last year. And since then we've continued to come across hygiene stations that are unusable. Just this past weekend we assessed four hand-washing stations and two porta-potties near MacArthur Park that were in need of service over the span of multiple days.
Despite these lapses in service, the city continues to pay vendors.
An L.A. TACO review of more than 300 pages of purchase orders from the Department of General Services shows that the city agreed to pay vendors more than $2 million to service hand-washing stations and portable toilets since March of last year. According to Brian Swanson, an analyst with the Department of General Services familiar with the contracts, and recent purchase orders reviewed by L.A. TACO, hygiene stations cost taxpayers roughly $200,000 per month currently.
The units themselves are relatively inexpensive, ranging from $9 for a hand-washing station with two faucets to $30 for an ADA compliant bathroom for most units.
Daily maintenance accounts for most of the bill. In February for example, USS charged the city more than $135,000 to supply and service roughly 350 hand-washing stations and toilets. More than 60 percent of that money went towards maintenance. 
During that same month, L.A. TACO assessed more than half a dozen hand-washing stations and porta-potties that were in need of service.
In early February we monitored a USS station at the corner of Maryland St and Alvarado St missing a soap dispenser over the course of more than a week. 
On February 15, we came across another USS hand-washing station on Coronado St on the border of Filipinotown and Echo park that had water but no soap. It was also missing a soap dispenser. Earlier this month we spoke to Angel, an unhoused resident that lives at an encampment next to the unit, which at the time was missing both of it's soap dispensers. Angel told us that it's been like that for more than a month and sometimes he has to buy his own soap to make up for it. 
In late February, we assessed a hand-washing station on Vineland Ave in North Hollywood that looked like it hadn't been cleaned in days. It had water but like the other units that we monitored, it was also missing one of it's soap dispensers. The other one was empty.
The urinal and toilet bowl in the porta-potty next to the unusable sink was completely clogged with toilet paper and waste. A half eaten hashbrown and sandwich from McDonalds rested on the sink. The soap dispenser was missing. On the other side of the freeway overpass, another hand-washing station was also without soap.
A day later, we passed by an Andy Gump unit in Koreatown on New Hampshire Ave that was completely dry.
Invoices and purchase orders from February and May from the three major vendors of hand-washing stations reviewed by L.A. TACO shows that vendors charged the city to service all of the hand-washing stations and portable toilets city-wide on a daily basis during the same time period, despite apparently failing to maintain the units consistently. According to Brian Swanson from the Department of General Services, replacing soap dispensers was included in the daily service fee for units from USS. In February, Andy Gump charged the city to replace 30 soap dispensers.
On Tuesday, Swanson told us that in the event that vendors come across broken equipment or if they're unable to service units, "the vendor would notify city staff." Swanson added that once notified, city staff works with vendors "to either get a replacement or resolve issues so service could be maintained."
According to Swanson if people are unsatisfied with the units, they can file a "formal supplier performance request." 
"At that point, an investigation would be conducted so appropriate action could be taken. This could include cancellation of the contract."
This is the third investigative article that was produced as a project for the USC Annenberg Center for Health Journalism's 2020 Data Fellowship. Read the first and second stories on L.A. TACO.
[This story was originally published by L.A. TACO.]
Did you like this story? Your support means a lot! Your tax-deductible donation will advance our mission of supporting journalism as a catalyst for change.