Fellowship Story Showcase
Released From Prison to a World Scarred by COVID
Wednesday, December 30, 2020
Four hours after a federal judge ordered his immediate release from custody, on a Tuesday afternoon in April, Euka Wadlington said goodbye to prison life.
After his public defender broke the news and arranged his discharge from FCI Greenville, a medium security federal detention center about five hours south of Chicago, she picked him up at the gate and drove him north.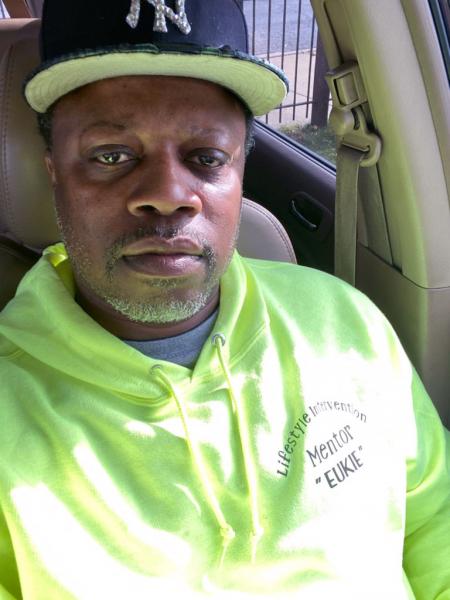 With only a few hours to make plans for life on the outside, Wadlington had reached an uncle who agreed to give him a place to stay. Instead of serving a double life sentence he would all at once begin a life of freedom, after waking up behind bars every day for 21 years.
But "freedom" now also meant dealing with the pandemic that had completely remade the world he left behind.
Two weeks earlier, in an effort to curtail the spread of COVID-19, Illinois Gov. J.B. Pritzker issued an executive order requiring residents to stay in their homes. The order also mandated the closure of all non-essential businesses, and that included the agencies and organizations which provide the services returning citizens like Wadlington need.
Life on the outside was shaping up to look a lot like the one he left in prison.
"With the coronavirus and the way things are, it's kind of like being released from one prison and put in another," Wadlington said as he waited anxiously for the Department of Motor Vehicles to reopen so that he could get an ID card.
He was of course happy to note the difference.
"But at the same time, this is a better prison than that prison that I was detained in."
From Custody to COVID
Still, other than requiring him to obey a 14-day quarantine, officials didn't offer much guidance Wadlington and others released from custody during the public health crisis about how to transition back into their communities.
Where would they go to find housing? Where would they go to find work?
Where would they go for quarantine and medical care?
The lack of adequate answers underlines the still largely untold story of the pandemic's impact on the justice system. In Illinois, the deadly threat posed by the coronavirus to individuals forced to live in close quarters with uncertain sanitation persuaded correctional institutions at state and local levels to release as many as 13,000 inmates imprisoned for nonviolent offenses from jails and prisons.
But while authorities scrambled to address the fact that correctional facilities quickly became a hot spot for infection, comparatively little attention has been paid to the challenges of successfully reintegrating into civilian life during a public health crisis.
Suspended Reentry Services
Those challenges are formidable. A Council of State Governments Justice Center survey found many reentry providers across the country reducing and suspending their services when they were most needed.
Researchers would later link people released from custody to COVID-19 outbreaks in the communities to which they returned.
"These efforts to release people from jail due to the pandemic are really forcing us to see the systemic gaps in reentry," said Ahmadou Dramé, policy director for the Safer Foundation, which for almost five decades has operated as one of the leading reentry agencies in Chicago, serving people returning from federal institutions in Illinois as well as more than two dozen state correctional facilities and transition centers.
"Our justice system was built to lock people away. The system doesn't do a good job with rehabilitation. It doesn't do a good job of teaching self-sufficiency. And it doesn't do a good job of facilitating the successful reentry of people back in society.
"And I mean it doesn't do a good job of that during normal times—when there isn't a pandemic going on."
The odds of success for returning citizens already were long before economic uncertainty and reduced reentry services added to their burdens.
"Reentry is so hard because it requires individuals that are coming home from prison or jail to do everything correctly all the time, and oftentimes they are doing it on their own," says Keesha Middlemass, a Howard University associate professor and author of "Convicted and Condemned: The Politics and Policies of Prisoner Reentry."
"But you're now coming home in the era of COVID-19."
Access to Care
Three weeks into the outbreak, when coronavirus testing was limited, Wadlington departed FCI Greenville with only a temperature check. When he got back to Chicago one of the first things he did was apply for Medicaid.
"They actually gave it to me," he says. "That's the starting point. So I do have medical insurance."
He then made his way to a doctor's office to confirm that he hadn't contracted COVID-19.
At 54, Wadlington doesn't consider his health to be the main challenge of his reentry. But he returns to the community diagnosed with hypertension, which he attributes on a daily diet of ramen noodles.
"I used to eat them like three and four packs at a time every day," he says. "As far as health care, they say I have high blood pressure. It's not real high, but it could jump because of my age."
But many of his peers who have served lengthy prison sentences experience multiple chronic illnesses, substance abuse disorders, mental health challenges and unaddressed injuries while detained in correctional facilities that require care upon returning from incarceration.
Under the Affordable Care Act's Medicaid expansion, Illinois was among the three dozen states that opened enrollment to adults with incomes below that poverty line, including people returning from incarceration.
As an instructor who helped build the reentry program at FCI Greenville, Wadlington knew what he should do if he succeeded at regaining his freedom. But not everyone does.
"We need to figure out how we pre-enroll people into Medicaid before their release from incarceration," Dramé said.
"People should be able to leave and get the care they need immediately. That's what will facilitate successful reentry. If we go a week without getting somebody the care that they need, somebody who was struggling with substance use is likely to relapse."
Dramé believes health care should be seen as a basic service for individuals returning to the community.
"Twenty to forty percent of people who are incarcerated have a mental-health substance-use type challenge that they were dealing with prior to incarceration–That's not to mention the people who are dealing with PTSD as a result of their incarceration," he said.
"Health—especially mental health—is very important during this pandemic," Wadlington agrees.
With plenty of experience encouraging and talking guys down from harming themselves while at FCI Greenville, Wadlington, in the months since returning to Chicago, has offered himself as a mentor to help his neighbors get through the uncertainty brought on by the coronavirus.
Even as the majority of people leaving prison meet Medicaid eligibility requirements, Illinois prisons leave it to them to make the connection after they exit the prison gate. Some suggest that the requirement for a physical address outside of a correctional institute prevents Illinois prisoners from applying for Medicaid prior to release.
But with a corrections population similar in size and demographics and health concerns, Illinois' neighbor has been enrolling soon-to-be released inmates in Medicaid for the past four years.
Ohio's Alternative
Starting with its women's prisons, Ohio's departments of Medicaid and Rehabilitation and Correction began enrolling individuals a few of months away from release into Medicaid and connecting those with chronic care needs to healthcare providers immediately upon exit.
"We know that housing or post-release living arrangements can be in question. We are hoping that having that health insurance ID card with the plan member-services call-in line, that they will be able to take advantage of some of those resources," said Kara Miller, Chief of Care Management and Quality Improvement at the Ohio Department of Medicaid.
In a peer-to-peer model, Ohio's Medicaid Pre-Release Enrollment Program trains incarcerated individuals to work as Medicaid guides who lead education and enrollment classes for soon-to-be released prisoners. During the class, students fill out the forms to apply for Medicaid and select a managed-care plan.
A week or two before they are released, those who will require ongoing care to manage chronic conditions participate in a videoconference with their managed care provider to discuss their transition plan. Upon release, each person receives a copy of the plan along with his or her member identification card.
As of March 2018, the initiative has made it possible for about 22,000 individuals to enroll and access Medicaid benefits on the day they walk out of prison.
Having the cost of their medical care covered allowed individuals to better manage their physical and mental health and it reduced the risk of reoffending to make ends meet, a 2018 survey of program participants observed. A majority of the survey's 661 interviewees said that Medicaid was beneficial to their physical and mental health.
"My main priority was getting back to work once I got out. [With Medicaid] My medications help, especially with my hypertension and the [stressful] nature of my work. If I don't take them I get light-headed and working where I do [with heavy machinery] could be very dangerous," a participant said.
Even so, the pandemic is taxing Ohio's efforts. In a 28-facility corrections system that also is seeing high numbers of COVID19 infections, officials in Ohio have been criticized for being slow to implement an effort to inform local health agencies when a prisoner diagnosed with COVID-19 is set to return to the community.
Moving Forward
Since his release, Wadlington has gotten his first cell phone. His attorney sent him a laptop computer. He has reconnected with his family. And after weeks of waiting for the DMV to reopen, he has gotten his state ID card.
He has been able to rely on a small community of individuals who had worked with him over the years on his prior appeals and request for clemency.
His plans include continuing work that he started mentoring incarcerated men as they planned their departure from FCI Greenville.
"In lieu of his prison having like a truly restorative reentry program, he was helping people think about how to reenter society in ways that were both beneficial to them and to society itself," said Kristin McKay, a restorative justice expert who met Wadlington while working on a 2017 clemency request and continues to help him navigate his new life on the outside.
Even as he engineers his own reentry, Wadlington plans to write a letter to FCI Greenville officials to suggest coursework it should add to its reentry program.
He realizes he is better off than many.
"I have something to work with and I have my family to pretty much help out with that right now," Wadlington said. "But everybody is not this fortunate.
"What if you have nobody once you get out. Then what do you do? Who do you talk to? How do you get help? Sometimes they go back because they don't have anybody out there."
Cassie M. Chew is a 2019 John Jay/Arnold Ventures Justice Reporting Fellow. This story was produced with support from the USC Annenberg Center for Health Journalism.
[This story was originally published by The Crime Report.]
Did you like this story? Your support means a lot! Your tax-deductible donation will advance our mission of supporting journalism as a catalyst for change.