Fellowship Story Showcase
Part 3: Utah faces criticism for its light oversight of 'troubled teen' treatment centers
Sunday, November 22, 2020
Checklist in hand, a Utah regulator walked through Red Rock Canyon School in December 2018. During his inspection, he noticed some cleaning supplies were not safely stored and that the hallway had some cracked tiles. His most serious finding was some blood on a wall in the timeout room.
But other than that, the St. George residential treatment center received good marks.
Four months later, the riot started.
Two boys were fighting in the courtyard. A staffer ordered a group of girls back to their room, calling them derogatory names. Soon, brawls between students and staff were breaking out. A girl threw rocks, another wielded a porcelain toilet tank cover. The SWAT team was called to break it up.
It would take that riot for Utah's Office of Licensing to really scrutinize the escalating problems at Red Rock. Weeks later, investigators noted that they had watched video footage, conducted interviews and read reports of "numerous accounts of mistreatment, abuse, acts of violence and overall disrespect toward residents."
The Office of Licensing issued a warning and demanded changes but didn't shut down the school — even as state investigators were continuing to document new instances of staffers harming the young people in their care. Video reviewed May 7 showed one youth being held in a chokehold by a staff member. On May 20, another teen was thrown across a room. And, on June 19, a girl was injured after being pinned down for more than 30 minutes.
The school eventually closed, but it wasn't Utah officials who shuttered it. Sequel Youth and Family Services, the large, for-profit company that owned Red Rock Canyon School, decided to close the facility voluntarily as other states, such as Oregon, pulled their foster kids from the program.
The Office of Licensing's handling of Red Rock is emblematic of how the state oversight agency performs its job. A review of thousands of pages of inspection records, incident reports, complaints and emails shows licensors are reluctant to step in when youth facilities have faced troubling accusations of rampant child abuse, such as reports of overusing medication, physical abuse and underfeeding children.
Child and disability advocates are now investigating what they see as inadequate oversight and Utah's history of lax regulation that has helped fuel the state's booming "troubled teen" industry.
In the past five years, nearly 12,000 children from all around the country have stayed at the nearly 100 facilities that dot the state. Some of those treatment centers have helped kids, but other former students have told The Salt Lake Tribune that they were tormented and abused during their stays.
Craig Blake, an attorney with Utah's Disability Law Center, sees obvious red flags. Most of the kids who come for treatment are from out of state, and their parents or guardians are unable to monitor their care. Almost all of the facilities are operated by for-profit companies, he said, so there is a financial incentive to keep youths longer than necessary and to ensure that kids aren't speaking negatively about the program to their parents or a caseworker. It's a recipe for problems, Blake said, especially if there isn't strong government oversight.
"If it takes a riot by the kids to get a location shut down," he said, "then that seems to indicate to me that there's a lot of problems out there."
Death in the wilderness
Ian August came to Utah 18 years ago for treatment at a wilderness therapy program.
The 14-year-old from Texas had set three goals in his journal on July 11, 2003: Write a poem before dinner, if at all possible. Do a day hike without falling down and crying. Go to bed very early.
Two days later, Ian was dead from hyperthermia. He had collapsed during a hike in Utah's West Desert as a heat wave broiled the state.
He was the fifth teen to die in a Utah wilderness treatment program since 1990 and the second to die that year alone
The deaths prompted state legislators to pass new oversight rules in 2005. They included background checks for staff working in youth facilities and inspection protocols. It was the first time any real oversight was put in place since the industry began growing here in the late 1960s.
Noting that troubled-teen facilities had become prolific in Utah, state Sen. Tom Hatch said in 2005 that the oversight was needed to ensure programs were safe for children, most of whom were from other states.
"Parents and guardians of these children are not readily available to drop in and check on their kids to make sure that they are getting the proper care and treatment," he said. "They expect for the dollars they are paying to keep these children in these programs, that there is going to be some oversight from the government."
That was 15 years ago. Utah lawmakers have not taken a significant look at how the industry is regulated since.
Teens are not dying in these programs with any regularity, but there are persistent reports of abuse, sexual violence and mistreatment — an indication to critics that Utah officials still aren't doing enough.
The state's Office of Licensing conducts yearly announced inspections to make sure these treatment centers are following the rules, such as having enough staff and ensuring children are being fed proper meals.
The 30-member inspection team provides oversight to more than 3,000 licensed locations, everything from treatment centers for both kids and adults to foster care facilities.
Lawyers with Utah's Disability Law Center say they're concerned that regulators are stretched too thin.
"It seems that the people who primarily monitor facilities are generally well-meaning, but it doesn't seem clear to me they have the resources to provide meaningful oversight," Blake said. "I don't think there's any reasonable likelihood it would ever uncover significant abuse or neglect, if it's occurring."
Amanda Slater, the director of the Office of Licensing, responded that her staffers operate with "the annual appropriated state budget" and said they believe they are capable of managing the workload.
"We have shifted positions and responsibilities internally to increase our investigations and program monitoring as needed," she said. "We are open to public feedback as well as legislative and executive branch expectations for operating within our resources as efficiently and effectively as possible."
What oversight looks like in Utah
Slater described their licensing role as providing "technical assistance" through yearly inspections and occasional random visits. When inspectors visit facilities, they come with a 14-page checklist that covers everything from whether the building needs repairs to mandates about placing children in timeout or seclusion rooms.
When inspectors see a problem, they check it on the list. Each violation is weighted equally.
If a problem is serious, the licensing division informs the facility in writing and asks for a response. But if it's severe enough or the facility doesn't follow through, the state can order an "agency action," a public declaration of the issues that includes required steps the facility must take to be back in compliance.
In the worst cases, the office can shut down a facility.
In the past five years, the oversight agency has revoked two licenses — one for an adoption agency and the other for an adult rehabilitation center that had an unlicensed physician prescribing drugs.
"It's very rare," Slater said of revoking a license. "It would have to be pretty severe."
These inspection reports are not easy to access, though they are public documents. If a parent, foster program or outside state agency wanted to review an inspection report, Slater said, they'd have to file a records request.
A review of five years of records requests found that it is rare for parents to seek this information. Journalists were the most frequent requesters, followed by child welfare officials from other states.
And those records aren't cheap to get. The Tribune filed a records request for inspections and incident reports for a five-year period and was originally told it would cost more than $6,000. The newspaper raised that money through a crowdfunding campaign and plans to make the documents publicly available in a database once the department redacts and releases them.
Slater said the agency's goal is to complete one scheduled inspection and one unannounced visit each year.
Megan Stokes, the director of the National Association of Therapeutic Schools and Programs, said Utah's standards are among the best, saying programs are frequently visited by regulators during these announced and unannounced visits.
But a Tribune analysis of 250 inspection reports over a four-year period shows that regulators most often are only completing the yearly, announced inspections, often during the same week each year. A visit that a facility doesn't know is coming is much rarer.
And in all of those inspections, licensors cited problems in a facility 43% of the time. Of the 109 where an issue was found, the Office of Licensing took disciplinary action five times.
"Programs are often well-prepared," Slater said, and have fixed problems before the scheduled onsite licensing visits.
Still, the records show some treatment centers have the same problems year after year with things like missing treatment plans or not having the required federal papers that document when children are admitted from other states. Slater said those facilities with continual problems are escalated to a "corrective action plan" in which patterns are noted, but that didn't appear to be happening in the documents reviewed by The Tribune.
At one facility, for instance, an inspector noted the same federal papers missing for three years. The same employee forms were also missing year after year, and, in a 2018 inspection, the girls reported that the graveyard staff had been eating their food, then telling them "there isn't any of that left." The facility was told to fix the issues each year, but no formal disciplinary action was taken.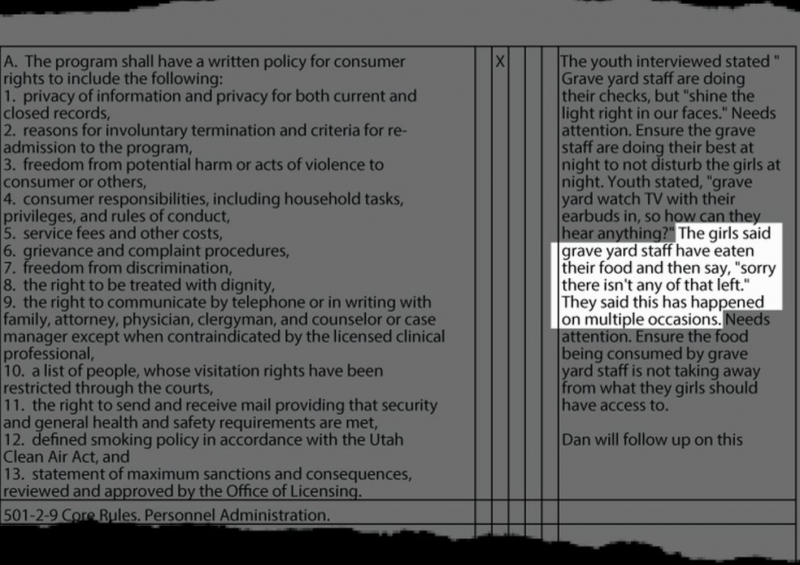 At The Tribune's request, national child welfare expert Ronald Davidson reviewed more than 4,000 pages of public records that detailed Utah's oversight efforts in recent years. Davidson was the director of the Mental Health Policy Program at the University of Illinois at Chicago's Department of Psychiatry for 20 years until he retired in 2014. He conducted hundreds of reviews of psychiatric hospitals and residential treatment centers in a dozen states for the Illinois Department of Children and Family Services and the American Civil Liberties Union as part of a federal court consent decree.
Davidson said he found the lengthy checklist used by Utah regulators to be "essentially useless" as a way of determining care, estimating that about 95% of the checkmarks were in the "compliant" column, while comment boxes were mostly left blank.
"Such a questionable methodology suggests either that: a) the state of Utah must have the nation's best-performing residential treatment centers; or that b) investigators are sleepwalking their way through on-site reviews," he wrote in his review of the records. "Option B seems the more likely explanation."
Davidson said that those few issues that were found, such as ripped van seats or a missing signature, often had little to do with whether young people were actually receiving quality care — another indication to him that the checklist system is not only flawed, but also produces a "woefully misleading sense of assurance to state officials that kids are safe from harm."
In response to questions from The Tribune, Slater said the department has been considering some changes to how inspectors do their jobs. Officials are updating their databases and processes, she said, which could include adding a "weighting system" to the checklist, so that there is a stronger emphasis on rules that have a direct impact on children and less emphasis on those that are more administrative. They also are considering a move to multiple, unannounced visits, she said, so regulators can get a more complete picture of what's happening at youth facilities.
Davidson also noted that some facilities where high-profile problems have been made public, like Red Rock Canyon School, performed well during inspections.
"It strikes me," he wrote, "that the more important issue is the chronic failure of this important state agency to conduct effective oversight in any meaningful — that is to say, predictive — manner that might preemptively identify troubled facilities before they cause harm to children."
He said that Utah officials should be using trained clinicians, psychologists and social workers who understand how to examine treatment plans and can assess quality of care.
"Otherwise, they're simply relying upon inadequate monitoring procedures that are of no operational value," he said, "meaning that kids will continue to be at risk of harm on their watch."
'Now you know how bad it is'
Less than two months before the riot at Red Rock Canyon School, the Office of Licensing received a long email, written in bold, from a former staffer.
Phillip Mokate, who said he was fired after complaining to Sequel about the conditions at Red Rock, wrote that the youths weren't being fed properly, and were being threatened by staff and called names. There weren't enough staff members working, he wrote, and some of the teachers were verbally abusive and didn't teach the kids like they were supposed to.
"My duty as an employee, by state law, is to report," he wrote, adding that he had the evidence to prove the alleged abuse.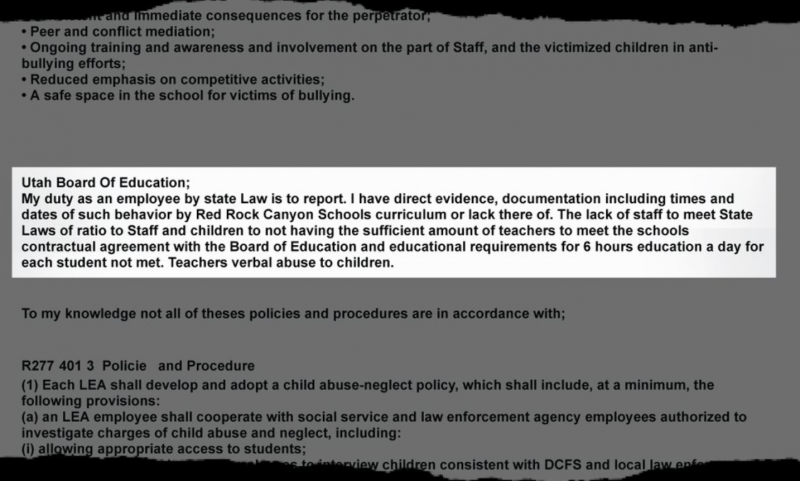 Mokate told The Tribune he had one promising conversation with a Department of Human Services investigator, but communication quickly ceased.
"That conversation was over and I never heard back from her again," he said. "Then there was the riots and the shut down. Which is exactly what should have happened."
Records show the Office of Licensing did conduct an investigation after Mokate's complaint, but closed it less than a month later without taking action.
"Although it seems that there have been problems recently with regards to staffing and behavior of staff, it appears that this has been rectified by the program already," an investigator wrote. "Program has also responded appropriately to previous incidents of staff mistreating clients by dismissing staff in some cases. They have also been proactive and have added to their surveillance system to eliminate blind spots. Unable to substantiate that any of the concerns expressed are current issues."
Six weeks later, about 50 police officers, some outfitted in SWAT vests and AR-15s, raced to the school to get the riot under control. In police reports, the officers describe a chaotic scene of teens fighting one another, altercations between kids and staff and some boys breaking windows and pulling down blinds.
Body camera footage shows the officers yelling at the students to lay down on the ground. Dozens were put in handcuffs.
"This place should be shut down," one girl can be heard saying. "Now you know how bad it is."
Another girl cried in frustration after an officer wouldn't listen to her.
"I'm trying to talk, but nobody cares," she said. "I want to go home. I don't want to be here anymore."
After the riot, state licensors found nearly a dozen violations and threatened to close the school if significant changes weren't made.
Emails exchanged in mid-2019 between the Office of Licensing's director and the vice president of operations of Sequel Youth and Family Services expressed little urgency about the safety of the kids who were at the facility.
Instead, the government agency and the private company were working together on a media strategy, or as Sequel executive Ryan Santi wrote, a "joint and collaborative statement that could be released together when the timing is right."
Though their emails described a "communications plan" and "collaboration," Slater, with the Office of Licensing, insisted that the effort was to make sure the "entities would speak for themselves and maintain their roles."
Those emails also showed that Sequel was initially planning to appeal the Office of Licensing's action and had hired a law firm. One of the attorneys it hired was state Sen. Todd Weiler, R-Woods Cross.
Weiler insists his position as a part-time legislator didn't influence the outcome.
"I am 100% positive that it did not affect it at all," he said. "Because I don't operate that way and the state was very clear what was going to be required."
Weiler said he was involved in a handful of discussions, but it was primarily another lawyer who had worked with Red Rock in the past who handled the case.
"There was a state senator in Oregon who had been pushing against Utah and Red Rock facilities," Weiler said, "and [Sequel] kind of wanted to know my perspective."
He would not elaborate on what he told Sequel executives, saying that was private under attorney-client privilege.
When asked his opinion on Utah's troubled-teen industry and its regulations, Weiler said: "It's great that parents have some options when they have troubled youth."
Blake, with Utah's Disability Law Center, said his organization is still in the early stages of its investigation and plans to draft a report identifying shortfalls in oversight.
He said it's already clear there are alarming issues, including reports from former students who spoke of being drugged for acting out or put into seclusion, actions that would violate state rules.
The attorney said he's concerned that if Utah regulators don't have enough resources to regularly do more than a yearly review announced ahead of time, they are only seeing what a business wants them to — not what actually is happening.
In recent months, former students of troubled-teen facilities have been outspoken about the abuse they say they suffered at facilities in Utah and elsewhere. They have held rallies here and in Missouri, demanding that certain treatment centers be shut down.
Blake said that with a movement that size, people should be listening to what they are saying. "Treatment should not leave a community of survivors."
This article was produced as a project for the Data Fellowship, a program of the USC Annenberg Center for Health Journalism.
[This article was originally published by The Salt Lake Tribune].