Coronavirus Files: Vax mandates take off and mask requirements return

Since April 2020, the Center for Health Journalism has been publishing a special newsletter geared to journalists as they report on one of the biggest and most complex stories of our times. Each Monday, while the pandemic runs its course, The Coronavirus Files will provide tips and resources and highlight exemplary work to help you with your coverage. This week, The Center for Health Journalism's Coronavirus Files Monday newsletter is curated and reported by science writer Amber Dance, PhD. Have a suggestion or a request? Write us at editor@centerforhealthjournalism.org.
Pandemic aid programs that slashed poverty are ending
The number of poor Americans will drop by almost half between 2018 and 2021, according to the an analysis by the 
Urban Institute
 — a huge change for such a short time period. That's thanks to several pandemic-era aid programs, particularly stimulus checks, extra food stamps and more unemployment insurance, reports Jason DeParle at 
The New York Times
. Poverty was reduced across many geographic regions, age groups and races and ethnicities, but the biggest change happened among Black and Latino populations.
The trend may reverse quickly as pandemic programs draw to a close over the next couple of months. Millions of Americans will be losing pandemic benefits, as 
CNN
 details, "And there's less appetite among the Biden administration and lawmakers, including many Democrats, to extend them again." The outcomes of such programs, along with the significant costs — more than $1 trillion — is fueling debate about the social safety net going forward. "Progressives said the new numbers vindicated their contention that poverty levels reflected political choices and government programs could reduce economic need," writes DeParle. "Conservatives say that pandemic-era spending is unsustainable and would harm the poor in the long run."
Vaccine mandates take off
California state workers, New York City teachers, 
Washington Post reporters
, Facebook and Google employees, 
San Francisco barflies
 — all these and more will now be required to show proof of vaccination (or, in some cases, a recent negative COVID test). Last Monday, a coalition of 
56 health care groups
 released a statement recommending vaccine mandates in health care settings, and the U.S. Department of Justice announced that 
vaccine requirements are legal
, even if the vaccines are still under emergency authorization. The same day, the Department of Veterans Affairs became the
first federal agency
 to require vaccination in its health care workers. By Thursday, Biden had announced a new set of rules for as unvaccinated government employees, including masking, distancing and weekly testing. "Administration officials emphasize that their plan does not require workers to receive the vaccine but aims to make life more difficult for those who are unvaccinated to encourage them to comply," reports 
AP
.
This wave of requirements intensifies the battle against the coronavirus, writes Dan Diamond at 
The Washington Post
. "You can call it a tipping point," California Health and Human Services Secretary Dr. Mark Ghaly told him. "As we stare down schools opening up in just a matter of a couple of weeks, as we look at the projections with delta, we felt now is the right time." Officials such as 
New York City Mayor Bill de Blasio
 expressed hope that the private sector will follow their example. According to the 
Kaiser Family Foundation Vaccine Monitor
, about 6% of people say they would get a vaccine only if required.
Breakthrough cases can transmit virus
Breakthrough cases in which a vaccinated person gets sick are getting plenty of attention in the news media — perhaps too much, writes Jon Allsop for the 
Columbia Journalism Review
: "Such infections are neither common nor unexpected, and they almost always involve mild or asymptomatic illness; by hyping isolated cases, the argument goes, the press risks inducing undue worry among the vaccinated and undue skepticism among the unvaccinated."
While breakthroughs are reportedly rare, just how rare is impossible to know — the CDC stopped tracking mild or asymptomatic breakthrough cases in May, before the 
extremely transmissible
 delta variant took hold in the U.S. (Breakthrough infections that result in hospitalization or death have occurred at a rate of about one in 25,000 people, according to the 
latest CDC data
.) Breakthrough infections happen very rarely for diseases such as mumps because vaccination is so widespread, explains Jen Christensen at 
CNN
, but with just 
half of Americans fully vaccinated
 against COVID-19, there's no herd immunity to buffer vaccinated people from exposure.
The latest science suggests the risk of breakthrough infections rises incrementally with every passing week since vaccination. Last Wednesday, Pfizer 
posted six-month data
 for its vaccine. Protection against severe disease stayed about 97% over time, but efficacy against symptomatic infections slowly dropped, to about 84% by four to six months after vaccination. That level of protection remains very good (last fall, the FDA would have been happy with a vaccine that gave 
just 50% protection
), and experts told 
The New York Times
 it's no reason to rush to booster shots.
But breakthroughs can have serious consequences. "Fully immunized people with so-called breakthrough infections of the delta variant may spread the virus to others just as easily as unvaccinated people, the Centers for Disease Control and Prevention said in a report published on Friday," writes Apoorva Mandavilli at 
The New York Times
. And a small study out of Israel, 
published last Wednesday
, found that seven out of 1,497 vaccinated health care workers (about half a percent) developed COVID-19 symptoms that lasted for at least six weeks. More research is needed, cautions Rob Stein at 
NPR
: "It could be a false alarm, the symptoms could be much rarer, or they could resolve far more quickly than the months of symptoms that typically plague those suffering from long COVID."
CDC flips on mask recommendations
Nearly three months after the CDC said fully vaccinated people don't need to wear their face masks, the agency has once again changed its tune, urging everyone to mask up in areas that have "high" or "substantial" transmission — designations that apply to much of the nation's South, Midwest, and West.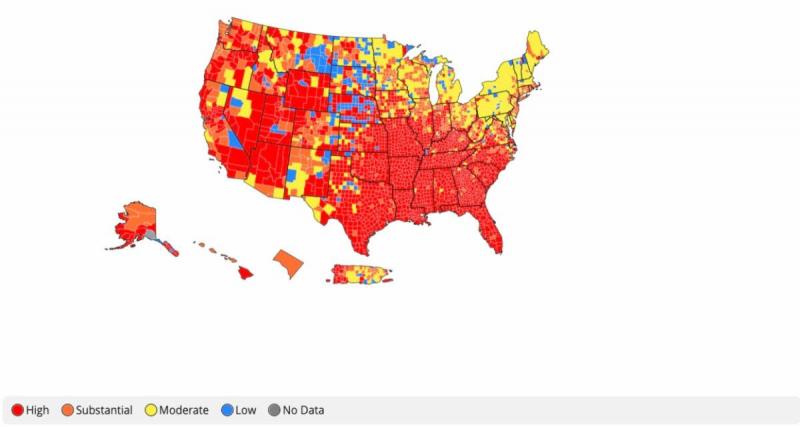 The agency also now urges universal masking at schools and recommends that vaccinated people who have been exposed to someone with COVID-19 should get tested. "Tuesday's policy switch underscores the extent to which the Biden administration is increasingly worried about the highly transmissible delta variant infecting the unvaccinated population across the country," reports Politico, and also reflects newfound concerns that breakthrough infections in vaccinated individuals could spread the virus. A Cape Cod Fourth of July outbreak, where vaccinated individuals made up three-quarters of cases, was also influential at the CDC, writes Molly Walker at MedPage Today.
Long COVID can count for disability aid
The Biden administration announced last week that some people dealing with the lingering symptoms of long COVID can be eligible for Social Security Disability Insurance. The announcement acknowledges that brain fog, fatigue, and the myriad other long COVID symptoms may interfere with work and education. "These conditions can sometimes, sometimes rise to the level of disability," Biden said at a White House event. New documents from the Departments of Justice, Labor, and Health and Human Services should guide accommodations such as extra time to take a test, or assistance with pumping gas, writes Chelsea Cirruzzo at U.S. News & World Report. But the disability system may not be ready to handle a large influx, reports Abigail Adams at Time: "Even if just a fraction of those long-haulers or their families apply for disability insurance, it could overwhelm the system."
Where do we go from here?
Cases rates are have reached over 70,000 per day — about where the spring surge peaked — and could again hit winter surge levels of 200,000 by September, according to 
former CDC director Dr. Tom Frieden
. Based on the higher transmission rate of the delta variant, herd immunity would likely require a 
80% to 85%
 of people to have immunity — a figure that seems like a distant mirage. Only 
57% of people
 have had even one shot, though people naturally infected with COVID-19, 
more than 120 million
 by one CDC estimate, also contribute to herd numbers. About 15% of the population is under 12 and not yet eligible for vaccination, and authorization of vaccines for kids may also be slowed by the 
FDA's request this week
 that Pfizer and Moderna expand the number of 5- to 11-year-olds in their ongoing trials to strengthen safety data on rare side effects.
The U.S. often looks to the highly vaccinated nations of Israel and the U.K., which delta hit earlier than it did the States, for hints at our future. But in this case, the crystal ball is murky. Cases are 
rising in Israel
, prompting the country to reinstate restrictions on large events. But the U.K., which 
scared experts
 by reopening on July 19 amid high infection rates, has seen a baffling downturn in cases in the last week. Possible causes include school holidays, reduced testing, or warm weather, but it's too early to know for sure, writes Ian Sample in 
The Guardian
.
From the Center for Health Journalism
2021 Data Fellowship
The 2021 Center for Health Journalism Data Fellowship (Oct. 25–29) is designed for skilled journalists who want to learn how to mine data sources to reveal key insights essential to high-impact journalism. Fellows receive five days of intensive training on data acquisition, cleaning, analysis and visualization, as well as an introduction to important data sets that can serve as the basis for groundbreaking journalism. Fellows receive a 
$2,000
 grant plus six months of guidance from our expert data journalism mentors. 
Application deadline: September 1
.
8/18 Webinar: State Laws Take Aim at Transgender Youth
More than 100 anti-transgender rights bills were introduced in state legislatures this year. Many focus on children and teens. Join us for our next Health Matters webinar, where we'll explore the health and well-being of transgender youth as states such as Arkansas and Tennessee seek to limit their rights. Our expert panel will share the latest research, seed story ideas and offer reporting advice. 11 a.m. PT. 
Sign up here.
What we're reading
"What history tells us about the delta variant — and the variants that will follow," by John M. Barry, 

The Washington Post

"I wish I could be angry with the unvaccinated. Being Black makes that complicated," by Erika D. Smith, 

Los Angeles Times

"How Tokyo Olympics COVID-19 countermeasures may be falling short," by Alice Park, 

Time

"One year later, America's mask supply chain is still vulnerable," by Shira Stein,