Coronavirus Files: Masks requirements fall and women head back to work
Have a suggestion or a request? Write us at editor@centerforhealthjournalism.org.
CDC loosens mask rules for health care settings
The latest guidance from the CDC no longer universally recommends masking in hospitals and nursing homes, "a major departure from the agency's previous recommendation," writes Nathaniel Weixel at The Hill.
Specifically, health care facilities in regions not experiencing CDC-defined "high" levels of COVID-19 community transmission have the option to drop the mask requirement.
Currently, more than 60% of the nation remains at high transmission levels, so the option to remove masks in these facilities only applies in the remaining 37% of the country where transmission is deemed low, moderate or substantial.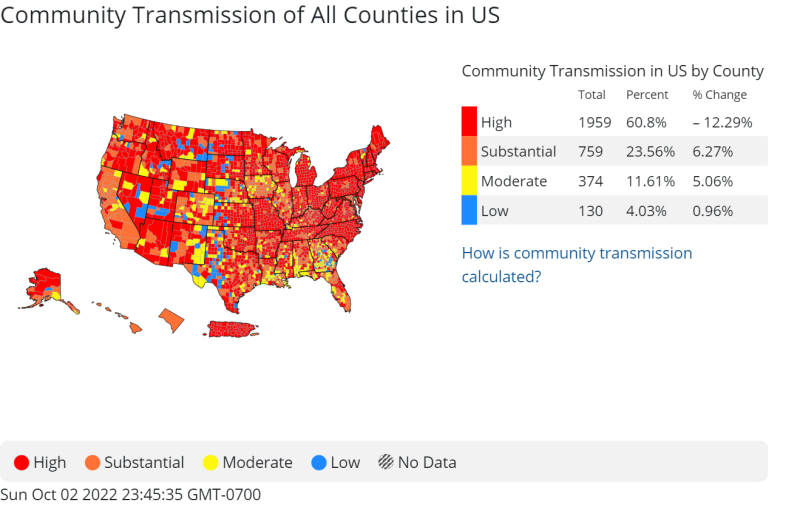 Some commentators, such as the National Center for Assisted Living, celebrated the change. "After more than two years, residents will get to see more of their caregivers' smiling faces, and our dedicated staff will get a moment to breathe," said Holly Harmon, senior vice president for the organization, in a statement.  
Others were disappointed. "That means that places with substantial transmission can unmask sick patients who haven't yet been tested for COVID, right next to the elderly, chemo patients, people with pulmonary disorders, and pregnant women?" tweeted Dr. Megan Ranney, an emergency physician at Brown University. "My kid could identify the flaws with this plan."
Many hospitals and their employees weren't happy, reports Kristina Fiore at MedPage Today. Hospital leaders from California and New York told her they'd stick to stricter state recommendations that require universal masking.
The change could make it harder for vulnerable seniors to safely visit health care facilities or even reside in nursing homes, writes Melody Schreiber at The Guardian.
She notes that more than 40% of nursing home residents and staffers are not up to date on their COVID vaccines.
Women return to employment
More than 2 million women left the workforce during the pandemic — some laid off, others caring for children doing remote school or sick relatives. Now, many are going back to work, reports Scott Horsley at NPR.
"The pandemic did not do permanent damage to women's attachment to the labor force," said Betsey Stevenson, an economist at the University of Michigan.
As of August, there were more than 49 million working women, up a smidge from December 2019, shortly before the pandemic began.
The dwindling pandemic is probably one big reason for the jump in numbers, but another could be inflation.
Returning to work isn't necessarily easy; the hospitality and health care industries haven't fully recovered, and child care is less available than before the pandemic.
And even if women's employment is back up, there may be long-term consequences to the pandemic break so many took. "People who drop out of the labor force miss out on pay increases and promotions that come from long-term relationships with an employer," Northeastern University public policy expert Alicia Sasser Modestino noted in The Washington Post in 2020.
Omicron boosters see slow uptake
At least 7.6 million people have received the updated, omicron-specific COVID booster so far.
According to Reuters, that's about 3.5% of the eligible population — people 12 or older who've completed the primary vaccine series — and the pace has been slower than in previous vaccine drives.
Dr. Scott Roberts, an infectious disease expert at Yale Medicine, told NBC News' Aria Bendix the uptake so far is "demoralizing."
But this is just the beginning of the push for the new boosters, designed to counter the omicron BA.4 and BA.5 variants. There are several reasons people might delay. Some are probably waiting because they've recently had COVID-19. Others are holding off on vaccination until the holidays get closer, so they can maximize their protection before seasonal gatherings.
And there's still plenty of confusion in the public health messaging, writes Robin Fields at ProPublica. Notably, well-respected vaccine expert Dr. Paul Offit, of Children's Hospital of Philadelphia, has said the new shots won't make much difference in preventing severe disease.
The new boosters were approved without completion of human trials, but some early data is starting to trickle out, as epidemiologist Katelyn Jetelina notes in her newsletter.
In one preprint, researchers report that vaccination with a booster targeting an earlier omicron variant, BA.1, resulted in production of new antibodies specific to that variant's spike protein. This suggests that the first version of the coronavirus a person meets, either from a vaccine or infection, won't necessarily dominate the body's immune response forever — a phenomenon known as "original antigenic sin" The immune system can still learn new versions of the virus.
In another preprint, scientists examined people who experienced a breakthrough omicron BA.4/BA.5 infection, using that infection as a proxy for boosting. Those people created antibodies that were effective against four different omicron lineages, suggesting the new boosters will likely offer protection even if variants other than BA.4/BA.5 circulate later in fall or winter.
Children younger than 12 remain ineligible for the new omicron booster, but that is expected to change in coming weeks, reports Naomi Thomas at CNN. Both Pfizer and Moderna have requested emergency authorization of kid-sized boosters, for ages 5 and 6 and up, respectively, from the FDA.
For children as young as 6 months, Moderna expects to apply later in 2022; Pfizer has begun a clinical trial for young kids.
COVID linked to diabetes, heart and brain conditions
COVID's consequences don't always end with a negative test. New studies continue to find lingering effects in diverse parts of the body.
"The virus is not always as benign as some people think it is," Dr. Ziyad-Al-Aly of the Washington University School of Medicine told MedPage Today's Judy George.
His study of more than 154,000 veterans who'd had COVID, published in Nature Medicine, found that the risk for brain and neurological disorders was 42% higher than in people who didn't get COVID.
Common problems included seizures, stroke, and memory issues.
Even younger individuals, or those whose initial bout with COVID was mild, could be affected.
Another Nature Medicine study found worrying signs in the hearts of people who had mild COVID. In the study's 346 post-COVID patients, many of whom were already experiencing lingering symptoms such as chest pain, the virus seemed to create low levels of ongoing heart inflammation.
This persistent inflammation could predispose people to heart failure, the authors write.
Other research points to a possible link between COVID and Type 1 diabetes in children.
Researchers reporting in JAMA Network Open plumbed more than 1 million pediatric health records from 15 countries. They found the risk of a diabetes diagnosis after COVID infection was approximately double compared to other respiratory infections.
However, the authors of a study in Scotland, published in Diabetes Care, suggest that the rise in diabetes during the pandemic was not caused by the virus itself. A Norwegian study, presented at the European Association for the Study of Diabetes Annual Meeting, in September, also failed to find a clear cause-and-effect relationship.
"Though there are a number of credible reasons why COVID-19 might lead to development of Type 1 diabetes, this remains in no way proven," said Dr. Jamie Hartmann-Boyce of the University of Oxford in commentary provided by the Science Media Centre.
Al-Aly criticized the lack of government planning for ongoing consequences of COVID in a university press statement.
"Given the colossal scale of the pandemic, meeting these challenges requires urgent and coordinated — but, so far, absent — global, national and regional response strategies," he said.
From the Center for Health Journalism
From COVID to Monkeypox — A conversation with Dr. Anthony Fauci
The nation's top infectious disease specialist will join us for a conversation with national health reporter Dan Diamond of The Washington Post. We'll talk about the evolving threat posed by monkeypox, the current state of the COVID pandemic, and broader lessons on how we respond to emerging diseases.
Oct. 4, 11–11:45 a.m. PT. Sign-up here!
What we're reading
Events & Resources