On the 25th anniversary of anti-immigrant Prop 187, a journalist recalls her own U.S. arrival
Image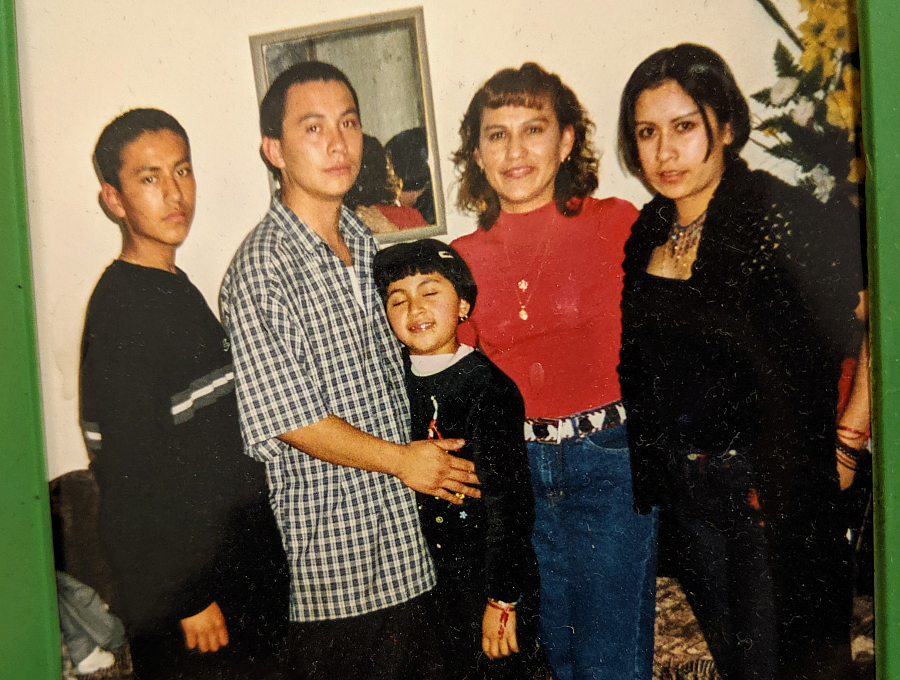 (Photo courtesy Jacqueline Garcia)
Published on
November 8, 2019
Ed. Note: Jacqueline Garcia is a former California Fellow with the USC Center for Health Journalism and a reporter in our "Uncovered California" collaborative journalism project. We asked her to share her Prop 187 reflections. Have a story to share? Contact us at editor@centerforhealthjournalism.org
It was June 1995 when I arrived in the United States from Puebla, Mexico as an undocumented child. I was 12 years old and my excitement to reunite with my mother and my three siblings didn't allow me to think about the fact that I was undocumented, or that there was a battle over undocumented immigrants in California at that moment.
Less than a year earlier, Proposition 187 had passed in California, garnering the support of 59% of voters. The law, had it not been stayed by federal courts, would have further marginalized undocumented immigrants, including children, by denying them access to education, medical and other public services.
On October 16, 1994, less than a month before the vote, there was a massive march against Proposition 187 in downtown Los Angeles. However, while thousands of people were marching, many others like my mother could only peek through the window while working their jobs.
"We could hear the chanting and screams of people," recalled my mother. At the time she worked on one of the old buildings in downtown LA, which are now expensive condos but used to be clothing factories.
My mother said she didn't understand what was going on. She had heard about Gov. Pete Wilson and the rhetoric against immigrants, but she couldn't grasp the intensity of the conflict due to her lack of political knowledge.
She just remembers 'el coreano' (the Korean), as the workers called their boss, locked the building and told all the workers to hide inside because 'la migra,' or immigration authorities, would take them.
All the seamstresses followed instructions.
Years later, my mother came to understand that it was a march in favor of immigrants. But in 1994 she was busy working six days a week and barely had time to watch TV.
Now I'm a reporter at La Opinión, the Spanish-language daily of Los Angeles, and have a chance to tell the stories of today's immigration challenges. During my reporting on Proposition 187, I have since heard stories of many immigrants who were in the same situation as my family. Immigrants were trying to handle two or three jobs at the same time, or working during the day and going to school at night to learn English. Many of them didn't really understand there was an anti-immigrant group from Orange County pushing a plan to get rid of them.
"This process of using immigrants as a cheap disposable labor force has a long cyclical history in the United States," Alfredo Carlos, a professor who teaches Chicano Studies and Political Science at Cal State Long Beach, recently told me.
In the late 1920s and early 1930s, hundreds of thousands of Mexicans, including U.S. citizens of Mexican descendent, were deported during the Mexican repatriation. In the 1950s and 60s, more than one million Mexicans were deported under "Operation Wetback." In the 1980s, the Reagan administration approved additional funds for immigration agents and border patrol.
"It is part of an economic system. When we need cheap labor we bring immigrants to work, but when we have a crisis we blame them for it," Carlos said.
Proposition 187 is born
In the 1994 election, voters faced a big decision: reelect the Republican governor Pete Wilson or elect Democrat Kathleen Brown.
Wilson was behind by 23 points in the polls and California's economy was faltering. He realized that harnessing anti-immigrant sentiment could help his re-election campaign, said Dr. Manuel Pastor, director of the USC Program for Environmental and Regional Equity, who has written extensively on immigration topics.
"(Wilson) was really motivated politically because one of the reasons why he was so far behind is because the economy was doing very badly in the early 1990s in California, while the rest of the country had come out of recession," added Pastor.
In California, immigrants were blamed for contributing to the economic crisis, and anti-immigrant radio and TV ads started attracting more and more attention.
"I'm suing to force the federal government to control the border and I'm working to deny state services to illegal immigrants. Enough is enough," Wilson said in one of his TV campaign ads.
By instilling fear in voters and casting Wilson as the savior of the Golden State, his campaign successfully generated a groundswell of voters who didn't hesitate to vote in favor of 187 and reelect him as governor.
Life after Proposition 187
In the months after the November 1994 election, many immigrants were afraid of taking their children to school or the clinic due to the passage of the new law. But many others who had just arrived to the U.S. like me were unaware that the law or preceding debate even existed.
By that point, Proposition 187 was tied up in federal court after lawsuits by the Mexican American Legal Defense and Educational Fund and the ACLU argued the law was unconstitutional.
Meanwhile, my mother, siblings and I were really excited about being reunited again. In 1991, my mother arrived in California as an undocumented immigrant fleeing extreme poverty and domestic violence. I was 8 years old when she left my brothers and me with my grandmother.
Three years later, my two brothers — ages 10 and 12 — arrived in L.A. but I had to stay in Mexico, since my grandmother feared the journey north wasn't safe for me. But I missed my family so much that the following year I was allowed to join the rest of my family in L.A. too.
By the time I arrived my mother had remarried and we had a 1-year old sister. We lived in a very small apartment in South Central LA. I remember getting very excited going to the 99 Cents store, where my mother would buy us coloring books and crayons. Sometimes we'd get Tampico juice and cinnamon cookies. Although we were very low-income — both my mother and stepfather worked in clothing factories — our family never applied for any government help. My mother strongly refused, fearing 'la migra' would find us if we did.
A few weeks after my arrival in the country, I was enrolled in school and I had to get my vaccines. My mother took me to a local clinic. She did the same for my brothers a year before when they were enrolled in school. We don't remember encountering any opposition from nurses or doctors then.
Now I understand the work of sanctuary clinics that truly serve the community, not withstanding a patient's immigration status, as I reported in one of my recent stories.
After obtaining the required vaccines in August 1995, I started school at John Adams Middle School in South Central. My biggest fear wasn't being undocumented — I didn't understand what that meant. My biggest fear was not knowing a single word of English. It was a different country, a different language and a different culture.
Once I started my first class I felt more comfortable, since I was placed in English as a second language (ESL) classes where I would learn that lots of my classmates had arrived in the U.S. around the same time as me. Some were documented, others undocumented, but none of us could speak English.
With time, I assimilated. I learned the language, embraced the culture, pledged allegiance to the U.S. flag and enjoyed visiting theme parks and museums to learn more of my American history.
California is now considered one of the most progressive and pro-immigrant states in the country. We are a sanctuary state, and we provide driver's licenses to undocumented immigrants. The state recently expanded Medicaid to low-income immigrants under the age of 26, and there are endless possibilities for higher education, trade careers or any other job for hardworking immigrants.
In 2012, I became one of more than 700,000 undocumented youth who qualified for the Deferred Action for Childhood Arrivals (DACA). As President Barack Obama stated in his speech when DACA was announced, we are Americans in every single way, except on paper.
DACA opened many doors for me, including the opportunity to work as a reporter, buy a new car and buy my first home with my husband. I gladly pay taxes, and I have proven that I'm a successful immigrant in this country, regardless of how I arrived here.
In 2017 I became a legal resident and a year from now I will be eligible to apply for my U.S. citizenship. I will gladly cast my ballot on every election. I will do it for all those immigrants who can't vote. But above all I will do it for my mother, the original and most brave dreamer of my family.
**