California becomes first state to extend Medicaid to undocumented older adults
Image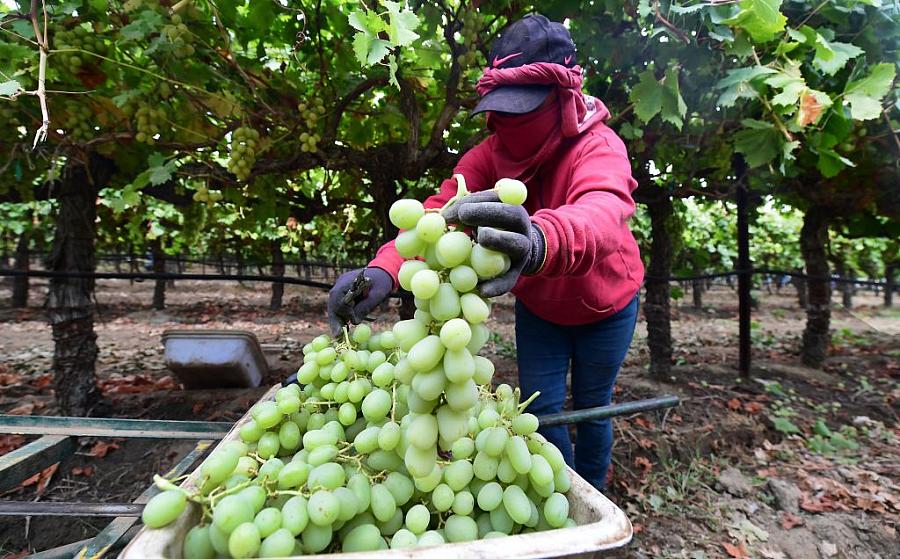 Photo by Frederic J. Brown/AFP via Getty Images
Published on
November 9, 2021
Isabel was a young single mother of three when she migrated to California from Mexico for the first time. "I worked picking cucumber, cilantro, zucchini and in my free time I would collect cans and cardboard to sell to make ends meet," she recently recalled.
She is 77 now and has memory problems after a COVID-19 infection earlier this year. But she vividly remembers the arduous farm conditions she endured for decades — crouching in fields, working through extreme heat and cold, ignoring her body aches and exhaustion while racing to pick as much as possible because she was paid by the piece, not by the hour.
"Now that I'm old I can see the results of that hard labor," she said. "My hands and legs hurt a lot, I'm losing my sight, I'm losing my hair and my teeth."
Isabel, who asked not to reveal her last name because she is undocumented, has not sought medical care for her pain, vision loss, memory lapses or even for a recent fall that forced her to stay in bed for a few weeks. 
"I didn't go to the doctor," she said. "My body hurts but I can't afford it." 
California has taken a big step toward expanding health care access for some of the most vulnerable residents, becoming the first state to authorize comprehensive Medicaid benefits for low-income adults ages 50 and older, regardless of immigration status. About 235,000 immigrants will become eligible for coverage of preventive care and treatment. The law, signed by Gov. Gavin Newsom last July, is slated to take effect next spring. 
Currently, low-income undocumented immigrants ages 26 and older are eligible only for coverage in a medical emergency.
State Sen. Maria Elena Durazo, a co-author of the bill expanding Medi-Cal, as the state's Medicaid program is called, said the new law was initially scheduled to take effect in January but because of a fortunate windfall in the state budget, implementation will take longer. Newsom originally offered to approve Medi-Cal for undocumented adults ages 60 and older.
"That was the deal, but then we saw the surplus of $75.7 billion and we went back to the governor and lowered the age to 50 and over," said Durazo. "So in the process of all those negotiations, it got moved from January to May 2022."
The state has authorized $66.5 million for the expansion in fiscal year 2021-2022, according to a Senate analysis. Funding will grow to $1.3 billion when the expansion for undocumented seniors is fully implemented. 
Overcoming fears about public aid
Although implementation is months away, the California Immigrant Policy Center (CIPC) has already joined local officials and health care organizations in doing outreach to encourage immigrants to enroll. 
A key challenge is overcoming fears about the Trump-era "public charge" rule, which directed federal immigration authorities to refuse green cards and visas to applicants likely to receive public aid in the future. President Biden rescinded that rule, but it continues to cast a shadow in immigrant communities.
"It requires a lot of work from everybody, community, family members, public agencies, to tell people 'Hey the public charge rule is not in effect anymore. It's OK to sign up for these benefits,'" said Ivan Barragán, health and public benefits policy coordinator at CIPC.
COVID-19 has made it challenging to reach out to communities and educate them about the new benefits. 
"Due to the COVID-19 pandemic, we have performed mostly digital outreach over the last 18 months," said Marcy Chavez, business operations director at ChapCare, a health care center in the San Gabriel Valley. "But we intend to scale up our in-person outreach in the near future as communities continue to reopen."
Immigrants who are covered by emergency Medi-Cal will automatically be rolled into the full-scope program, without the need for additional steps, said Durazo. Meanwhile, undocumented immigrants who are eligible should sign up for emergency Medi-Cal because it will facilitate their enrollment in the full program next spring, she added.
You don't have to wait for a medical catastrophe to apply for emergency Medi-Cal, according to Chavez. "There is no need for an emergent situation to arise and it is actually better for a person to have emergency Medi-Cal in advance to avoid any delay in coverage," she said. 
Durazo, said that when she took office in 2018, she sought to continue the work started by former State Sen. Ricardo Lara.
Lara co-authored the Health for All Kids Act, which was signed into law in 2015. It provided full Medi-Cal coverage for low-income undocumented children from birth through age 19. 
In 2019, the Young Adult Expansion act extended eligibility through age 25.
About 200,000 unauthorized immigrant children and young adults are covered by Medi-Cal, according to the Department of Health Care Services. 
After these two groups gained benefits, Durazo started advocating for the elderly. The new law was passed as the pandemic compounded the health needs of immigrant families, whose jobs and living conditions put them at higher risk for COVID exposure.
Isabel, the former farmworker, said she supported her children through work and never asked for government help, but she hopes to take advantage of the Medi-Cal expansion. She believes it will be a small return for her decades of hard work in the fields, without benefits.