Is California doing enough to keep mobile home park residents safe?
Image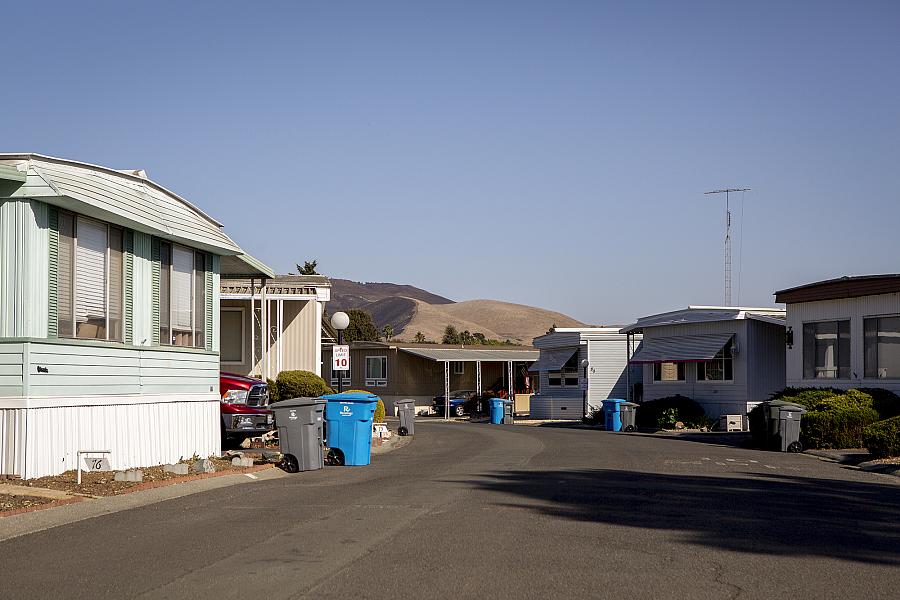 (Photo by Anne Wernikoff for CalMatters)
Published on
October 19, 2022
In California, where housing prices are driving low-income people out of the state, mobile home parks remain some of the last oases of affordable housing.
But affordability can come at the expense of healthy and safe living conditions.
The state's housing department is tasked with monitoring the majority of mobile home parks in California, which are home to more than 1.5 million people. It's supposed to intercept major threats to residents' health and safety, like sewage leaks, fire hazards and construction without a permit. But like many other oversight bodies, it's stretched thin.
The department had 48 field inspectors last year, tasked with inspecting thousands of parks throughout the state, among other responsibilities. That left numerous "healthy and safety inspections incomplete," according to a legislative budget document in which the department requested three more inspectors, whose positions were funded in this year's budget.
The state auditor in a 2020 report found that between 2010 and 2019, the state failed to fully inspect more than half of its active parks — yet met its statutory goal of performing inspections at 5% of parks annually. While it did go out to inspect specific complaints at a good portion of parks, its inspectors did not step foot in 330 parks, representing 5,700 mobile homes, in a decade.
The consequence? "Long gaps between inspectors' visits to a park increase the risk that health and safety violations remain undetected and unreported," then-State Auditor Elaine Howle wrote.
"Mobile home parks don't get a lot of attention, and they are one of the only places you can have affordable housing," said Mariah Thompson, a staff attorney at California Rural Legal Assistance. "They're also places where people are tremendously vulnerable."
But what exactly are the consequences of lax oversight for the health and safety of mobile home park residents? That's what I am setting out to investigate, with help from the Center for Health Journalism at USC Annenberg.
My reporting for the 2022 Data Fellowship will provide a much-needed follow-up to the state auditor's report to find out whether the state is fulfilling its responsibilities to some of its most vulnerable residents.
I plan to analyze data on complaints and inspections from the state to document the most common issues plaguing California's mobile home parks, and whether those issues are being fixed in time. I also plan to examine which parks are falling by the wayside, and why.
But data can only ever tell a portion of the story, and no one knows more about the conditions of the state's mobile home parks than the people who call them home. In order to fold residents into my reporting, and in turn deliver news they can use, I will use engagement journalism techniques to survey residents about their experiences with inspections and complaints. Did inspections, for example, lead to better outcomes, or precipitate evictions? Do residents feel safe filing complaints, and do they know how to go about it?
I hope my reporting can shine a light on the issues that might stand in the way.