California's massive new experiment will change how vulnerable patients get care. Will it work?
Image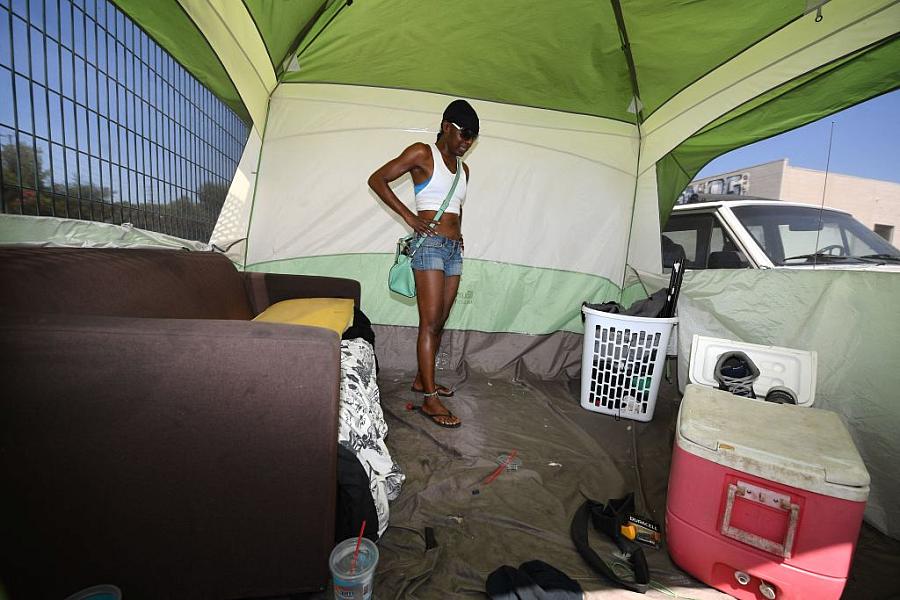 (Photo by Robyn Beck/AFP via Getty Images)
Published on
April 25, 2022
California is embarking on a potentially transformative shift in the way it delivers health care, using its Medicaid program to help meet the social needs of many of its most vulnerable residents.
Under the CalAIM initiative, $6 billion will be spent over the next five years to address the social forces shaping health, in such unique ways as paying for housing, cleaning up asthma triggers in the home, and helping people transition out of incarceration. 
"I would argue, and my reporting shows, this is the biggest transformation any state is undertaking on health care right now," Kaiser Health News senior California correspondent Angela Hart told the 2022 California Fellowship this week via Zoom.
For the architects of the program, known officially as California Advancing and Innovating Medi-Cal, it's the culmination of years of research showing that social factors, often beyond people's control, can have a much bigger impact on their health than the quality of their medical care.
"It's really critical to make sure you're not just focusing on medical services but social services that allow someone to focus on their health," state Medicaid Director Jacey Cooper told the fellows Thursday.
She gave as an example a homeless person who goes to the emergency room to be treated for a wound. Where do they go for follow-up care if they don't have insurance or a primary care provider? Probably back to the ER, sooner or later.
"We take for granted that we have a home to transition to and heal in and recover in," Cooper said.
Research has found that so-called super-utilizers, who often get treated for complex, chronic medical conditions in expensive inpatient and ER settings, make up only 5% of the population but account for half of total health care spending. Keeping these patients well enough to stay out of the hospital is one of the aims of CalAIM.
Through the "whole person" approach, these particularly needy patients will get much more intensive case management, coordinating their care and basic needs to put them on a path to a healthy life. To do so, the program will go far beyond what health benefits typically cover.
For instance, when it comes to eligible individuals struggling to stay housed, the state will pay their security deposit and first month's rent, and even negotiate with landlords in the event of an eviction or a mental health crisis.
For people with asthma, health workers will inspect their homes and identify triggers, like mold, cleaning products, or pesticides being sprayed nearby. The state will pay for new air filters, or to replace moldy carpeting or mattresses.
CalAIM also funds stays at "sobering centers" for individuals trying to overcome addiction, in-home care for elderly Californians to keep them out of nursing homes, healthy food delivery to people with preventable chronic health conditions like diabetes and heart disease — and even air conditioners.
"It's a massive undertaking, a many-tentacled octopus that touches so many different areas, even different departments within the California Health and Human Services Agency," said Richard Figueroa, a deputy cabinet secretary in Gov. Gavin Newsom's office.
Governments have tried similar initiatives in other places, such as New York and Camden, New Jersey, to varying degrees of success. "We found we just couldn't help people with housing as quickly as they needed help," Kathleen Noonan, CEO of the Camden Coalition of Healthcare Providers, told Hart in her KHN overview story on CalAIM. "Many of these clients have bad credit, they may have a record, and they're still using. Those are huge challenges."
Some observers wonder if California has the infrastructure in place to pull this massive effort off. The availability of services will also differ dramatically between counties and even between ZIP codes, depending on the health plan and range of services covering a given area, Hart said. The patchwork effect will likely be huge, at least at first.
Cooper, the state's Medicaid director, said overhauling a system as large and sprawling as California's, won't happen overnight. "The plans are seeing that the importance of these services will ultimately not only reduce their costs, but improve health outcomes," she said. "But it's going to take time, even though they launched (the program Jan. 1), there's still a lot of work to do."
She said early whole-person care pilot projects at the county level have been effective in reducing ER visits and inpatient stays, connecting people with primary care providers, and improving outcomes for blood pressure and chronic disease.    
With programs like this, the outreach workers are themselves often ex-offenders or in recovery from addiction. "There are a lot of stories to tell about those individuals who have made that change," said Scott Coffin, CEO of the Alameda Alliance for Health, a Medicaid managed-care plan serving Alameda County.
Eric Barrera is one of these people. He used to be homeless and addicted to meth. He turned his life around and is now helping people get out of the same situation he found himself in years ago.
A peer navigator with the "street medicine" group Healthcare in Action, Barrera said a big issue nowadays is the cheap meth that's flooding the streets and decimating the unhoused population. But resources are out there.
"Sometimes I feel like some journalists might get the wrong impression that there's a lack of services, that there's a shortage of beds," he said. "And sometimes that's true, but it doesn't last. I haven't had one patient who was motivated to get into a treatment program or a bed that we haven't been able to get in there. I would like to shine a light on the programs that are available. They are difficult to navigate, but it's not impossible."
CalAIM will also work to help incarcerated Californians transition back into society by providing them with Medi-Cal coverage and reentry services up to 90 days before they're released from prison.
Prisoners are unhealthier than the general population, with higher rates of chronic diseases, mental illness, and substance misuse disorders, said Dr. Shira Shavit, a professor at the UC San Francisco School of Medicine and executive director of the Transitions Clinic Network for people returning from incarceration. While behind bars, her patients are used to having other people meet their medical needs (bringing them medication, for instance), often leaving them unprepared for life on the outside.
"What's interesting is that when people leave the system they actually get sicker," she said Thursday. "And many studies have shown that people's chronic medical conditions worsen. HIV and substance use worsen. They're more likely to be hospitalized, and they're more likely to die."
Her organization's model has reduced ER utilization, preventable hospitalizations and parole and probation violations, she said, the kind of successes CalAIM hopes to replicate.
Hart, of KHN, said this is an "accountability story" because reporters can find any one of the tens of thousands of Californains enrolled in the program right now and ask if it's working for them.
She said the original CalAIM proposal is recommended reading, calling it  "thick and wonky" but also like a "good novel." She read it over brunch a few weekends in a row, she said.
"This is a reporter's dream," Hart said. "There are so many stories going on."
**