Can overdose prevention centers help ease San Francisco's fatal drug crisis?
Image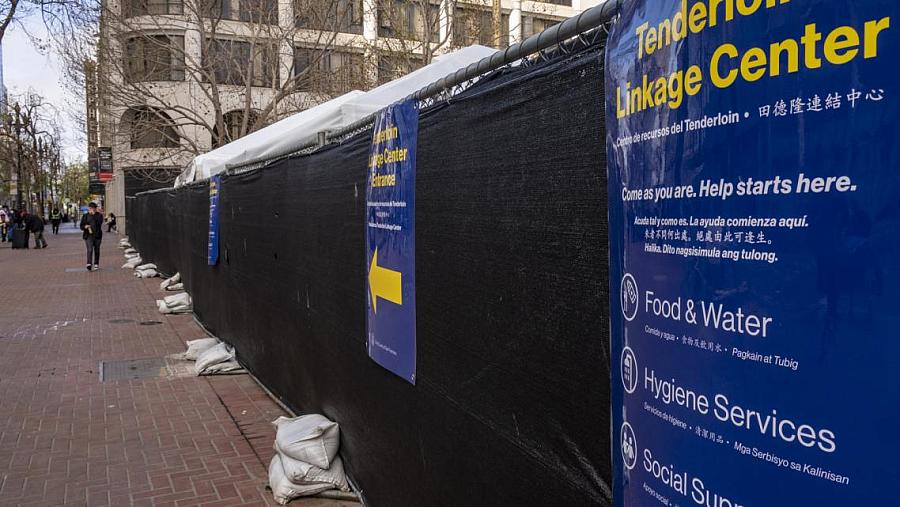 Photo by Yesica Prado/San Francisco Public Press
Published on
March 27, 2023
In December 2021, San Francisco's Mayor London Breed declared a 90-day state of emergency in the Tenderloin, the neighborhood most damaged by the city's drug crisis. It was a fiery speech in which she vowed to be "less tolerant of all the bullshit that has destroyed our city." She swore to increase treatment services while also calling for police to crack down on drug dealers and force drug users off the street and into either treatment or incarceration — their choice.
Breed was voicing a frustration that has overtaken San Francisco after more than a decade of living with a rampaging opioid crisis. Opioid-related overdose deaths have been surging since the mid-2010s when fentanyl hit the streets. Between 2015 and 2020, deaths involving fentanyl in San Francisco increased 4,600% to nearly a dozen each week. And it's having disproportionate consequences on people of color. San Francisco has the highest accidental overdose rate in California among counties with a population greater than 100,000. Deaths among Black residents are more than five times the countywide rate; San Francisco has the third-highest opioid-related county death rate among Latinos. 
It's been two years since Breed's speech, and fatal overdoses remain just as rampant. And as deaths keep mounting, so does the interest in a controversial approach that harm reduction advocates have been promoting for over a decade: supervised consumption sites. Also known as overdose prevention centers, these facilities are safe places where people can have their drugs tested for fentanyl and consume under supervision with lifesaving medical care nearby should the need arise. 
Overdose prevention centers have been operating for decades in places like my former hometown of Vancouver, Canada, as well as Australia and some countries in Europe. Across more than 170 working centers, not a single overdose death has been recorded. 
San Francisco advocates who are working to establish such centers say this harm reduction approach is a surefire way to save lives and local elected officials are supportive of the idea. But some locals are still pushing back, arguing that more robust recovery and treatment options are needed, not permissive approaches to drug consumption.
The city opened a temporary center to in early 2022 to help people who use drugs and unhoused residents access supportive services. San Francisco Department of Public Health statistics showed that during its 11 months in operation, the center was visited more than 100,000 times, reversed 300 overdoses, and helped more than 1,000 people get shelter or housing. Nevertheless, the Tenderloin Linkage Center, as it was called, closed a month earlier than planned. 
The site, which was located on a downtown plaza surrounded by theaters, museums and tourist attractions, had quickly turned into an unofficial overdose prevention center. Business owners and residents complained that drug use and drug dealing in the neighborhood increased after the center opened. And while opponents typically argue that overdose prevention centers don't offer enough avenues to treatment, critics of the Tenderloin center said the city should not have allowed drug use at a site where it also offered connections to treatment services. 
When I visited the site shortly after the center shut down, I met Adriel Cota, a former center client who is unhoused and uses drugs. He talked about all the benefits he got from the center — including daily laundry, meals, shower facilities and accommodations for his dog. But he always believed the Tenderloin center was set up to fail because of its business- and tourist-heavy location.
As overdose fatalities accumulate, there is a crucial need for clarity around the perceived benefits and drawbacks of such facilities. 
In November 2021, New York City announced the opening of the country's first sanctioned overdose prevention center. And now San Francisco appears poised to follow suit. On Feb. 28, 2023, the Board of Supervisors unanimously approved legislation introduced by the mayor to allow nonprofits to operate drug overdose prevention sites with private funding. At least three organizations in San Francisco have indicated a willingness to raise the funds needed to open centers without the city's financial support. Among them is the Gubbio Project, a charity located in a church that provides unhoused residents with daytime shelter and cots on which to rest. Its director, Lydia Branston, said the site is ready to accommodate an overdose prevention center as soon as the organization settles a contract with the property owner.
As a 2023 California Health Equity Fellow, I will assess the impact of a new San Francisco overdose prevention center on its surrounding neighborhood. Through my reporting, I will gather data and connect with people whose experiences can help paint a picture of a San Francisco neighborhood before and after the introduction of an overdose prevention center, with a focus on its impact on fatalities, drug-related hospitalizations, and the overall health of the surrounding community and its residents, especially those most harmed by the opioid epidemic.
I hope my reporting will help residents and policymakers in city, county, state and federal governments to make better informed decisions in their fight to ease a rampant opioid crisis.