Chasing A Zero-Emissions Dream
Published on
January 31, 2011
In the weeks since I last posted, lots has happened around the ports of Long Beach and Los Angeles and their efforts to alleviate the pollution their industry causes.
Image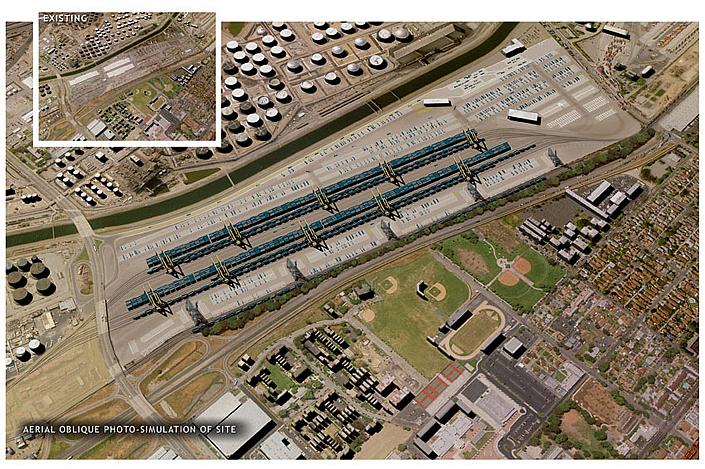 Above: The proposed Southern California International Gateway (SCIG) railyard that is planned for construction soon. SCIG would sit right next to an existing railyard of the same size. Photo courtesy CommunityMatters.com.
Both approved an update to their 2006 Clean Air Action Plan, which has been praised for its initiatives to not only increase the number of clean and efficient trucks operating at the ports, but also lays groundwork to implement future technologies such as electric ship docking, hybrid tugboats, etc.
But in my mind, the biggest issue - and the meat of my developing Fellowship project - is the expansion of several surrounding facilities planned to increase so vastly in size that they may offset any environmental advancements made in recent years. Over the next ten years, the Port of Long Beach will double its cargo handling capacity and retrofit an aging bridge to increase goods movement, while one nearby railyard plans to also double in size and an entirely new railyard of the same size will likely open up right next door.
On the issue of the two railyards - well, one expanding railyard and one entirely new railyard - the City of Long Beach recently held a meeting where some officials called for a committment to zero emissions. Two presenters and several community residents spoke about the dangers of emissions produced from railyards so close to homes and schools. Representatives from the railyards declined to attend because a joint Environmental Impact Report is still under development.
It was a nice sentiment from Long Beach leaders, but it's difficult to tell whether their zero-emissions call will make any impact. The existing railyard - the Intermodal Container Transfer Facility (ICTF) - promises a 75% reduction in emissions even once the update is fully operational, but it's unclear how that will be achieved until the EIR is completed and in all frankness, the railyards are beholden to no overseeing government body. They'll have to be approved by the Joint Powers Authority before beginning construction and could use endorsements from environmental groups for credbility, but are not required to meet any specific environmental standards. At any rate, it's clear that the proposed developments won't reach the zero emissions request anytime soon. Reporting on that zero-emissions meeting, I wrote, "We would all agree that advancing toward a zero-emission future is a good thing, but until that dream is a reality there are those that will suffer through the transition."
The entire goods movement is bracing for an anticipated trading boom over the next decade, and particularly in the South Bay area, ports and railyards are gearing up so that they'll be able to handle as much cargo as possible and therefore be more attractive to shipping companies looking for the fastest and most reliable handler. The danger lies in too much expansion, especially when all of these facilities share air with nearby residents.