Image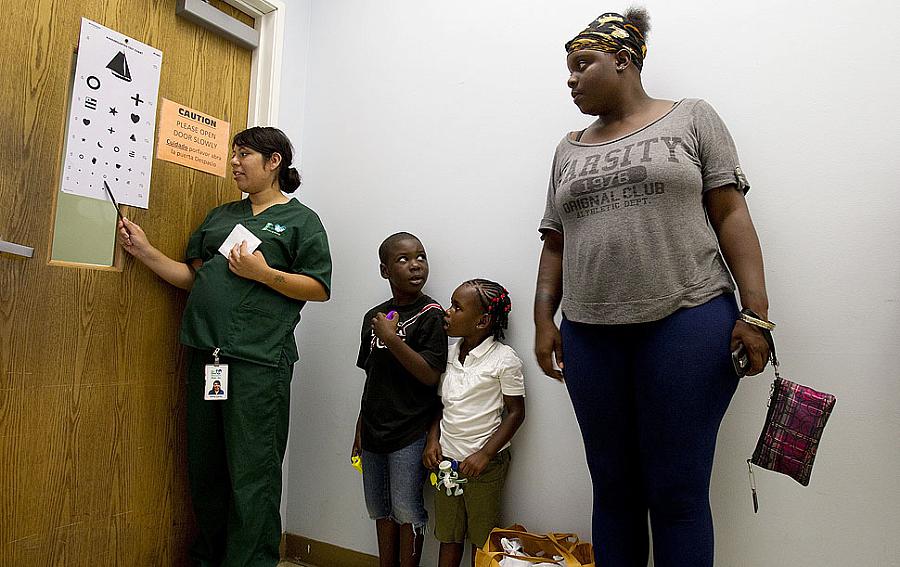 Published on
February 15, 2013
One scene keeps coming back to me. The South Los Angeles community clinic where I was reporting had been remodeled and redecorated. It looked brand-new – like an upscale medical office. The staff had already moved, and now patients were going to be seen in the new surroundings.
Sometime mid-morning, an older man hobbled into the lobby, moaning. There was already a line of patients stretching out the door. People had been waiting for hours for their appointments. The man, who was HIV-positive, hadn't been taking his medication and was now really ill. He got sick in the lobby and patients quickly moved to the other side of the room. The staff called an ambulance to take him to the hospital.
That moment made clear that transforming the clinic would take much more than new paint and new furniture. Many of the patients had chronic diseases like diabetes, asthma and high blood pressure and weren't following their doctors' instructions or showing up for appointments.
As the U.S. gets ready for health reform, the federal government is investing $11 billion in community health centers so they can expand and prepare for the new patient load. The government is counting on clinics to provide the primary and preventive care necessary to keep millions of patients out of expensive emergency rooms. That will be a challenge, especially since clinics already struggle to keep up with the demand and to find medical staff.
I got the idea for this project after auditing a medical school course on community clinics. As a journalist on a mid-career fellowship, I went along with medical students to visit clinics in different parts of Boston. We saw health care in action and talked to doctors, administrators and nurses. We also learned about the history, how the centers were started during the War on Poverty and inspired by a new model of medicine in South Africa.
When I got back to the Los Angeles Times and started covering health, I decided I wanted to embed myself in one community clinic. My idea was to show our readers what the frontline of the health care system in a low-income community looked like. I wanted to get to know the patients, their families, the doctors and the medical assistants. I wanted to see what the successes and failures were and watch how the clinic was changing to prepare for reform. So I pitched my editors and applied for the California Endowment Health Journalism Fellowship.
To pick a clinic, I talked to the local clinic association and looked at some data profiles. I wanted somewhere that had a racial and ethnic mix of patients, as well as a mix of uninsured and Medicaid patients. I also wanted somewhere close to the office so that I could spend time at the clinic even while I was working on other stories. But most importantly, I wanted unlimited access. When I met the CEO of the To Help Everyone Clinic and we had a conversation about what I wanted to do, I knew I was in the right place. I told her that I wanted to show -- in an intimate, accurate and fair way -- what life was like in a community health center. She was on board. The only rule was that I had to have patients' permission before interviewing or photographing them, and that they had to sign a form that the clinic had drawn up. It was worth it to be able to go in and out of exam rooms.
Even with access at the clinic, it was sometimes still hard finding the right people. For some of the stories, I was trying to write in a narrative style, so I had to find patients, and in one case, a provider, who were willing to let me see them at home and at the clinic. I knew the more reporting I did, the more time I spent with subjects, the better the stories would be. But the patients were hard to get in touch with, frequently not returning my phone calls or backing out of stories.
I went into the project with a whole bunch of ideas, but I had to learn to set aside my carefully written plan and let the reporting dictate the project. That is a Journalism 101 lesson that I think reporters often forget. Some of the ideas on my list simply didn't pan out, and others that weren't on my list became great stories. I also realized fairly soon after I started that I wasn't going to be able to do all the stories I wanted to do.
As I reported, I found that I was particularly interested in how the clinic staff tried to reduce disparities and in all the work being done that didn't involve direct medical care. For example, health educators work with diabetics on lowering their blood sugar. Staff counsel pregnant women at risk of having low birth-weight babies. A driver not only takes people to and from the clinic but also convinces them to get out of bed so they didn't miss their scheduled appointments.
So far, four stories have run, all with photos and videos. The visual elements really added to the story and presented a picture that my descriptions couldn't. I wrote the first story about how clinics were gearing up for reform, followed by a narrative of one patient who was trying to get into specialty care, a story about how difficult it is to change diabetic patients' behavior and a tale of a young nurse practitioner who was overwhelmed by the job. I am still working on more stories, which will run over the next few months.
One of those is about the quality of the clinics. Studies show that community health centers have good outcomes compared to private doctors' offices, but some of the California clinics meet very few of federal benchmarks on measures like controlling patients' high blood pressure or seeing pregnant patients in their first trimester. For this story, we requested the federal data for all the California clinics and our data team is putting the finishing touches on a database on certain quality measures. Current and future patients will be able to see how clinics stack up against each other, see if they are above or below the national average and if they are meeting the federal benchmarks. My only suggestion on reporters trying to include data in their projects is to request the data early and try to involve a data expert early.
With all the media coverage of health care reform, there has been surprisingly little reporting about health centers. The health center story is an important one -- and can be told from anywhere in the U.S. Clinics are a great place to access patients and medical providers, to write stories about public health and health policy and to show the local impact of health care reform.
My stories don't answer the overarching question of whether health centers will be able to handle the influx of patients, improve outcomes and reduce costs. Only time -- and academic studies -- will be able to answer that. But I believe my project does show -- through real people and real situations, policy analysis and perspectives from experts -- some of the biggest obstacles facing these centers. And I hope the stories introduce our readers to one Los Angeles clinic where, as I said in my first story, the grand expectations of Washington policymakers meet the sobering realities of treating patients who often have poor health habits, limited resources and complex illnesses.
PHOTO CREDIT: GINA FERAZZI/LOS ANGELES TIMES