Coronavirus Files: Boosting to overwhelm omicron; vax mandates run into roadblocks
Image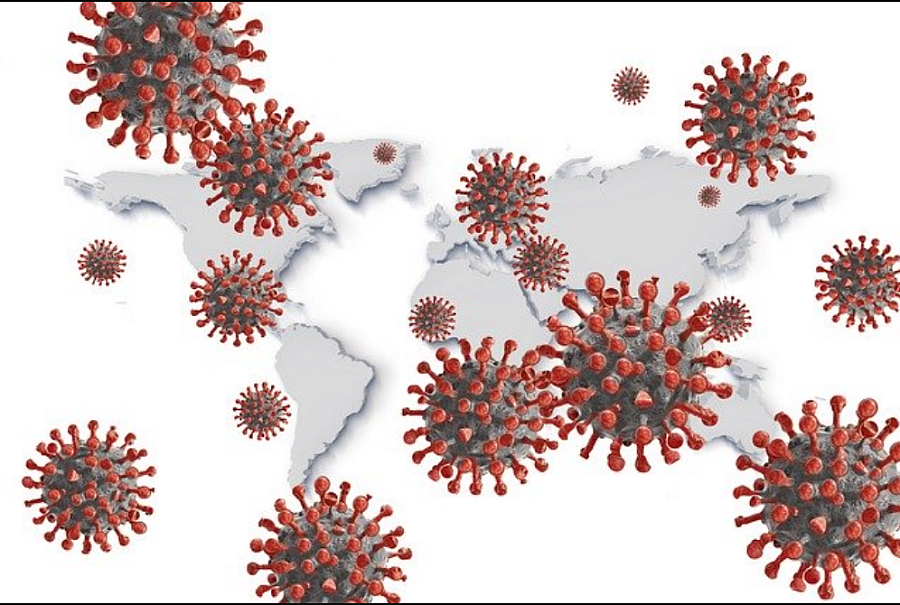 Published on
December 13, 2021
Image

Have a suggestion or a request? Write us at editor@centerforhealthjournalism.org.
Upcoming webinar: What do we know about omicron?
Join us for a conversation with Dr. Céline Gounder, a leading infectious disease expert. More details below.
Diverse factors put Americans of color at COVID risk
People of color have been more likely to contract COVID, require hospitalization or die since the pandemic's beginnings. The complex reasons behind the disparities continue to emerge.
A preliminary study, yet to be peer reviewed, suggests that the virus infects fat tissue, as Roni Caryn Rabin reported last week in 
The New York Times
.
U.S. obesity rates are among the world's highest, with Black, Hispanic, Native American and Alaska Natives having higher rates of obesity than whites or Asian Americans, notes Rabin.
The latest research indicates that immune cells in fat tissue trigger dangerous levels of inflammation, which could contribute to the 
"cytokine storm"
 that lands people in intensive care. "This could well be contributing to severe disease," suggested lead study author Dr. Catherine Blish of Stanford. Fat might even create a reservoir for the virus that could be a factor in long COVID, she added.
The pandemic has also led to a surge in car crash fatalities, the highest rate since 2007, report Emily Baumgaertner and Russ Mitchell at the 
Los Angeles Times
. Unsafe driving appears to be a psychological response to pandemic restrictions, experts told the pair.
The rate of road deaths for Black people in particular skyrocketed. That might be due to the high numbers of Black workers deemed essential, including delivery drivers whose pay corresponds to speed, suggested Shannon Frattaroli of Johns Hopkins.
The disparity might also reflect "a deeper sense of despair in the poorer communities hit hardest by the pandemic," write Baumgaertner and Mitchell.
Inequities show no sign of diminishing once the virus fades into the background, writes Dylan Scott at 
Vox
. People who are uninsured, have less access to medical care, or simply don't get fair treatment when they do seek a doctor's help will remain at higher risk.
All these factors disproportionately impact people of color, said Samantha Artiga, director of the Racial Equity and Health Policy Program at the Kaiser Family Foundation.
Early data suggest omicron evades most but not all antibodies
Last week saw a 
spurt of first results
 about omicron and immunity.
The first real-world results, from a study by the U.K. government, suggest that two doses of the Pfizer vaccine are 35% effective at preventing symptomatic omicron infection, but a booster 
raised that number to 75%
.
A handful of labs also released results based on checking people's blood for the presence of antibodies that might detect and stifle omicron. Research 
published in May
 suggests these kinds of analyses can predict protection from symptomatic infection.
A person who's been infected with or vaccinated against the coronavirus will possess a slew of different antibodies; the most important kind are 
"neutralizing" antibodies
, which prevent the virus from entering cells.
The new studies reported data on the proportion of neutralizing antibodies against omicron compared to earlier variants. Pfizer and BioNTech reported that after two doses, there was a more than 
25-fold drop
 in neutralizing antibodies. But after a booster, the levels went back up to nearly what they were against earlier variants.
Independent studies provided similar data. A group in South Africa found that in people who'd had two doses of Pfizer's vaccine, there was a 
41-fold drop
 in neutralizing antibodies against omicron.
A German team reported a 
37-fold drop
 in a similar population, though some people six months out from their second vaccination had no neutralizing antibodies against omicron.
And the data from a group in Sweden offered more hope, indicating a 
five-to-seven-fold reduction
, similar to that for the delta variant compared to earlier strains.
All these studies are preliminary and haven't undergone detailed review by other experts.
While numbers like "40-fold-drop" sound scary, we can take heart in the rest of the immune system's arsenal, writes Katherine J. Wu at 
The Atlantic
. The body can quickly manufacture more of the antibodies that neutralize omicron, and other antibodies may call the immune system's attention to the variant even if they can't block it completely.
There are also T cells, and Pfizer analyzed their ability to recognize omicron too. Of the viral sites that Pfizer's vaccine trains T cells to recognize, 80% were still present in omicron.
Vineet Menachery, a virologist at the University of Texas, told Wu the results are "not great, but not the worst-case scenario either."
Wu summed it up this way: "In the eyes of vaccinated immune systems, omicron looks like a big old weirdo — but also, a kind of familiar one."
Overall, the data suggest that two doses can prevent severe disease, while a booster has far higher chances of staving off infection.
Boosters become prime weapon against omicron
These early results on immunity suggest that amping up antibodies with a booster shot could help the immune system to overwhelm omicron. "Omicron has created a whole new booster logic," as 
The Atlantic
 put it.
More people can get boosted now, and evidence suggests some of them are doing so. Health care providers are administering more shots per day than they have since last May, reports Annabelle Timsit at 
The Washington Post
. However, only one-quarter of those who are considered "fully vaccinated" have gotten a booster so far, according to 
CDC data
.
In addition, the FDA authorized Pfizer 
boosters for 16- and 17-year-olds
, the youngest group yet to be granted booster access.
Pfizer's vaccine was 
authorized in May
 for children as young as 12, meaning children vaccinated shortly after are approaching the six-month mark since their second vaccination, when boosters might be considered. There's no official timeline for when kids younger than 16 might get boosted, reports Jen Christensen at 
CNN Health
, and they might not need them at all. Younger children are just getting their initial shots, and trial data for kids younger than 5 are expected soon.
It's not yet clear if an omicron-specific vaccine will be necessary, 
said the NIH's Dr. Anthony Fauci
, but vaccine makers are working on them. Those shots could be available as soon as March — after any winter surge.
The boosters are also beneficial against delta, still the major strain in the U.S. It appears likely that omicron will outcompete delta and take over in the U.S., reports 

Andrew

 Joseph at 
STAT
, but he adds that the two variants could also circulate in tandem: "There doesn't have to be one variant to rule them all."
NYC broadens vax mandate while Biden's orders face rebukes
New York Mayor Bill de Blasio announced the city would be the 
first to have a vaccine mandate for all private employers
, which will take effect Dec. 27.
This is in addition to mandates already in place for city employees and workers and customers at restaurants, gyms and entertainment facilities. De Blasio called the move a "pre-emptive strike" against a winter wave. However, it's not clear if de Blasio's successor, Eric Adams — who will take office Jan. 1 — will 
continue the rule
.
Meanwhile, federal mandates continue to come under pressure. A federal judge said last Tuesday that President Joe Biden probably exceeded his authority in ordering vaccination for federal contractors, and issued a 
nationwide injunction
.
Then on Wednesday, a Republican-led effort in the Senate achieved the necessary votes to 
overturn Biden's mandate for private businesses
 with more than 100 employees
, though if the measure passes the House, Biden could simply veto it.
"With Tuesday's ruling, all three of Biden's broad vaccine mandates affecting the private sector have been put on hold by courts," noted 
CBS
. The White House has also attempted to require vaccination of health care workers.
More than 90% of federal workers are 
already vaccinated
, as are at least 
70% of health care workers
.
While some politicians see such mandates as government overreach that will force people to choose between their job and their health autonomy, the 
American Medical Association
 has stated that halting mandates for private businesses would "severely and irreparably harm the public interest."
We're not planning for the next pandemic
What have we learned about pandemic preparation in the last two years? Perhaps not much.
We're 20 months into the COVID-19 pandemic, and the world is failing at collaborating against it, writes Rob Picheta at 
CNN
.
"There was never a plan," Andrea Taylor of the Duke Global Health Institute told Picheta. "There still isn't a plan at the global level."
Indeed, the world is woefully underprepared for the next pandemic, according to a new report from the 
Global Health Security Index
. "The average country score for 2021 was 38.9 out of a possible 100 points, essentially unchanged from 2019," writes Lena H. Sun at 
The Washington Post
.
The United States was rated the most prepared nation — but also the country with the least public confidence in government. The latter is likely a factor in the high coronavirus 
case and death rate in the U.S.
,
 Sun writes.
The U.S. hasn't even delineated a clear end goal for all the preventive measures it's taking, writes German Lopez at 
Vox
. The result is a lack of transparency. "It seems as though the country will have to accept some level of COVID-19 in the foreseeable future," he writes, "but there's no clarity on what that means."
Globally, leaders have just begun work on a potential "pandemic treaty." It might include, for example, a global surveillance system or equitable distribution of vaccines and drugs. But any final agreement could take years, noted Sun's colleagues at 
The Post
 earlier this month.
Yet preparation is worthwhile: The University of Oxford's Dame Sarah Gilbert, who co-created the vaccine produced by AstraZeneca, 
made headlines
 last week with a remark that the next pandemic "could be more contagious, or more lethal, or both."
Gilbert urged funding for preparedness: "Just as we invest in armed forces and intelligence and diplomacy to defend against wars, we must invest in people, research, manufacturing and institutions to defend against pandemics."
From the Center for Health Journalism
12/15 webinar: Covering Coronavirus: What we know so far about omicron
Dr. Céline Gounder, a leading epidemiologist, medical analyst and host of the COVID podcast "Epidemic," will brief us on the latest research, clarify what we still don't know, and help reportees think through where the pandemic takes us from here.
10-11 a.m. PT
Sign-up here!
What we're reading
"Scientists find 'stealth' version of omicron that may be harder to track," by Ian Sample and Peter Walker, 

The Guardian

"Why are we still isolating vaccinated people for 10 days?" by Katherine J. Wu, 

The Atlantic

"Did COVID-19 cause flu strain to go extinct?" by Mike Cherney, 

The Wall Street Journal