Coronavirus Files: COVID-19 long haulers may have rogue antibodies
Image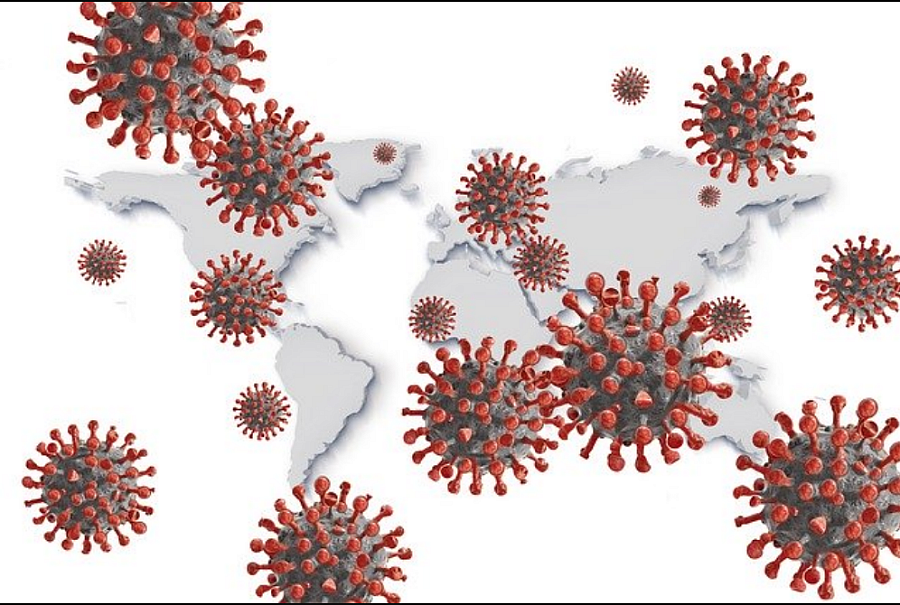 Published on
November 3, 2020
Image

Since April, The Center for Health Journalism has been publishing a special newsletter geared to journalists as they report on one of the biggest and most complex stories of our times. Each Monday, while the pandemic runs its course, The Coronavirus Files will provide tips and resources and highlight exemplary work to help you with your coverage. This week, The Center for Health Journalism's Coronavirus Files Monday newsletter is curated and reported by CHJ content editor Ryan White and community editor Chinyere Amobi. Have a suggestion or a request? Write us at editor@centerforhealthjournalism.org.
The Health Divide: Food workers go hungry during pandemic
Big farms received the majority of aid the 
Trump
 administration has funneled into the agricultural sector, while many small-scale farmers and food workers 
struggle to make ends meet
. "The Trump administration has paid farmers nearly $18 billion in direct payments since June through its Coronavirus Food Assistance Program (CFAP), but nearly 92% of farmers in Wisconsin received less aid than it costs to run an average dairy in the state for a month, according to a Reuters analysis of federal USDA data," write 
Gabriela Bhaskar
 and former CHJ Fellow 
Christopher Walljasper
 of 
Reuters
. Food banks around the country are seeing a rise in needed assistance from people who harvest food, work in food processing and even own their own farms. 
Black Americans most hesitant to receive COVID-19 vaccine
Black Americans are 
the most hesitant
 to receive a COVID-19 vaccine once one becomes available among U.S. ethnic and racial groups, according to a September survey by the 
Pew Research Center
. Distrust of medical research and the government is well documented in this community and other communities of color, largely stemming from present and historical racism in the country's health care system. Experts say Black participation in clinical trials is key. "Without adequate Black and Hispanic participation in clinical trials, it won't be clear whether the vaccine will be safe and effective for them," writes reporter 
Karen Weintraub
 for 
USA Today
. "Although there are no significant genetic distinctions by race or ethnicity, people of color may react differently to a vaccine because of their different lived experiences, experts say."
Election as referendum on Trump's pandemic response
Science writer 
Ed Yong
 of 
The Atlantic
 says we shouldn't have been surprised about how the 
Trump
 administration has handled the pandemic. "His record suggested that come a pandemic, he would lie, spread misinformation, opt for travel bans in lieu of more effective measures, and heed his own counsel over that of experts," writes 
Yong
. In 
a searing piece
, 
Yong
 lays out how the election offers Americans a chance to change the course of the pandemic, and what's at stake in the event of a 
Trump
 reelection. 
Yong
 also highlights three small mercies: COVID-19 is not as lethal or contagious as other pathogens, this pandemic occurred towards the end of 
Trump's
 first term, and "Americans have an opportunity to avert further incompetence."
COVID-19 long haulers may have rogue antibodies
"Some survivors of Covid-19 carry worrying signs that their immune system has 
turned on the body
, reminiscent of potentially debilitating diseases like lupus and rheumatoid arthritis, a new study has found," writes reporter 
Apoorva Mandavilli
 of 
The New York Times
. The 
preprint study
 from researchers at 
Emory University
 found that a misguided immune response causes B cells — which normally make antibodies that attack viruses — to make "autoantibodies" that attack the body instead. This may explain why long-hauler patients continue to experience symptoms long after infection. The study found that half of its 52 participants with severe or critical COVID-19 had these autoantibodies. While the similarities to autoimmune diseases could have positive implications for treatment, it could also point to "persistent, even lifelong, problems" for some COVID-19 survivors.
The Vaccine Race Keeps Slowing Its Roll
Widespread fears that the 
Trump
 administration would rush through a COVID-19 vaccine for the sake of a pre-election boost didn't come to pass. The leading vaccine candidates in phase III trials all needed more time to evaluate safety and effectiveness. Now, there are more indications that a broader vaccine rollout is still a ways off. 
STAT's Helen Branswell
recently cited
 signs that the 
FDA
 "is getting cold feet over the notion of issuing emergency use authorizations to allow for the widespread early deployment of Covid-19 vaccines." She writes that "the agency may be exploring the idea of using expanded access — a more limited program that is typically used for investigational drugs." Such a move could keep vaccine makers from ending their trials early by giving the placebo wing of the trial the actual vaccine, as Pfizer has said it wants to do.
There are 
other headwinds
 as well. In a call with investors last week, 
Pfizer's
 chief executive, 
Dr. Albert Bourla
, said his company's trial had not yet arrived at 32 cases of COVID-19 in either the placebo or vaccine groups, a key benchmark in determining whether the vaccine is effective. 
Dr. Bourla
 had 
earlier predicted
 a "conclusive readout" from the trial by the end of October. Moderna has said its aiming to seek 
FDA
 review in late November, while Johnson & Johnson is aiming for review late this year or early next. 
Dr. Anthony Fauci
 further dampened expectations in a 
JAMA
interview
 last week. "Exactly when the (emergency use authorization) will be granted — could be January, could be later — we don't know," 
Fauci
 said.
The 
FDA
 review isn't the only hurdle a vaccine would have to clear. Oregon, Washington and Nevada 
announced
 last week that they would join California's vaccine safety review group, and New York announced
plans
 last month for its own group of leading experts to review coming vaccines. "Frankly, I'm not going to trust the federal government's opinion," New York 
Gov. Andrew Cuomo
 said at the time.
How Friendly Are Those Skies?
Last week, a United Airlines passenger flew 
from Chicago to Honolulu
, while a COVID-19 test result was pending. On landing, the passenger got the results: Positive. The passenger was taken into isolation, but that presumably didn't benefit fellow passengers who had just shared the more than nine-hour flight. The incident raises a number of questions such as: Can flying be safe?
Last week, researchers at the 
Harvard T.H. Chan School of Public Health
 released an 
industry-funded study
 that led to a wave of headlines such as: "Flying can be safer than grocery shopping, 
Harvard
 study asserts" (
CNN
) and "With proper measures flying can be safer than eating at a restaurant during the pandemic, study says" (
The Washington Post
). Those measures include things like cleaning and sanitizing planes, wearing face masks, and ensuring steady air flow through the cabin at all times. 
Los Angeles Times
 reporter 
Hugo Martin
, who points out such studies come at a time when airlines are hemorrhaging cash and desperate for more travelers, ran this and related studies by a number of experts. "Infectious-disease and health care experts say the study correctly concludes that the infection risk is lower on a plane than in places such as stores and restaurants. The study gave much of the credit to the air circulation system in airplane cabins that pushes air through high-efficiency particulate air filters, known as HEPA filters," 
Martin
 writes. "But the experts note that the test was limited to certain scenarios." In real life, people move about planes, don't always keep their masks on and don't just face forward, the way a test mannequin might. And all this also overlooks the infection risks of getting to and through the airport itself. Read 
Martin's
 caveat-rich take 
here
 before making your holiday booking.
Mandate Masks, or Just Normalize Them?
As the U.S. endured its worst week yet for COVID-19 cases, more top health experts are voicing support for a national mask mandate, as 
Sheryl Gay Stolberg
 reported in 
The New York Times
. That includes former 
FDA
 commissioner 
Dr. Scott Gottlieb
 and top infectious disease expert 
Dr. Anthony Fauci
, who recently told 
CNN
, "If people are not wearing masks, then maybe we should be mandating." 
Gottlieb
 suggested a mandate limited to two months in his 
Wall Street Journal 
op-ed
. The idea presumes a win for 
Joe Biden
, who has previously voiced support for a mandate for masks on federal property. A broader mandate would be tough, given how politicized masks have become. But it wouldn't be without precedent on the world stage: Russian 
President Vladimir Putin
ordered
 a national mask mandate for the country last week, as cases surge there.
Meanwhile, modelers at the 
University of Washington's
Institute for Health Metrics and Evaluation
 published 
fresh projections
 on how mask use could change the trajectory of the pandemic. If 95% of people wear masks in public, the country would save nearly 130,000 lives by the end of February 2021. If 85% of people wears masks, nearly 96,000 lives would be spared during that same period, the team predicts. But some public health experts argue that 
Biden
, if elected, should turn to the powers of the pulpit rather than mandate masks. As 
Yale
 law professor 
Harold Hongju Koh
 told 
The Times' Stolberg
, "'Instead of making it about the president's coercive authority under law it should be about whether the president can support a norm that supports public health, which is in people's self-interest.'"
Join our team!
The USC Center for Health Journalism is looking for a freelance journalist to curate and produce our Coronavirus Files weekly newsletter on COVID-19 science & medicine news. 
Apply now
 if that's you, or spread the word to your colleagues!
And Don't Miss...
COVID-19 is killing my people – and no one seems to care 

The Atlantic

Antibody drugs seem to work, but the pandemic is moving faster than we can make them, 

STAT

Why you shouldn't worry about studies showing waning coronavirus antibodies, 

The New York Times