Coronavirus Files: Feds authorize vaccines for youngest kids
Image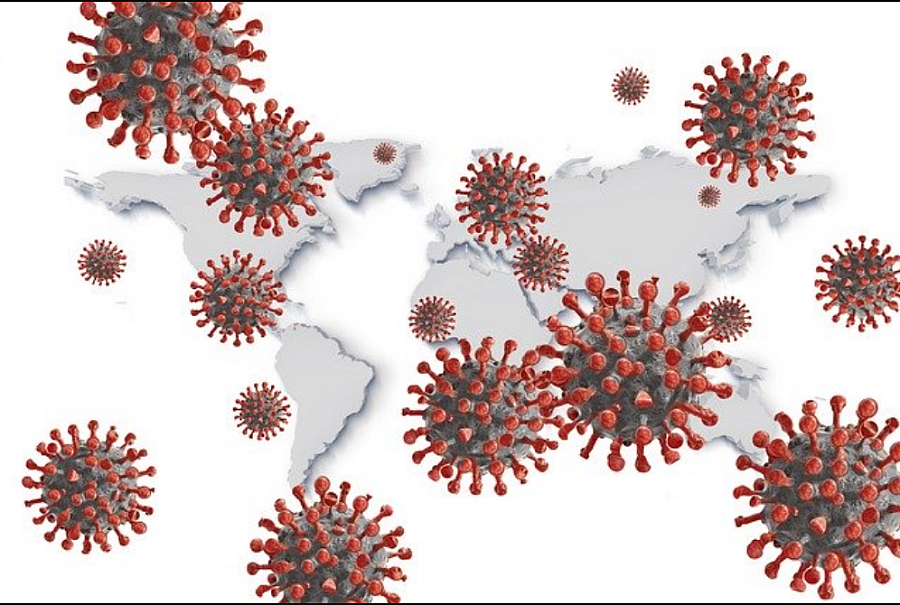 Published on
June 20, 2022
Image
Have a suggestion or a request? Write us at editor@centerforhealthjournalism.org.
Uninsured suffered unnecessary deaths during pandemic
Universal health care could have saved more than 338,000 lives in the U.S. during the pandemic, according to a new study in the Proceedings of the National Academy of Sciences.
That's more than one-quarter of the nation's estimated COVID deaths, according to the study led by researchers at the Yale School of Public Health.
They calculated that universal health care could also have saved the nation $105.6 billion in hospitalization costs.
More than 28 million adults were uninsured before COVID-19 hit, and a more than 9 million additional people lost their health insurance due to the surge in unemployment caused by the pandemic.
The study pointed to several factors by which health insurance could have saved lives. Uninsured people tend to lack a primary care physician, putting them at higher risk for preventable diseases such as diabetes that can complicate COVID-19.
Those without insurance are also likely to wait longer to seek testing or medical attention when they get sick, which could make them not only less likely to survive, but more likely to transmit the virus to others.
Individuals without a primary physician also have lower vaccination rates, further increasing their risk of dying from COVID.
The study's count of avoidable deaths may be an underestimate, reports Rachel Nuwer at Scientific American. UC Berkeley public health expert Ann Keller, who wasn't involved in the study, told her that universal health care would likely lead to lower rates of chronic disease as well as better management of chronic conditions, which would help protect people from the worst of COVID's effects.
FDA, CDC OK vaccines for children as young as 6 months
After a slew of regulatory meetings, young children will finally be able to receive their first COVID-19 vaccines this week.
The FDA granted emergency authorization to Moderna's vaccine for children from 6 months to 5 years years, and to Pfizer's for 6 months to 4 years. The CDC then officially recommended that all children age 6 months or older receive vaccination, either brand.
Each vaccine resulted in antibody levels comparable to those of older individuals after vaccination, the primary goal for a pediatric vaccine trial.
The FDA's Dr. Peter Marks noted the preschool age group could benefit from protection against the coronavirus. At least 442 children under age 4 have died of COVID in the U.S. And half of them had no preexisting conditions to suggest they were at higher risk.
Older children were already eligible for a Pfizer vaccine. The FDA authorized Moderna's vaccine for children 6 and up last week.
Moderna's pediatric authorization had been delayed by concerns about the vaccine's higher rates of heart inflammation, or myocarditis, compared to Pfizer's. But more recent data suggest the risk is similar between the two vaccines. The risk of myocarditis is highest among teen boys.
"That [myocarditis data] clearly needs to be watched going forward," said Dr. Mark Sawyer of UC San Diego, a member of the FDA's outside advisory committee.
The CDC's advisory committee plans to take up Moderna's application for ages 6 through 17 on June 23.
While some parents have been desperately awaiting the approval of vaccines for young children, the majority likely won't likely be rushing to the clinic. According to the most recent Kaiser Family Foundation poll, 18% of parents plan to get their under-5 kids vaccinated immediately, with another 38% expect to wait and see for a bit.
FDA advisors emphasized the importance of choice for parents, and now families who want the vaccine must make them — first whether to vaccinate their young children, and if so, which vaccine to give them. That's a tricky calculation.
"[FDA] Committee members spent much of the question-and-answer period Wednesday trying to understand whether one COVID-19 vaccine is more effective in small children than the other, but they were frustrated by the lack of data," writes Karen Weintraub at USA Today.
Pfizer tested its vaccine, at one-tenth the dosage of the adult shot, in 4,526 kids between 6 months and 4 years old. It settled on a three-dose course, which will take three months to complete.
Efficacy against infection was nearly zero after just two doses. After three doses, Pfizer reported an efficacy of 80.3%, but that was based on a small number of cases — just three cases in kids who were vaccinated compared to seven among those who got placebo.
The vaccine's true efficacy could be anywhere between 14% and 81%. "We should just assume we don't have efficacy data," said Dr. Sarah Long of Drexel University, a member of the CDC's vaccine advisory committee.
Pfizer's requirement for three doses could be a "logistical nightmare" for families, notes Helen Branswell at STAT. "Adding three more doctor visits to get three doses of COVID vaccines — that's asking a lot of families."
Moderna's vaccine, which relies on one-quarter of the adult dose, was tested in 6,607 children between 6 months and 5 years old. The two-dose series resulted in antibody levels comparable to vaccinated adults within 6 weeks. Efficacy against infection ranged from 31% to 51%.
That efficacy, which is lower than what Moderna reported for trials in older kids and adults, is likely related to the prevalence of the omicron variant during the trial. The company is already testing its two-part booster with original coronavirus and omicron-specific mRNA in young kids, with results expected this summer. That could further enhance protection.
Side effects such as fever were higher in the Moderna study, likely due to the higher dose of vaccine. There were no cases of myocarditis in either study, though that doesn't mean this couldn't appear once a larger group of children is vaccinated.
So, what's a parent to do? Epidemiologist Katelyn Jetelina wrote on her blog that she'll get Moderna for her daughters, but noted, "You cannot make a wrong decision. Each vaccine is better than nothing, and both help with severe disease and death."
The White House plans to make the vaccines for young kids available at a variety of locations, including pediatrician's offices. Every state but one has already preordered the doses for kids.
The Department of Health in Florida, the lone holdout, cited a "convoluted" distribution process and its policy that doesn't advise vaccination for all children, writes Arek Sarkissian at Politico.
Florida children will still be able to access vaccines from physicians or pharmacies, such as CVS, that order them directly from the federal government.
There are no plans to vaccinate children younger than 6 months, but they can have some protection if their mothers are vaccinated, with immunity transferred during pregnancy and via breastmilk.
Paxlovid falters for medium-risk individuals
The antiviral Paxlovid can protect high-risk individuals from the worst effects of a COVID infection, but it doesn't do much to speed recovery from symptoms in people of "standard" risk, drugmaker Pfizer reported last week.
Those at high risk include older individuals and people with health conditions ranging from diabetes to weakened immune systems to heart conditions. In other words, the medicine is still indicated for a wide swath of the American population, for whom it can prevent hospitalization and death.
But for others, the benefits may be negligible. The drug also didn't pass statistical tests for a significant reduction in hospitalization or death in people who'd been vaccinated against COVID.
"Paxlovid is not going to have a big role in vaccinated people, except in people who are maybe at highest risk," Dr. Walid Gellad of the University of Pittsburgh told STAT.
Pfizer said that going forward, it will focus on studying Paxlovid in high-risk populations, such as people who are immunocompromised.
Another recent study from Mayo Clinic researchers found that a rebound of symptoms after Paxlovid, reported in a series of anecdotes that set off alarm bells, is a rare event. Only four out of 483 patients experienced a resurgence of symptoms after completing Paxlovid treatment, reports Elizabeth Short at MedPage Today.
Most of the subjects in that Mayo Clinic trial were vaccinated and boosted against COVID, and few were immunocompromised.
While Paxlovid is the leading COVID-19 treatment available to take at home for now — Merck's molnupiravir is less effective — it has its problems and likely to be supplanted by something better, writes Hannah Doctor-Loeb at Slate.
The drug can cause side effects including a nasty aftertaste and diarrhea.
For many people, it's not an option at all because Paxlovid is contraindicated for people who take certain other medications, including some anticonvulsants and cardiovascular drugs.
Another reason to develop more COVID medicines is that regular use of Paxlovid could push the coronavirus to evolve resistance to the drug. Some researchers are experimenting with multi-drug cocktails that would make it harder for the virus to achieve resistance.
Those researchers may hit a snag when they go to test their drugs in people, though. The number of vaccines and other treatments already available means there are fewer and fewer patients willing to participate in those clinical trials, reports Saima May Sidik at Nature.
It would take a large number of volunteers to prove that a new medicine is better than what's available, said Dr. Elizabeth Hohmann of Massachusetts General Hospital: "You'd have to have a real game changer to take on Paxlovid."
From the Center for Health Journalism
Webinar: Telling the Story of Racism in American Health Care
We'll discuss strategies and examples for telling stories about inequities, disparities and racism in health care systems. We'll take inspiration from the team behind STAT's "Color Code," a series exploring medical mistrust in communities of color across the country.
June 28, 10 a.m. PT. Sign-up here!
We're hiring!
The USC Center for Health Journalism at the Annenberg School for Communication and Journalism is seeking two Engagement Editors to serve as thought leaders in one of the most innovative and rewarding arenas in journalism today – "engaged reporting" that puts the community at the center of the reporting process. Learn more about the positions and apply to join our team.
What we're reading
Events and Resources
Giving Back
Help us continue to serve journalists and policy leaders with new content we are developing on COVID-19. Your tax-deductible contribution to the Center for Health Journalism will advance our mission of helping journalists investigate health challenges and solutions in their communities –serving as a catalyst for change.
You can donate through the USC web portal at this link: https://bit.ly/3c8d4xs
Pressed for time? You can also text to donate! No amount is too small; just send a text to 41-444 and type the message CHJ for further instructions.