Coronavirus Files: Mask mandates back in the news; Novavax gets CDC green light
Image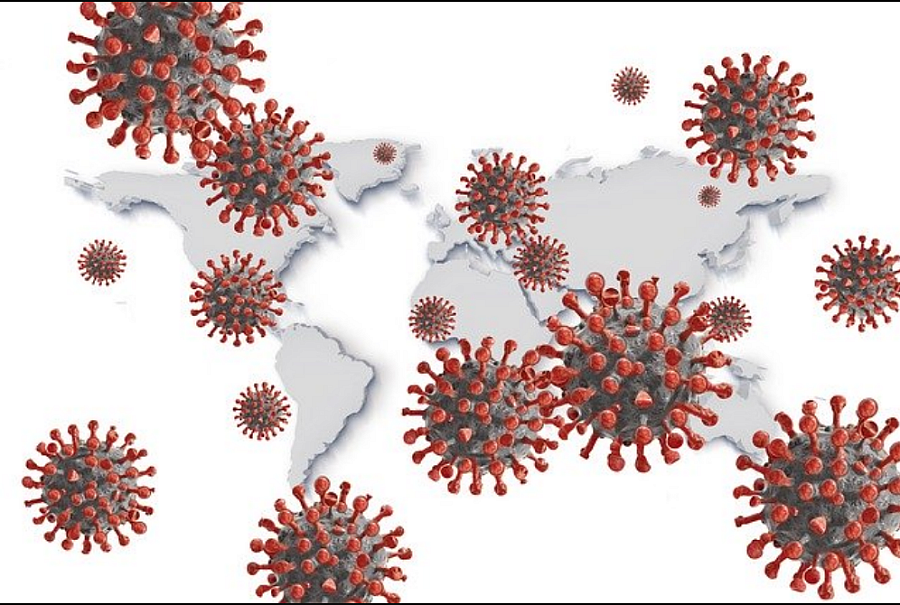 Published on
July 25, 2022
Image
Have a suggestion or a request? Write us at editor@centerforhealthjournalism.org.
Marginalized children missing out on vaccines in Sunshine State
Florida's stance against COVID vaccines for healthy children is endangering the state's most vulnerable families, writes Lori Rozsa at The Washington Post. That's because about 33,000 kids in the state normally get vaccines from state-run county health departments that aren't offering the shots to kids under 5.
"That means underserved kids, especially in rural areas, are left with few options," Rozsa writes. "Many of their parents rely on county health departments for outreach, but because of the prohibition on administering the vaccines, they're not hearing about it."
Florida Surgeon General Dr. Joseph Ladapo's stance against vaccines for the youngest age group carries extra weight in minority communities because Ladapo is Black, reports Daniel Chang at the Miami Herald. (Chang is also a member of the Center for Health Journalism's advisory board.)
"This is about equity and access," said Dr. Lisa Gwynn, president of the Florida Chapter of the American Academy of Pediatrics. "Now poor kids [younger than 5], who normally get their vaccines from places out in the community, such as the local health departments, will no longer have access that way."
Gwynn's advocacy for vaccine equity got her kicked off the board of the Florida Healthy Kids Corporation, a public health insurance provider in the state.
The Florida-based supermarket chain Publix announced last week that it would not offer the vaccines for children younger than 5. The company is a frequent donor to Republican campaigns, notes Arek Sarkissian at Politico. 
Many pediatricians who do offer the vaccines have wound up tossing many doses in the trash, because they don't have enough takers to use up all the doses in a vial, Chang reports.
Some organizations are countering the state's messaging. The nonprofit Community Health of South Florida is reaching out to Hispanic and African-American families — who often lack services such as insurance and transportation — to spread the word and make access easier, reports Marissa Bagg at NBC Miami.
During the pandemic, 27 Florida children under the age of 5 have died of COVID-19, notes Sam Ogozalek at the Tampa Bay Times.
While the vaccines don't eliminate the risk of infection, they can significantly blunt COVID's severity. A new study in the New England Journal of Medicine, looking at 5-to-11-year-olds during the omicron wave in Singapore, indicated Pfizer's vaccine was more than 80% effective against hospitalization.
 Mask mandates become a local issue
With the highly transmissible omicron BA.5 strain circulating widely, it seems nowhere is safe — the virus even reached the Oval Office last week, though Biden is reportedly doing fine.
"State health officials are out of ideas," write Megan Messerly, Krista Mahr and Adam Cancryn at Politico. "State and federal strategies for managing 130,000 new daily COVID cases in the U.S. are largely the same as they were for managing 30,000 new daily cases four months ago."
Thus, the task falls to county leadership, school districts and other organizations.
According to the CDC, Americans in more than 40% of counties should definitely be wearing masks indoors, and people in nearly as many counties should consider doing so. Across the nation, a patchwork of mandates are expiring or being reinstated.
"Masking makes sense, but in a highly targeted way," John Brownstein of Boston Children's Hospital told ABC News. "These are not broad scale mask mandates across the country for undefined amounts of time … this is why it's done at the local public health level."
In San Francisco, for example, riders on BART trains no longer have to mask up, though face coverings remain "strongly encouraged."
And Hawaii, the last state hanging onto a mask mandate for public schools, will ease those regulations in August.
Meanwhile, San Diego Unified School District is bringing back its mask mandate, based on a trigger set in May that brings back the mandate when the county reaches "high" COVID status per CDC. Celebrants at the city's Comic-Con convention will have to wear masks — the safety kind — as well.
Los Angeles is also staring down a trigger-based mandate, which will kick in July 29 unless the county's CDC status drops from high to medium.
"L.A. is like no other county in the United States," write Rong-Gong Lin II and Luke Money at the Los Angeles Times. Many of its 10 million residents face crowded housing and poverty that amplify COVID risk. "When a new wave hits, a place like L.A. County may be hit disproportionately harder than neighboring places."
 Yes, the COVID vaccine could affect your period
Rumors about the vaccines' effects on menstruation have been swirling for some time, and a newly published survey supports the idea that periods can become heavier, or lighter, or even reappear after menopause in newly vaccinated people.
The study, published in Science Advances, includes reports from 39,000 people who do or used to menstruate, and is the largest published to date on the link between vaccines and period patterns. Most respondents had received a Moderna or Pfizer vaccine, but other types were also included.
Among people who experience regular cycles, 42% reported heavier flow after vaccination, while 14% said it was lighter.
Among postmenopausal women, 66% of participants reported breakthrough bleeding after getting a shot. And 39% of people on gender-affirming hormone treatments that normally block menstruation also reported breakthrough bleeding.
It's important to understand these effects, writes Jennifer Couzin-Frankel at Science. Post-menopausal bleeding can be a sign of uterine cancer, so women and doctors could worry unduly if they didn't know COVID shots can cause it too. And breakthrough bleeding in people who've chosen to no longer menstruate can cause distress.
"I think it's important that people know this can happen, so they're not scared, they're not shocked and they're not caught without supplies," study author Katharine Lee of Washington University School of Medicine in St. Louis told The New York Times' Knvul Sheikh.
The menstrual changes could be due to the influence of the vaccine-activated immune system on sex hormones or the cells that manage the uterine lining.
The study authors cautioned that their respondents were people who elected to take a survey on vaccines and menstruation, and thus were more likely than the average person to have issues to report. There was no control group.
Experts told Sheikh these period patterns are no reason to delay vaccination.
Despite changes to menstruation, there is no evidence that vaccines alter fertility.
 Hospitals see fewer cases of MIS-C
The post-COVID inflammatory syndrome that once plagued children "has almost disappeared," writes Denise Roland at The Wall Street Journal.
Rates of MIS-C closely tracked case rates until the omicron wave, when infections skyrocketed but MIS-C stayed low.
The condition is treatable, but it has killed 70 children during the pandemic.
There are likely two reasons behind the decoupling of COVID and MIS-C. One is that many children have some immunity to the virus now. Small studies suggest that vaccination greatly reduces risk for MIS-C.
The other explanation is that the virus itself has mutated in ways that make it less likely to trigger the excess inflammation of MIS-C.
But it remains possible the virus could mutate again and raise MIS-C risk, cautioned Dr. Anna Sick-Samuels of the Johns Hopkins University School of Medicine.
 CDC recommends Novavax
The long-delayed Novavax vaccine cleared a final hurdle last week, gaining the CDC's recommendation for its two-dose, initial vaccine series.
The vaccine is expected to hit pharmacy shelves within weeks, but few people are expected to line up. A recent CDC poll found that about 10% of unvaccinated people have been patiently awaiting this shot, which is based on a traditional, protein formula, unlike the mRNA-based vaccines from Pfizer and Moderna.
Novavax's shot has not yet been authorized as a booster.
"Novavax is a great vaccine for the unvaccinated, and it will save millions of lives," writes epidemiologist Katelyn Jetelina on her blog. But it's no "silver bullet," she adds. "We desperately need the funding and the drive for second-generation vaccines, like pan-coronavirus vaccines (variant proof) or nasal vaccines … to finally get ahead of this virus."
From the Center for Health Journalism
2022 Data Fellowship
Our Data Fellowship offers journalists an opportunity to transform their reporting by training them to "interview the data" as if it were a human source. Following the four-day, hands-on training week, Senior Fellows mentor reporters as they pair original analysis with compelling narratives culminating in a groundbreaking Fellowship project focusing on an overlooked health issue in their community. The Fellowship includes a $2,000 stipend.
Signup deadline: Aug 10. Learn more here.
Webinar: Are hospitals profiting by shunning patients of color?
The pandemic has thrown into brutal relief the extent to which the U.S. health care system produces worse outcomes for patients of color. And yet there has been scant focus on one of the biggest drivers of structural racism in health care: How doctors and hospitals are paid. In this webinar, we'll highlight the ways in which the health care system's focus on money and good grades is shortchanging the health of communities of color.
Aug. 10, 11 a.m.–noon PT. Sign-up here!
Webinar: The youth mental health crisis
U.S. children and teens have struggled with increasing rates of depression, anxiety and suicidal behavior for much of the past decade. Join us as we explore the systemic causes and policy failures that have accelerated the crisis and its inequitable impact, as well as promising community-driven approaches and evidence-based practices. The webinar will provide fresh ideas for reporting on the mental health of youth and investigating the systems and services.
Aug. 24, 11:30 a.m.–12:30 p.m. PT. Sign-up here!
We're hiring!
The USC Center for Health Journalism at the Annenberg School for Communication and Journalism is seeking two Engagement Editors to serve as thought leaders in one of the most innovative and rewarding arenas in journalism today – "engaged reporting" that puts the community at the center of the reporting process. Learn more about the positions and apply to join our team.
What we're reading
Events & Resources