Coronavirus Files: New boosters authorized for elementary-age kids
Image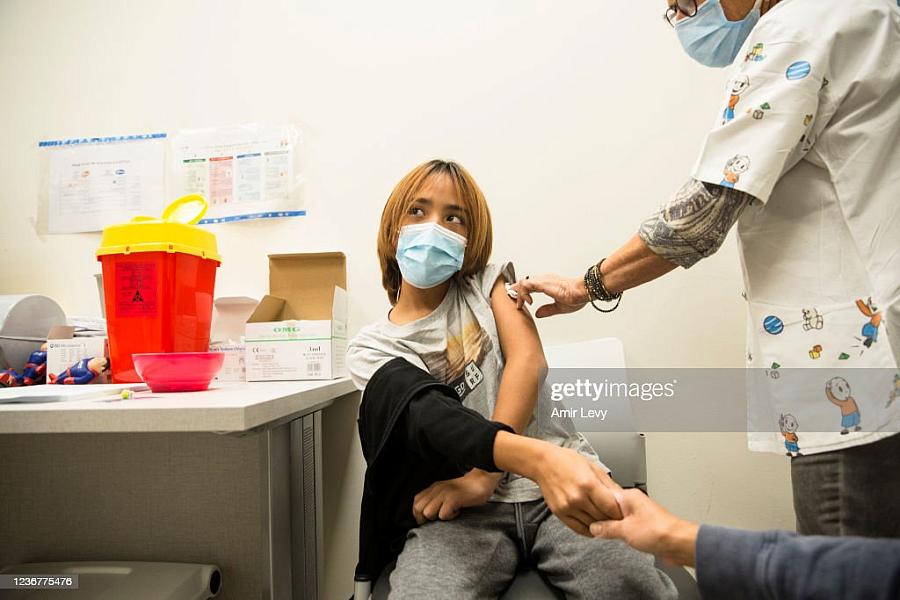 Published on
October 17, 2022
Image
Have a suggestion or a request? Write us at editor@centerforhealthjournalism.org.
Omicron boosters for kids 5 and over arrive this week
The FDA and CDC have authorized the new omicron-specific COVID booster shots for elementary-aged kids.
Moderna's booster will now be available for children 6 and up; Pfizer's for ages 5 and older.
The FDA based its decision on studies in adults of an earlier bivalent booster that targeted omicron lineage BA.1, as well as data from children who received a booster of the original, monovalent mRNA vaccines, according to an agency statement.
On Friday, Pfizer released the first human study data related to the current, BA.4/BA.5 bivalent booster in a company press release. In adults, the updated shots exhibited a similar safety profile as the earlier version, and caused a "substantial increase" in the level of antibodies targeting the BA.4/BA.5 strains.
"These findings, however, still don't address the question of how well the shots perform in the real world," writes Berkeley Lovelace Jr. at NBC News. "That is, is it effective against infection or illness?"
The new boosters should be a boon for families, pediatrician Dr. James Campbell of the University of Maryland told The Washington Post's Laurie McGinley.
"It is a mistake to believe that children do not get sick, or severely sick, from COVID," said Campbell, who called the authorization "very good news."
But it seems unlikely that many families will be lining up outside the pharmacy. Just under half of parents say they've already gotten at least one dose of the COVID-19 vaccine for their 5-to-11-year-olds, according to a recent Kaiser Family Foundation poll.
Among adults and teens, who became eligible for updated boosters six weeks ago, only 14.8 million have received the shot.
Pandemic stimulus funds miss many vulnerable Americans
As many as 10 million Americans may not have received their due from the COVID stimulus funds and child tax credit, and time is running out to claim it, says the U.S. Government Accountability Office.
That figure includes members of many marginalized groups, such as people experiencing homelessness, families with mixed immigration status, and people who lack internet access or bank accounts.
People who don't make enough money to have to file taxes, or who had never filed before, were also left out.
A big part of the problem was that the IRS, which administered the stimulus funds, only had data on people who had previously filed taxes. The GAO said in June that it recommended the Treasury and IRS reach out to those populations.
"Many in the tax world have come to the defense of the IRS over the course of the pandemic, saying it was beyond the call of duty for a tax collection agency to become the primary administrator of emergency economic stimulus payments," writes Tobias Burns at The Hill. "The extra pressure may also have resulted in the stimulus delivery shortage for up to 10 million Americans."
People who didn't have to file taxes have until Nov. 15 to fill out a simplified return and get their payments.
COVID created pregnancy complications
Coronavirus infection during pregnancy has been linked to stillbirth and the dangerous maternal condition preeclampsia, reports Ariana Eunjun Cha at The Washington Post.
The CDC has documented an increased risk of stillbirth among women who had COVID-19, and one study found a significantly increased risk of preeclampsia among women who had COVID, especially if it was their first pregnancy.
The reasons for these complications aren't clear, but the virus may cause changes to a pregnant person's immune and circulatory system, as well as to the placenta that supports the growing fetus.
Pathologists have described scarred, discolored placentas associated with stillbirths following COVID infection, often in unvaccinated or partially vaccinated women, Cha reports.
"Pregnancy can be both magical and brutal as it transforms a person's body to support another life," writes Cha. "Much of the stress is on the heart and circulatory system … The coronavirus, it turns out, can have a profound impact on that same system."
For example, physicians have documented tiny blood clots in the blood vessels of people infected with the coronavirus, which could be particularly damaging to a pregnant person that needs to pump extra blood to support the fetus.
The CDC says COVID vaccination during pregnancy is safe and effective.
WHO urges 'immediate' action against long COVID
The head of the World Health Organization warned last week in The Guardian that long COVID is a "very serious" crisis that nations should address with ongoing programs to diagnose, support and treat affected individuals.
The WHO estimates that 10% to 20% of people have mid- or long-term symptoms after a coronavirus infection.
"It's very clear that the condition is devastating people's lives and livelihoods," wrote WHO Director-General Tedros Adhanom Ghebreyesus. "It's added a significant burden to health workers and the health system"
A new study from Scotland underscores the impact of long COVID. Researchers analyzed nearly 100,000 people, about one-third of whom had contracted COVID. Nearly half of those infected reported they weren't fully recovered when surveyed six to 18 months after infection.
The study did offer some good news, writes Benjamin Mueller at The New York Times: long COVID was rarer in people whose initial infection was asymptomatic or mild, as well as in those who'd been vaccinated.
"We're now heavily reliant on vaccination, which does confer some protection, but it's not absolute," said study author Jill Pell of the University of Glasgow.
Earlier this month, the National Institutes of Health posted an update on its long COVID efforts on an agency blog.
"This is a public health issue that is in desperate need of answers," wrote Dr. Walter J. Koroshetz, director of the National Institute of Neurological Disorders and Stroke. He described the NIH's research program as "unprecedented" in scope and promised clinical trials would be announced soon.
From the Center for Health Journalism
Apply today for our California Health Equity Impact Fund
Our California Health Equity Impact Fund offers mentorship and support to reporters who think big and want to make a difference in their communities through investigative or explanatory reporting on promising approaches to chronic ills.
Signup Deadline: Nov. 18 Learn more here!
What we're reading
Events & Resources