Coronavirus Files: New fall boosters authorized but free COVID tests disappearing
Image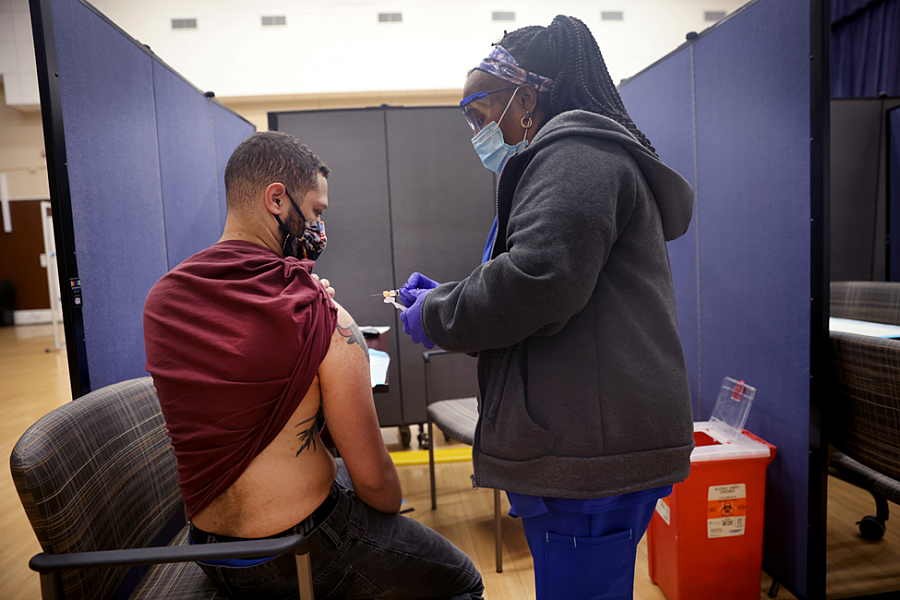 Published on
September 5, 2022
Image
Have a suggestion or a request? Write us at editor@centerforhealthjournalism.org.
Omicron boosters authorized
The FDA and CDC have signed off on new mRNA boosters for ages 12 and up, setting the stage for a fall vaccine push to counter an anticipated fall and winter surge. The shots will be available this week.
"The new shots are not likely to provide a huge benefit over the original vaccine," writes Karen Weintraub at USA Today. "But any boost in protection is worthwhile, potentially preventing death, hospitalization and long COVID-19."
The shots have been reformulated to target both the original coronavirus and the currently circulating omicron BA.5 strain. Dr. Peter Marks of the FDA said this may boost efficacy that has dwindled as the virus mutated over time.
While human testing of the newest formulas has not been completed, it's expected they'll be as safe as previous versions of these mRNA vaccines.
The latest data were revealed at a meeting of the CDC's vaccine advisory committee. Pfizer's results illustrated the advantage of a two-part "bivalent" vaccine, writes epidemiologist Katelyn Jetelina at her blog. In mice, the company's bivalent vaccine targeting original SARS-CoV-2 and the omicron BA.1 strain yielded antibodies that also countered other variants. That crossover protection suggests a bivalent booster could help even if some new, unanticipated variant appears.
A CDC survey, conducted with the University of Iowa in August, suggested that nearly three-quarters of Americans are interested in getting the updated omicron vaccine.
Going forward, the question for individuals will be which booster to get, and when?
People who've been recently infected or recently vaccinated have circulating antibodies, and the vaccine won't be as effective in that case. The FDA authorization says people are eligible once it's been at least two months since their last vaccine, and the CDC went along with this recommendation.
But some CDC committee members were "uneasy" about that two-month interval, "with the concerns hinging on the fact that the interval may be too short to get maximum benefit from the new shot," writes Helen Branswell at STAT.
Similarly, there may be value in waiting after a case of COVID. A recent preprint suggests that if people get a booster within two months of infection, it doesn't do a great job of amplifying long-term immune memory.
As for which booster people should seek, it's too soon to say, experts told The New York Times' Noah Weiland and Sharon LaFraniere. "With research in humans just beginning, scientists are at least weeks away from knowing whether one brand offers better protection than the other," the pair write.
Then there's Novavax's protein-based booster waiting in the wings. Novavax applied for authorization of its booster in mid-August. The FDA has promised to review the relevant data quickly, reports Sara Berg, a senior news writer for the American Medical Association, but the agency has not released any updates since. Studies suggest that boosting with Novavax, after a primary mRNA series, doesn't provide a big benefit.  
The CDC anticipates recommending updated boosters for younger children "in the coming weeks," according to an agency press release.
Pandemic created unfair burden for people with disabilities
Recent state reports emphasize the challenges people with disabilities faced during the pandemic.
The Arc of Pennsylvania, a nonprofit that promotes the rights of people with disabilities, found that residents with disabilities struggled to access pandemic information as well as testing and vaccinations, leading to a higher risk of severe illness or death from COVID.
"During COVID-19, we were a population that was basically forgotten," the Arc's executive director, Sherri Landis, told Scott LaMar at WITF's Smart Talk radio show.
Health disparities widened further when disabled people were also members of a racial or ethnic minority group or lived in rural areas.
Arizona's Developmental Disabilities Planning Council also released a literature review detailing the disproportionate impact of the pandemic on people with disabilities, reports Josh Ortega at the Gilbert Sun News.
"This population was very overlooked when it came to the vaccine rollout," said the report's author Michelle Thorne, founder and executive director of Care 4 The Caregivers, a nonprofit that supports parents of children with disabilities.
Her report noted that intellectual disability was a major risk factor for COVID-19 diagnosis and death. And Thorne said that the health conditions of children with disabilities continue to make it harder for them to recover from COVID, even as the CDC has loosened restrictions to prevent disease transmission.
The falling of such restrictions, coupled with a return to in-person classes, is also creating worries for college students with disabilities, writes Liann Herder at the publication Diverse: Issues in Higher Education.
Meanwhile, pandemic burnout is contributing to a near-collapse in support systems that serve people with intellectual and developmental disabilities, writes Dan Goldberg at Politico.
Many agencies and facilities, such as group homes, have been forced to turn people away, discontinue programs, or shutter completely. Thousands of Americans are stuck on waitlists.
Despite the challenges, Landis in Pennsylvania expressed optimism. The Arc suggests three main solutions: designating people with disabilities as a vulnerable population; ensuring people with disabilities have a voice in the health care and health policy communities; and ensuring medical personnel are trained in disability issues.
"We want to make sure that this never happens again," Landis said.
Government funding for COVID shots and drugs running dry
The federal government is no longer distributing free COVID tests by post. The Biden administration blamed the change, which took effect Sept. 2, on a lack of funding from Congress.
The move will help the government maintain its stockpile in the event of a fall surge, report Monica Alba and Dennis Romero at NBC News. Additional funding could allow the program to restart.
Tests can still be covered by government or private insurance.
Republicans, in denying the White House's requests for additional COVID funds, have suggested the administration repurpose other funds, writes Maureen Groppe at USA Today. "Democrats now hope to include emergency coronavirus funding in the package of pending bills needed to fund the government after September," she reports.
This move heralds a broader shift that will move COVID vaccines and treatments out of the federal purview and into the commercial sector. The Department of Health and Human Services says the supply of free vaccines and treatments will end in 2023, reports Ahmed Aboulenein at Reuters.
Funds to purchase and distribute vaccines will probably run out by January, making the upcoming fall booster push likely the final freebie. There is already less money to support outreach and distribution of the shots than during past efforts, reports Benjamin Mueller at The New York Times.
Federal supplies of the antiviral drug Paxlovid are expected to last until the middle of 2023, but other treatments could run out sooner.
"Once that transition happens, it means products to fight the pandemic will be subject to all the problems evident in other disease areas — like possible price gaming by drugmakers or inequitable access to potentially lifesaving treatments," writes Rachel Cohrs at STAT. "It's unclear what might happen in the future if an uninsured person wanted a COVID-19 vaccine but couldn't pay."
For example, Moderna has been selling the U.S. its vaccine for $16.50 per dose, but the future reimbursement from Medicare could rise to $60 per shot.
The fact that companies can't sell their products until they obtain full FDA approval, not just emergency authorization, could also complication the transition.
Some argue the federal government should continue to pay for COVID vaccines and treatments.
"The private market isn't going to get it right," said Jonathan Gruber, an economist at MIT.
From the Center for Health Journalism
10/4 Webinar: From COVID to Monkeypox — A conversation with Dr. Anthony Fauci
The nation's top infectious disease specialist will join us for a conversation with national health reporter Dan Diamond of The Washington Post. We'll talk about the evolving threat posed by monkeypox, the current state of the COVID pandemic, and broader lessons on how we respond to emerging diseases.
Oct. 4, 11–11:45 a.m. PT. Sign-up here!
We're hiring! Apply now to become the next member of our team.
The USC Center for Health Journalism at the Annenberg School for Communication and Journalism is seeking two Engagement Editors and a social media consultant to join its team.
Learn more about the positions and apply.
What we're reading
Events & Resources