Coronavirus Files: Summer wave may have peaked as CDC reviews new boosters
Image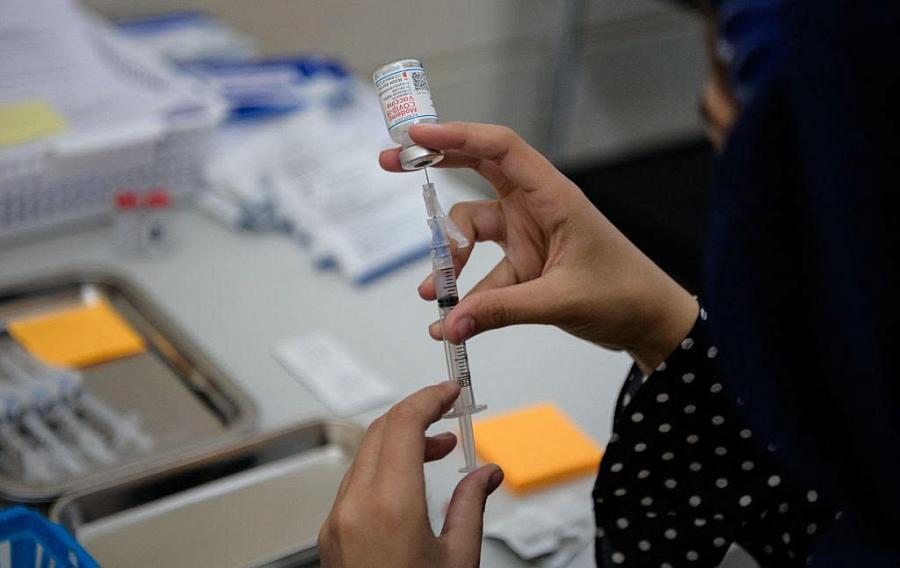 (Photo by Angela Weiss/AFP via Getty Images)
Published on
August 29, 2022
Image
Have a suggestion or a request? Write us at editor@centerforhealthjournalism.org.
Omicron-specific boosters expected after Labor Day
Both Moderna and Pfizer have applied for emergency authorization of their new vaccine formulas targeting both the original strain and the omicron BA.4/5 variant.
These are expected to sail through the regulatory process, with the FDA likely foregoing any consultation with outside experts and the CDC convening its advisory committee Sep. 1–2.
This would set up the next round of boosters — likely the last government freebies — to start soon after Labor Day, report Sharon LaFraniere and Noah Weiland at The New York Times.
Moderna's booster is a 50-microgram dose, the same used in their previous boosters (which is half the dose of the primary series). They've requested authorization for ages 18 and up.
Pfizer's formulation is 30 micrograms, matching their original vaccine series. The company is currently aiming for authorization in people ages 12 and older. It is reportedly also working on a booster for children as young as 6 months.
The new boosters will amplify antibodies, making people less likely to acquire the virus or pass it on for some unknown number of months following vaccination, writes epidemiologist Katelyn Jetelina on her blog. Moderna's research with a different booster formulation, targeting the original strain plus the beta variant, suggested the one-two punch could lead to protection for at least six months.
But those seeking more reliable data will have to wait until human studies on the latest formulations are completed.
Results may vary from person to person, too, depending on an individual's history with the coronavirus. At The Washington Post, Carolyn Y. Johnson explains how what scientists call "original antigenic sin" influences future immune responses.
"The version of virus to which we're first exposed can dictate how we respond to later variants and, maybe, how well vaccines work," writes Johnson. "People's immune systems are on slightly different learning curves, depending in when they were infected or vaccinated, and with what variants or vaccines."
Since the first exposure to a virus dominates any ongoing immune response, it could be difficult for the current or future variant-specific vaccines to retool that response for novel variants.
Dr. Barney Graham, who was part of the NIH effort that led to the Moderna vaccine and now works at the Morehouse School of Medicine, noted that the vaccines can still perform their most important task of keeping people from getting so sick that they require hospital care.
Racial disparities recur with monkeypox outbreak
The racial disparities in infection rates that have characterized the coronavirus pandemic are recurring with the monkeypox outbreak, writes Peter Sullivan at The Hill.
A new report from the Kaiser Family Foundation indicates that Black people make up 26% of monkeypox cases, though they only represent 12% of the general population.
Similarly, 28% of monkeypox cases are occurring in Hispanic people, much greater than the 19% of the overall population that is Hispanic.
And additional wrinkle to monkeypox is that most cases are occurring among men, particularly those who have sex with other men.
Disparities are also recurring in vaccination rates, though few states have reported the necessary data to track this so far. For example, in the D.C. area, Black people make up 36% of monkeypox cases but only 22% of those getting vaccinated.
With endemicity on the horizon, Fauci to leave office
The U.S. daily case rate has dropped below 100,000, suggesting the summer wave is on the wane at last, writes Carolyn Smith-Schoenwalder at US News & World Report. 
Wastewater data, after weeks of declining, now indicate a plateau in viral presence, writes Arielle Mitropoulos at ABC News. Testing levels have also dropped — which could contribute to the declining case rate — while wastewater is a less biased indicator.
Dr. Anthony Fauci's announcement that he'll depart his position at the end of the year is also a sign the COVID situation is improving, though not coming to an end, writes Sarah Owermohle at STAT.
"I think we're in a good place now," Fauci told her. "I believe, even though we are still dealing with COVID, that if we succeed in getting more people vaccinated, and enough people get infected, that there'll be enough background immunity that we'll be able to live with a low, low level of infection."
Ingrid Hein at MedPage Today describes this new goal as "herd safety." She reports how the state of Massachusetts, where 80% of the population is fully vaccinated, weathered the omicron wave with barely a blip in excess death rates.
"We are finally in a phase now where highly immune populations can start to shoulder COVID-19 waves without the guarantee of excess mortality," said MedPage Today's editor-in-chief, Dr. Jeremy Faust of Brigham and Women's Hospital in Boston, who studied the phenomenon.
But COVID is unlikely to be the last viral outbreak with global impact, reports Youri Benadjaoud at ABC News. "Scientists are increasingly warning that global infectious outbreaks could become the new normal," she writes.
Frequent international travel over the past few decades is one contributing factor. A warming climate is also making it easier for infectious agents to jump into humans.
"I think it's very clear that we're living in a new age of pandemics," said Dr. Jay Varma of Weill Cornell Medicine.
Paxlovid's benefits limited to seniors
Pfizer's antiviral drug Paxlovid staves off serious illness from SARS-CoV-2 in people ages 65 and older, but provides little benefit to younger adults, according to a new study published in the New England Journal of Medicine.
The research, conducted in Israel, analyzed data from 109,000 COVID patients, of whom nearly 4,000 took Paxlovid, during the omicron surge. Seniors who took the drug had a 73% lower chance of hospitalization and 79% lower chance of dying, compared to those who didn't take Paxlovid, but it made no difference to patients in the 40–64 age range.
"The findings throw into question whether taking the drug is worth it for people under 65," writes Alice Park at Time. The meds come with a range of unpleasant possible side effects, including diarrhea and a garbage-like taste in the mouth.
Park notes that younger adults who have cancer or other conditions that alter immunity might still benefit from Paxlovid, but the study did not analyze this group separately.
Another issue: after a five-day course of Paxlovid, people sometimes test negative but then positive again. First Lady Jill Biden is the latest high-profile case of Paxlovid rebound, which also affected President Joe Biden and his chief medical advisor Dr. Anthony Fauci.
According to Reuters, the FDA has requested Pfizer test an additional course of Paxlovid in people who experience rebound.
From the Center for Health Journalism
From COVID to Monkeypox: A Conversation with Dr. Anthony Fauci
The nation's top infectious disease specialist will join us for a webinar with national health reporter Dan Diamond of The Washington Post. We'll talk about the evolving threat posed by monkeypox, the current state of the COVID pandemic, and broader lessons on how we respond to emerging diseases.
Oct. 4, 11 a.m. PT. Sign-up here!
We're hiring!
The USC Center for Health Journalism at the Annenberg School for Communication and Journalism is seeking two Engagement Editors and a social media consultant to join its team. Learn more about the positions and apply to join our team.
What we're reading
Events & Resources