Culture and the aftermath of rape in the black community
Image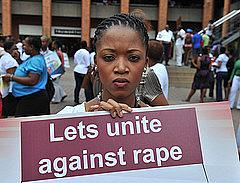 Published on
July 8, 2014
It's a near guarantee that anyone reading this sentence knows someone who has been raped. Despite the disturbing ubiquity of this crime, its ripples drift out in myriad ways, often along cultural lines.
For Black Americans, such cultural lines affect the way rape is viewed and treated. For example, the historical (and present) commodification and fetishization of the Black woman's body has created the stereotype that Black women and girls are oversexed. Black girls are often socialized to avoid this stereotype so seriously, that even a healthy sex-positive outlook can be shameful. For Black women and girls, the fear of being labeled with this stereotype can magnify the guilt and self-blaming that so many rape survivors experience. The result is silence. 
Another example of a cultural consideration is the tenuous relationship between Black people, and law enforcement and the medical community. Past (and sometimes current) mistreatment festers into present-day distrust; because of this, some Black rape survivors and their loved ones decline to report assaults to law enforcement, or to go to a hospital for an exam and rape kit. This is especially true when the victim and assailant are part of the same community—there's the urge to "keep it in the house" to protect them both from systems that are all too often unjust. 
My Fellowship project will explore rape in the Black American community through the lens of these and other cultural factors, via survivors, their families, and their communities. It will also spotlight coping systems borne of these factors, and if/how these systems are serving victims in beneficial and healthy ways. 
Black women are more likely than White women to be victims of sexual assault (at the hands of both strangers and intimate partners), according to Department of Justice data. Research from civil rights organization, the Black Women's Blueprint, estimates that 60 percent of Black women have been sexually assaulted by the time they're 18 years old. And, a study published in the academic journal, Violence Against Women, finds that 30 percent of Black women who have been raped also have documented cases of sexual assault in their childhoods. 
It is my hope that the project will inspire the Black families and community institutions to talk about rape (not just survivors and advocates), and chip away at the taboos surrounding the issue. I also hope my articles reach survivors who may be suffering in silence, praying to no avail, or self-medicating to their detriment, so that they know they're far from alone. 

If you are a survivor, please consider sharing your story via this survivor survey. You can opt to answer it anonymously. If you know and love a survivor, please consider sharing this survey with others. We can break the silence.