Delays in Making Hospitals Earthquake-Safe: Reporting From California's Fault Lines
Image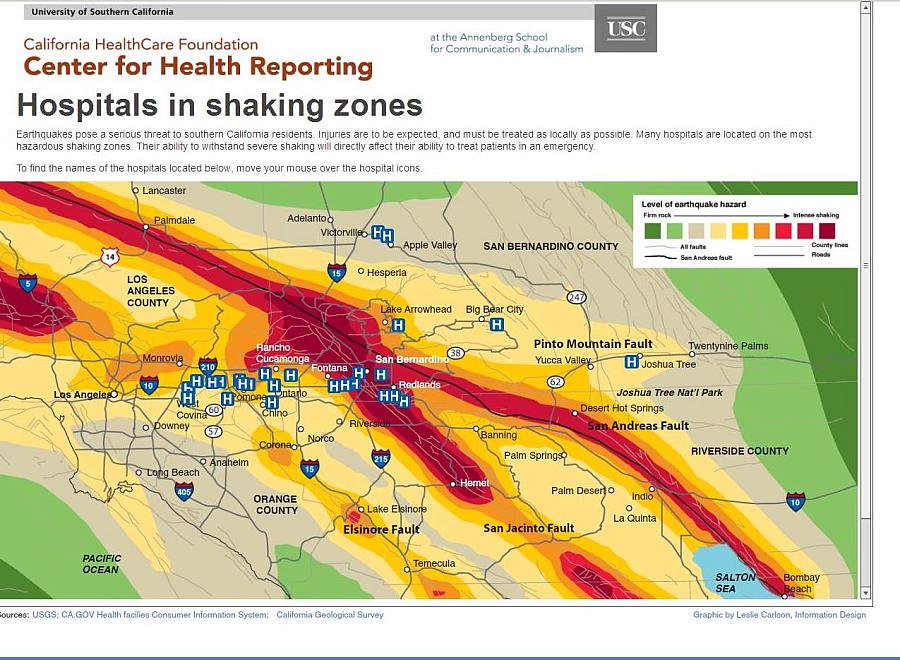 Published on
October 19, 2011
Deborah Schoch timed her two-part series, "Fault Lines," which looks at hospitals and seismic safety, to coincide with the Great California Shakeout, a day dedicated to earthquake preparedness. It documents California hospitals' serious lapses in complying with legal mandates on preparedness. She shares her insights to help other reporters tackling this complex topic.
When I started reporting on hospitals and earthquakes for my series, "Fault Lines," I felt the same initial distaste I did years ago writing about nuclear power.
The studies were mind-numbing; the theories riddled with conjecture. What if a partial meltdown occurred at the local nuclear power plant? What if a magnitude 7.8 magnitude earthquake rocked Los Angeles?
How many times can you use the word "if" in a news story?
Then came one of those interviews where the story clicks into sharp relief.
Kathy Carder, a long-time registered nurse, was telling me about working her early morning shift in the intensive care unit at Santa Monica Medical Center on Jan. 17, 1994, when a magnitude 6.7 earthquake struck in Northridge in the nearby San Fernando Valley.
When the shaking started, the lights went off. So did the ventilators, the IV drips and patient monitors, and Carder and the other nurses rushed to ventilate the patients by hand.
"I had a flashlight in my fanny pack. I grabbed it and put it in my mouth, so that I could see, and the patient could see me," Carder said. "There was a plumbing leak. The ceiling panels turned into paper mache. Clumps were falling down."
Her images of vulnerable patients in a blackened ICU stayed with me. I interviewed engineers and disaster experts who had visited other hospitals in disaster areas-in Japan, Chile, Peru and New Orleans, where Hurricane Katrina led to the wholesale failure of medical care and patient deaths at Memorial Medical Center.
The experts described how a hospital that has walls which withstand a catastrophe can still be brought down by something as basic as an improperly-braced emergency power generator or a broken sprinkler system.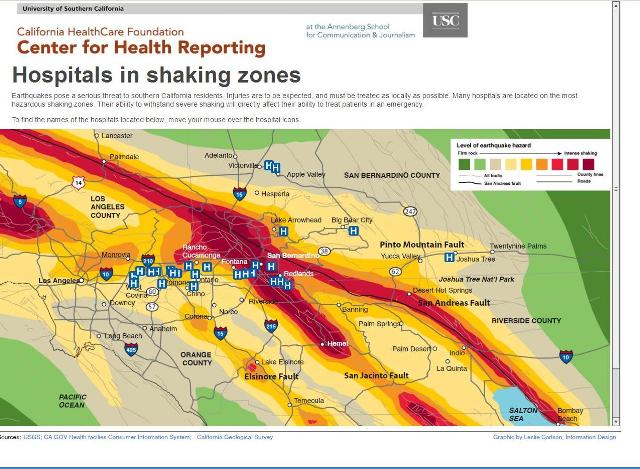 Graphic by Leslie Carlson
Quake-prone California has the nation's toughest laws to make sure that hospitals don't collapse or lose electricity and water in a major earthquake.
Those laws, I learned, do not mean that hospital ICUs such as the one where Carder worked can survive the shaking, let alone keep the lights on.
Digging deeper, I began to glean why so few California media outlets have done in-depth investigations in recent years on the earthquake readiness of local hospitals.
The "what if" factor is partly to blame. Why should editors approve a story about hypotheticals, especially if the state hasn't seen a major quake in 18 years? And it is a highly complex, time-consuming story, that involves understanding a confusing tangle of regulations and sorting through a myriad of opinions. (See below for some reporting short cuts.)
Soon after the Northridge quake, the state Legislature passed a landmark law to assure seismic upgrades at all general acute care hospitals. The bottom line: Shore up your high-risk buildings by Jan. 1, 2008, or the state will shut them down.
The law also set deadlines for internal fixes such as well-braced pipes and generators-all aimed at assuring that a hospital could operate independently for at least 72 hours after a quake.
Inevitably, financial constraints and politics got in the way.
What the Legislature failed to do, in the comparatively flush economic era of the mid-1990s, was develop a practical funding mechanism to assist hospitals that couldn't afford to retrofit or rebuild.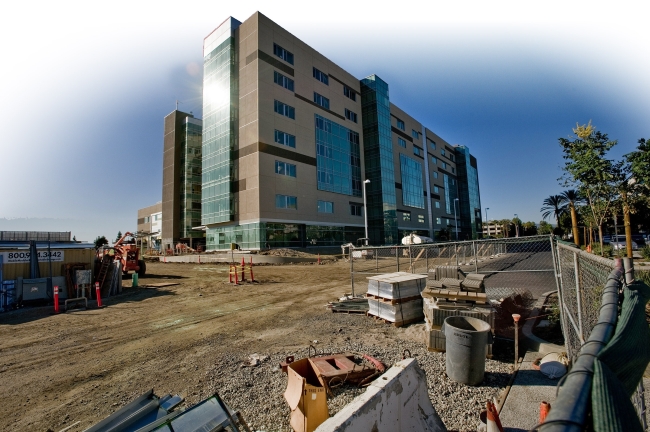 Kaiser Permanente is constructing new buildings at sites around the state, including this seven-story tower in Fontana.
Hospitals began asking for more time. Legislators obliged, passing a string of six laws extending deadlines to 2013, 2015 and even later.
Lawmakers, lobbyists, economists and political pundits are more than happy to dissect those laws and advance their own theories.
But what do the delays mean for the safety of the state's hospital patients?
To find out, the Center for Health Reporting partnered with the San Bernardino Sun and two other MediaNews daily newspapers in communities close to the southern San Andreas Fault in inland Southern California.
That stretch of the famous fault is considered the most likely to produce a magnitude 7.0 higher earthquake in the lower 48 states, some experts say.
The region's hospitals would seem natural "safe havens" for area residents if a massive rupture occurred on the fault.
Yet our initial investigation showed that many of those hospitals have requested and received deadline extensions from the state agency that regulates hospital seismic safety.the California Office of Statewide Health Planning and Development.
To learn more, I filed a state Public Records Act request.
Unfortunately, most of the key documents that have information on specific hospitals cannot be found online; they can be found in paper files at the agency's offices in Sacramento, more than 400 miles north of San Bernardino.
That puts them out of reach for most residents curious about the quake readiness of their local hospitals. So I spent a day in a Sacramento conference room, reviewing reports and correspondence.
In researching this topic, we benefited from the 2010 investigation of California Watch health reporter Christina Jewett, who used the state Public Records Act to obtain and rank the "collapsibility scores" – or the likelihood that a hospital's walls would withstand a major quake -- for many state hospitals .
As it turned out, Kindred Hospital Ontario, the hospital that topped her list of high-risk facilities, was located in our readership area. In a faxed statement, Kindred officials assured us that fixes are on the way.
In the end, we determined that state regulators have given high-risk "collapsibility" ratings to more than 40 hospital buildings in San Bernardino County alone. This means that the buildings could incur such severe damage in a major quake that existing patients might not be evacuated safety-and injured residents would likely have to look elsewhere for care.
To assure accuracy, I contacted representatives at those hospitals and asked them to review the data from Sacramento. They shared their timelines for repairs or reconstruction. They also told us that by 2020, if all goes as planned, all high-risk buildings should be removed from direct patients services.
That's 12 years later than the original 2008 deadline, but it's still good news for health consumers close to the San Andreas Fault.
In the end, this is still a "what if" story, and one that resists easy graphic elements. Our newspaper partners were wary of reprinting photographs of quake-damaged hospitals in Japan. After all, that kind of catastrophe hasn't happened in San Bernardino, and no one can say with any certainty that it will.
So we asked freelance graphic designer Leslie Carlson to develop a "shake zone" map that could appear both in print and on line. It shows the location of local hospitals juxtaposed with the "shake zones" encircling the southern San Andreas Fault. That sets out the facts lets readers draw their own conclusions.
Tips for Reporting on Earthquake Safety in Your Community
Interested in investigating where your local hospitals stand when it comes to earthquake preparedness?
Here are a few recommended steps:
1) Get to know the public affairs officers at the brain trust of hospital data, the state Office of Statewide Health Planning and Development, or OSHPD. Check out the agency website.
2) The last comprehensive state study of hospitals' quake readiness was issued in 2001, and its findings are outdated. But it's a starting point and provides an excellent overview of the state ratings system.
3) Starting last year, all general acute care hospitals with high-risk buildings have been required to file annual reports, known as "499s" with OSHPD, explaining how and when they intend to fix those buildings. Those reports are useful in pinpointing problem buildings. A separate 2010 state report lists hospitals with high-risk buildings and ranks them by how likely they are to comply with the 2013 or 2015 deadlines for seismic repairs or replacement.
4) Some hospitals have asked state regulators to review their high-risk buildings through a voluntary testing system called HAZUS. If a building is rated SPC-2, with a collapse score of 1.5% or below, it likely does not need to be remodeled or replaced until 2030. If it is rated SPC-1, or above 1.5%, it probably needs fixes by 2013 or 2015. A state list of hospitals is posted here, but it is limited because most hospital buildings have not undergone HAZUS testing.
5) A useful 2010 list of hospital HAZUS scores can be found on the California Watch website in an easy-to-read format.
6) Some of the most valuable records on individual hospitals are available only in paper files at OSHPD's office in Sacramento. They include correspondence between regulators and hospitals, such as these letters about deadline extensions and problems at Kindred Hospital Ontario, which has a high collapse risk. To view those files, you need to submit a state Public Records Act request. The First Amendment Coalition offers information about the Public Records Act and how to use it.
7) Work with representatives at your local hospitals. I gave them plenty of notice about our series and discussed my findings well before the publication date. In some cases, we caught some errors. More often than not, local hospital officials talked about their plans for fixes and how they would pay for them. For the statewide hospital perspective, check with Jan Emerson-Shea, spokeswoman for the California Hospital Assn.
8) Engineers at firms that do specialized work on hospital projects, such as Degenkolb and John Martin & Associates, can explain technical issues and the particular challenges of upgrading hospitals.