Discharged to Nowhere: Wrap-Up of a Nine-Part Series
Image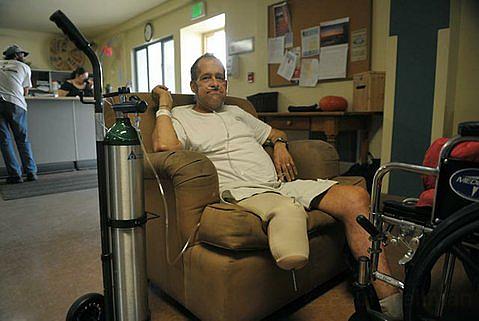 Published on
December 12, 2011
A sixty-year-old homeless alcoholic veteran named John Chase inspired me to focus my Online Community Building and Health Fellowship project on the medical discharges of homeless people in Santa Barbara. Chase has been cycling from the streets to the jail to the hospital and back to the streets again for a decade in this town. In the three years I've known him, he's been hospitalized for pneumonia five times, each bout relegating him to the Intensive Care Unit (ICU) for ten days or longer. After the last episode, in March, 2011, he told me he didn't think he was going to make it. But even so, when it came time to be discharged, he opted to return to his outdoor camp rather than stay indoors at a homeless shelter. Those places "weren't for him," he said.
Days after his discharge from the hospital, I saw him asleep in a State Street doorway. He wasn't over his pneumonia, yet there he was, living through rainy nights and windy days, not eating well, although he had managed to stop drinking. It was only a matter of time before he was back in the hospital.
I began wondering how homeless residents recover from acute illness in Santa Barbara. What awaited them following a hospital stay? I knew it would be a challenging story to report. I would need to follow four or five individual homeless people through the discharge process and beyond. I would need to gain enough of their trust to persuade them to sign HIPAA privacy waivers. I would have to interview our hospital's executives-its own challenge considering that institution's long history of stonewalling the press. And I would need hospital discharge data.
While planning my approach, I decided to visit a few other coastal California cities to see what services they had for their acutely ill homeless residents. As it turns out, this was an angle that gave my series dimension. There's a burgeoning medical respite care movement taking place in America today. Officials at the National Healthcare for the Homeless Council said the number of cities across the nation with respite care centers for the homeless is growing by the month, a trend buoyed by scores of studies showing such facilities reduce patients' future inpatient hospital stays. I visited three such centers, one in San Jose and two in Los Angeles.
Image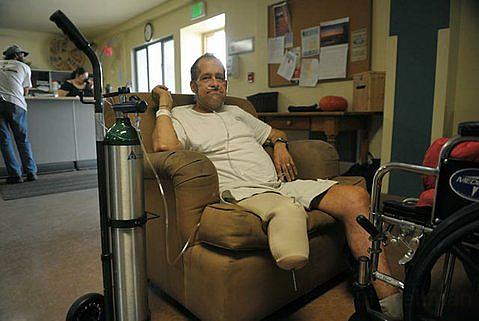 The hardest part of this project was connecting with homeless patients; finding individuals who, while sick and without a place to go, were willing to share their hardship with the entire community. Of particular help in this department was the Medical Coordinator at Casa Esperanza, a Registered Nurse who is anxious to improve post-acute care for the homeless here. What surprised me was that most of the people she introduced me to were willing to share their stories. This utterly amazed me, given their precarious situations and health. One woman, a breast cancer patient, was hesitant and skittish. I had to tread very lightly with her because the events surrounding her discharge were particularly uncoordinated. I made sure to give her complete control over when we spoke, how I would present her identity, and what I would include and omit.
(Above: Kickstand, or William Armstrong, at the homeless shelter following a 3 week hospital stay. Photo: Paul Wellman)
Getting data on hospital discharges was hard. In fact it was almost impossible. After being told by Cottage Hospital officials that they did not keep data on the discharges of homeless patients, I approached the Office of Statewide Planning and Development (OSHPD). That office was more optimistic, but in the end, did not have any data on hospital discharges of homeless patients either. I was left with data on the discharges from the Cottage Hospital Emergency Room only. I combined that with data on medical bed occupancy at the two shelters that accept sick homeless residents.
Together they provided a rudimentary map. It was barebones but did provide readers with a visual sense of the human consequence of this issue. By seeing how many homeless people are discharged to the street and to homeless shelters every year, readers could see this is not an inconsequential issue.
In story after story, my project showed that the services available for acutely-ill homeless people are extremely limited in Santa Barbara. The first person I profiled had been sent back to the Emergency Room four times in a single weekend. The second person I profiled was sent back to the Emergency Room once and almost immediately readmitted. After she was discharged for the second time, she bounced between three places in two weeks, and ultimately landed in a small shelter with respite care capabilities.
What brought the community's attention to my project was a dramatic incident involving a homeless stroke victim named Cindy McCallum. McCallum was discharged from the ER on Friday night October 28th with a bus token and due to her partial-paralysis and cognitive disability, spent the next three nights outside on the street. I was lucky to be in the right place at the right time, with my sources outraged enough to give me all the lurid details of the incident.
I ended the series with an interview with Cottage Hospital's Chief Operating Officer (COO) Steve Fellows in which I asked him directly about the McCallum incident, and others. After dodging the questions after question, he finally admitted that the community needed to sit down and look at this problem, but didn't think Cottage had any special responsibility for it.
Looking back, the series would have been strengthened if I had managed to accrue financial data on the repeat ER visits my subjects made after their discharges, visits that would likely have been prevented had they been in a respite care center with 24-hour nursing care.
I think the project was a success because the issue was not widely discussed beforehand or even viewed as a community problem. Now, some homeless activists are researching whether or not Cottage engaged in patient dumping. The Mayor of Santa Barbara has invited me to be the sole guest on her Saturday morning radio talk show. She said she's been enjoying my series and wanted to discuss homeless issues, including the issue of medical discharges. Meanwhile, according to Cottage Health System PIO, Steve Fellows had a long conversation with the Hospital Foundation about respite care services in Southern California. These are signs of movement, if not actual change. Yet.