The end of Roe v. Wade will shake up America for years. Here's how to tell those stories
Image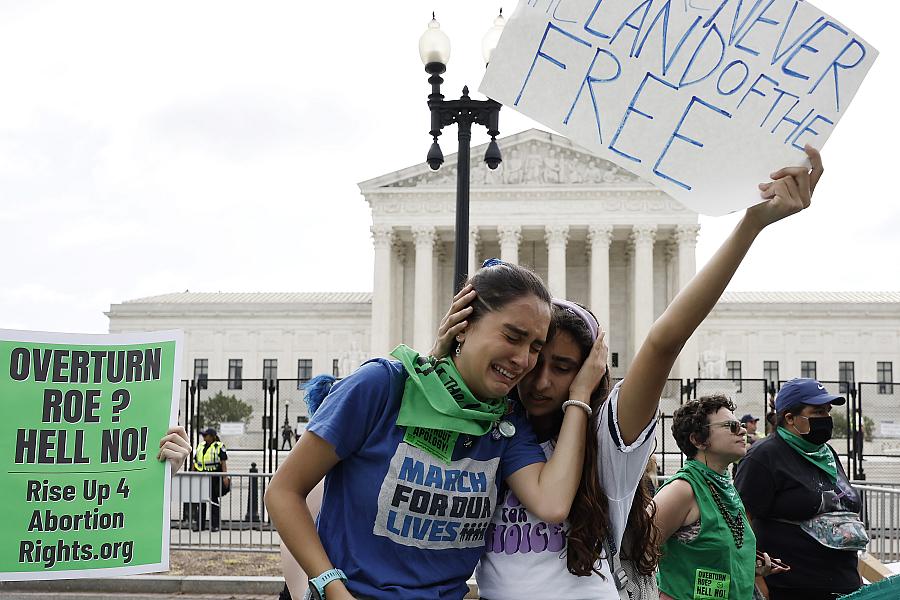 Photo by Anna Moneymaker/Getty Images
Published on
June 24, 2022
By Shefali Luthra
The end of Roe v. Wade is one of the most important stories of our lifetime. Reporters must handle this historic decision and its far-reaching impact with thoughtfulness and care. 
We've already had a test run of what this moment could look like. After the May 2 leak of the Supreme Court's draft opinion in Dobbs v. Jackson Women's Health Organization, newsrooms across the country began pouring more resources into covering abortion access. Some reporters and editors had great familiarity with the topic. But many were touching this subject for the first time.
Doing this story justice requires empathy, nuance and sustained, long-term attention. Some of the richest, most important stories about abortion access will be told by reporters working on the state and local levels, looking at the barriers to access months after the final Dobbs decision comes down.
Abortion is highly controversial, and there will be pressure to treat this as a story of political back-and-forth. And the political story is important: With Roe v. Wade overturned, what are anti-abortion advocates pushing for next? Do they have a legislative strategy, and what does it look like?
But I'd urge reporters to exercise caution when deciding which angles to prioritize. At its center, the story of abortion is one of medical care, and what happens when care is denied.
Research has shown that when people are denied abortion and forced to carry a pregnancy to term, the impact is lifelong. There are mental health consequences, physical health implications, and socioeconomic concerns. Already, physicians are sounding the alarm about the impact this decision will have and the inequity with which it will fall.
Some people will easily be able to travel out of state for abortions. Others, research from Texas has shown, will have to make great financial sacrifices — foregoing groceries and falling behind on rent, for instance — to pay for an out-of-state abortion. More people will try to obtain abortions illegally in their home states. It can be done safely if people can order the correct medication, but it carries the risk of legal prosecution.
Still other people will be forced to carry unwanted pregnancies to term. And as history has shown us, whenever abortion restrictions are passed,  the people who struggle most will be those who are lower-income, and who are often already parents.
That is the story I would focus on first. Physicians from the American College of Obstetricians and Gynecologists and institutions such as the University of California San Francisco have done copious research on what abortion access, and the loss of it, means. To frame story ideas and angles, I would recommend reading the medical literature and speaking to scholars who have studied this issue. They are generally easy to reach, and their work can steer us toward covering this story with an eye on health disparities and in a manner grounded in accurate, up-to-date medical literature and science.
Longer-term, the most important stories will capture the end of abortion rights through the eyes of the people directly affected.
I've emphasized that in my own work, reporting directly from clinics to chronicle the experiences of women who sought abortions in the Rio Grande Valley after Texas' six-week abortion ban took effect. What did it take for them to get to the clinic? How did they pay for the abortion? Had they told their families? And how did it feel to know that abortion rights had been restricted?
 In Mississippi, I found a woman who left her home at 3 a.m. to drive the six hours to the clinic for her first of two appointments. Because she didn't have extra child care, she would drive back the six hours that evening, and then return the next day. And in Florida, I met a doctor who had faced harassment in his home for providing abortions to people who were past 15 weeks of pregnancy. He told me about the patients who came to him for care, including 11-year-olds who did not realize they were pregnant because they had never had regular periods. 
These types of stories put a human face on an issue that may seem abstract or remote to much of our audience. They can highlight what these policy choices mean for people's real lives, and the stark inequities in who is most affected. Even in states that ban abortion, there will be ways to cover these stories. That may mean speaking with people at local abortion funds about where they send patients, getting in touch with the people who worked at now-shuttered abortion clinics and whose livelihoods have now been transformed, or traveling across state lines to find out where people in your community are now going for care. 
To be clear, this kind of reporting is not always easy to do. Anti-abortion advocates have a long history of threatening violence against people who provide abortions. Doctors who provide this service have been threatened and even killed. People who seek abortions have already faced harassment and social stigma. As journalists, we must be cognizant of the risks people take when they speak to us, and respect their wishes for privacy and protection.
Over the past two years, I have covered abortion from clinics in several of the country's most restrictive states as well their neighbors — Texas, Oklahoma, Mississippi, Kansas and Florida. Before visiting, I try to set up time in advance to speak over the phone. At least initially, it's helpful to spend some time getting to know people while you are not on deadline, and to learn even on background about the work they do. Only if we build a rapport do I ask if I can visit the clinic itself — and I do my best to remember that these are health care facilities, often overwhelmed by taking care of patients. If clinic staff are too busy to let journalists visit soon, a dispatch from a clinic will remain timely weeks after Roe v. Wade is overturned.
For speaking to patients, I let the clinic staff lead the way. Does the staff feel comfortable with me interviewing patients who happen to be in the building? Is it easier if I leave a note in the building and let patients reach out to me? I make sure to offer anonymity. I try to remember that these are private individuals getting medical care. If they don't feel comfortable speaking to a journalist, I respect that. Direct patient voices are the most effective, but they are not the only ways to tell these stories.
Beyond reporting from clinics, I would recommend that reporters develop strong sourcing in their local and national reproductive health spaces. Abortion funds are a great place to start. Most are locally based — Googling "abortion fund in my state" will be a helpful start — but many are also listed at the National Network for Abortion Funds website. Physicians, and in particular local OB/GYNs, are especially valuable. Even if they don't provide abortions, they may be able to tell you where they referred patients seeking care. If you aren't sure where to find the most relevant OB/GYN, the American College of Obstetricians and Gynecologists may have advice as well.
There will also be important spillover stories. Abortion clinics often provide contraceptive care, testing for sexually transmitted infections, and gender-affirming care. If clinics close or scale back operations, will people lose access to those services as well? Who will be most affected?Pregnancy-related deaths are already a greater threat here than in other wealthy nations, particularly for Black and Native American women. Will the end of abortion access make this crisis even worse? How will fewer abortions affect the state's social safety net or programs such as foster care? We should follow all these questions in the months and years to come.
There are useful resources for people trying to keep track of developments in abortion policy. At The 19th, we've developed a dashboard to help people track state abortion laws, which we update daily. I regularly check the Guttmacher Institute's website; the organization, the Centers for Disease Control and Prevention, and the Kaiser Family Foundation provide some of the most comprehensive and reliable abortion-related research out there. Guttmacher and KFF have experts ready and willing to help reporters make sense of the research and brainstorm story angles.
Longer-term, I recommend thinking about abortion from a host of angles: the political battles, academic research, the medical community's response, policy proposals, health care costs and patient impact. This story won't go away anytime soon, and it deserves our utmost care and attention.