First person health care stories not always narcissism - and can be a public service
Image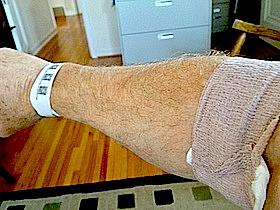 Published on
January 15, 2013
I'm 61.  I've spent more days in hospitals and doctors' offices and rehab facilities in the past year than I ever imagined could happen in a lifetime let alone in one year.  I've watched my 89-year old Mom die one month after diagnosis with aggressive stomach cancer.  I've watched my 92-year old Dad fall, fracture a hip with avascular necrosis, and get a total hip replacement.  I spent almost the entire Christmas holiday in the hospital with him when he got flu/pneumonia.  I've seen him go from independent living to transitional care unit to assisted living.  I've dealt with a hospice team, two different home care teams of RN/PT/OT/home health aide, three different teams of people in three different ER visits, an orthopedic surgeon, an oncologist, two different primary care docs, countless nurses and social workers, two different clergy people, a dermatologist – and a funeral home. Some encounters have been terrific.  Others have angered me.  These were all encounters I experienced along with my parents in just one year.
My wife, our kids, our grandkids and I have had our own health issues this year.  In fact, I was in the hospital for tests earlier today.  The image at left is all I'll reveal about it at this time.  And what I wrote in the first graf above is all I'm going to write about the past year of health care in my family – for now.  The memories are too fresh, the emotions and stress still too raw.  But, yes, I know the contribution that I could make as a veteran health care journalist if I ever do collect my thoughts on this past year (and more) and write about my observations of health care as I've seen it play out in my family this year.
So don't read me wrong when I write – as I did last week – about my concerns about "many stories by health care journalists reporting about themselves.  They are often imbalanced, incomplete, non-evidence-based stories." First, note that I used important and deliberate qualifiers: many and often.  I didn't say that all first personal health care stories are troublesome, unethical or narcissistic.  Most of the examples (5 of them) that I cited involved journalists reporting on themselves choosing to have procedures about which there are significant questions about the evidence.  So they used their journalistic platform to promote – in effect – choices that may not be wise choices for a broader population, choices that involve both potential benefits and potential harms (even though the potential BENEFITS-to-harms ratio is often wildly out of whack in such stories) and that are very personal choices that should involve an individual's values and preferences.
After that column last week, I heard from several journalists about first person health care story favorites of theirs.  I'd like to hear about any of yours as well – which I hope you will post at the end.
One journalist wrote about first-person health care journalism: "When it's done right, and in the right context, first person treatment stories can be gold. Laurence Stains did a great piece called 'I Want My Prostate Back' about overtreatment of prostate cancer."
In Boston, WBUR's Martha Bebinger has reported several pieces recently about her search for a quality colonoscopy.  Her latest,  "Ask About The Quality Of Your Colonoscopy: It Matters,"  discusses how hard it is to find quality and cost data on colonoscopies. There can be a public service in addressing a complex screening issue like this – although, as noted in comments following a prior post, perhaps she could have spent more time on the question of whether a colonoscopy was necessary.
On Kaiser Health News, writer Lisa Drew wrote about her own experience in "Finding A Path Through The Health Insurance Market 'Gobbledygook'
Also on KHN, journalist and doctor-in-training Ishani Ganguli wrote about how the primary care shortage has affected her life, in, "Primary Care A Compelling Mission For Harvard Medical School Student."
Atul Gawande wrote in The New Yorker about the complexities of provider reimbursement through the prism of his own decisionmaking about how much salary he should ask for. Would this have worked as well in the third person?
Before Charles Ornstein joined ProPublica, and when he worked at the LA Times, he wrote, "Puzzling out plan options for Medicare." He began:
My mother turned 65 this summer, an event Medicare marketers ensured she would not overlook. In the months before her birthday, slick brochures flooded her mailbox, touting Medicare health plans whose names alone promised virtues such as choice, value and advantage.

Choosing a good plan was important. My mother, Harriet, suffers from Parkinson's disease and other ailments and takes more than a dozen medications every day.
Because I'm a veteran healthcare journalist, my mom asked me to help her pick the right plan, and I readily agreed. After all, how much work could it be? A few minutes to scan the options and pick the right one for her?

Wrong.
Again, believe me, I could write about a book about my dealings with Medicare and caregiving for my parents just in the past year.
One book that was written by a journalist was about Mary Knudson's own story, "Living Well With Heart Failure, the Misnamed, Misunderstood Condition." In the introduction, she wrote:
"My experience with this disease and with the health care system made me recognize a need to alert the public to heart failure and how to take care of it."
It should not be difficult for anyone to see what was objectionable with the examples I cited about journalists reporting on themselves in last week's post.  Journalism codes of ethics touch on several of the issues.
At the time of the post-Haiti-earthquake physician-led news coverage two years ago, Society of Professional Journalists president Kevin Smith wrote "injecting oneself into the story … is not objective reporting, and it ultimately calls into question the ability of a journalist to be independent, which can damage credibility." He was addressing the specific circumstances of physician-journalists reporting on themselves delivering care in a crisis situation, but the SPJ president's comments about injecting oneself into a story is the salient point.
The Radio Television Digital News Association Code of Ethics states "Clearly label opinion and commentary." That didn't happen in some of the stories I cited last week. Once one injects oneself into a story, it can become a slippery slope in the seamless segue between reporting and opinion/commentary.
The Association of Health Care Journalists Statement of Principles states:
Recognize that most stories involve a degree of nuance and complexity that no single source could provide. Journalists have a responsibility to present diverse viewpoints in context.
Distinguish between advocacy and reporting. There are many sides in a health care story. It is not the job of the journalist to take sides, but to present an accurate, balanced and complete report.
Some of the stories I cited last week may have failed on these measures.  Not so with the stories and the journalism I list above in today's post.
But the very nature of the stories is different:
Last week's examples were, for the most part, framed as, "Look what I did.  Look how I chose." And in some cases, "Look at what I endorse."  Single source journalism – with the reporter's own story as the only source – is not a public service.
The examples in this post are almost all public service examples of how to navigate a confusing health care system, how to weigh the complexities of difficult health care decisions.  They are deeper, richer personal narratives that go beyond merely shining a light on oneself.  And in so doing, they are personal narratives that can provide more balanced and complete information to other people than the earlier examples.
I'm going to stop here because I hope some of you add your own links to excellent first person stories (or, if you wish, more examples of the type you think we can do without). 
—————————————–
Follow us on Facebook, and on Twitter:
https://twitter.com/garyschwitzer