Four lessons I learned while reporting on gun violence in Chicago
Image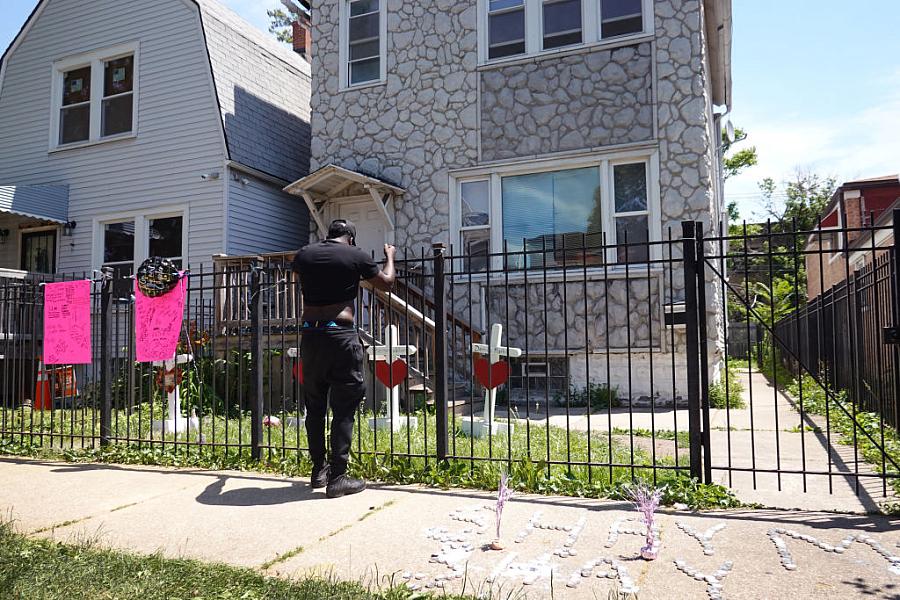 (Photo by Scott Olson/Getty Images)
Published on
April 7, 2022
Gun violence is one of the biggest public health crises in America. The issue took center stage during the first year of the pandemic, as gun violence spiked in cities across the country. 
Yet the issue is rarely discussed in a comprehensive way. It's often oversimplified in news reporting and at city press conferences. When I set out to report on gun violence in Chicago in 2021, I wrestled with how to frame an issue that people already assume they know. 
I realized there were a lot of gaps in news coverage and I wanted to help fill in some of the blanks. For example, news articles often focus on the people who die from gun violence, even though a person in Chicago is four to five times more likely to survive a shooting than die from their wounds. This has resulted in violence survivors being minimized or ignored completely — despite there being more than 24,000 of them in Chicago alone. I also realized there was not a substantial amount of awareness for services available to survivors and families who've lost loved ones. 
I used these realizations as a springboard to produce a multi-part series on gun violence in Chicago. I utilized a lot of tools to capture the stories I wrote, and the biggest one was letting the communities most affected by the issue guide the story. 
Here are some of the tools I used for my reporting series, "Aftershocks": 
1. Let data guide you, but numbers aren't people.
Oftentimes journalists refer to the "bones" of a story. Before producing a piece it's important to have a clear understanding of what will ground the project. Is the story all narrative? Is it data-rich? Or is it a mix of both? 
I knew going in that I wanted to write narratively rich stories that were grounded by sharp data analysis. I spent several months analyzing a decade of homicide and shooting data compiled by the Chicago Police Department. Separately, I analyzed more than 15,000 victim compensation claims filed in Illinois in recent years. These findings helped anchor some of the major points in the series, which we ended up using in an interactive series landing page. 
While we could've published a story with just the data findings, I think centering people as a way of helping audiences process our analysis was incredibly important. Gun violence is a highly racialized and politicized issue. We need to tell the stories of the people most affected by it and not be complicit in their erasure. In order to do this, I needed to talk to the people behind the numbers. 
2. Door knocks and surveys.
It can be difficult sometimes to find everyday people who are affected by gun violence. For this project, I wanted to speak with people who are not typically interviewed for these stories and aren't in a public-facing role. I relied on a common reporting technique called door knocking. In addition to this, I worked with our engagement editor and my main editor to develop an informal community-based survey to better understand people's relationship to gun violence and how that might change depending on where they live in a given neighborhood. 
These tools allowed me to engage with many different types of people, across varying ages and socioeconomic status. In one instance, I spoke to an elderly man on a block who described gun violence in his community as an issue, but the most he ever saw of it was ambulances driving by. Barely 400 feet down, a young man recalled multiple experiences with the issue, including seeing his friend shot right next to him. I used this information to craft the first story in our series, which focused on a small community on the South Side of Chicago. Through door knocking and surveying, I was able to accurately capture the nuances of gun violence, and not just rely on hearsay and political talking points. 
Read: "In Chicago's Roseland Neighborhood, a Mix of Grief and Perseverance" 
3. Collaborate 
Since the publication I worked for had a smaller audience reach, it was important for us to collaborate with fellow local publications to increase the chances that the public might engage with our work. For "Aftershocks," we co-published with The Chicago Sun-Times, Block Club Chicago, and La Raza, a Spanish-language publication. 
This was especially important for the second story in our series, which took a deep dive into the state's victim compensation program. Alongside this story, we published a guide to help people better understand the service in Illinois. By partnering with different news outlets we were able to reach a variety of audiences, at both the local and hyperlocal levels, about an important government resource. 
Read: "Illinois Has a Program to Compensate Victims of Violent Crimes. Few Applicants Receive Funds." 
As newsroom resources condense, collaboration will continue to play a key role in journalism's future. 
4. Have a maximum and a minimum story. 
When I first started the "Aftershocks" series, I set out to produce a multi-part project centering young people who had been shot during the pandemic. I wanted to detail their recovery during a time of extreme isolation. I also anticipated a few accountability stories focused on policing and the state's victim compensation program. 
We ended up publishing a two-part series instead. Although I spoke to several shooting survivors for this story, only one of them appears in print. 
I realized a few months into reporting the series just how traumatic gun injuries are, both physically and mentally. The young men and women I spoke to, just barely into their 20s, were wracked with PTSD, guilt, embarrassment, and chronic pain. They were struggling to make sense of their new life situations. One young man I spoke to was learning to walk again after a spinal injury. Another young woman was struggling to find a job that was accessible via public transit and didn't require her to stand for too long. They talked about the extreme physical pain that remained from being shot, and the difficulty they had falling asleep at night. 
I felt it would be irresponsible to pressure them to be interviewed for a story that had no guarantee of making any tangible difference in their lives or in how people view gun violence. 
For a while after the series was published, I felt embarrassed about reporting a gun violence series without a story that addressed the people at the core of the issue. Now that I've had more time to reflect, I'm happy with my decision. It seems like the most ethical choice I could've made even if it didn't suit the project narratively. 
There are still more stories to tell about people who survive shootings and what surviving means. I'm excited to see other reporters carry on the spirit of Aftershocks, and the stories survivors tell — when they are ready to tell them.