A growing number of employers require COVID-19 shots
Image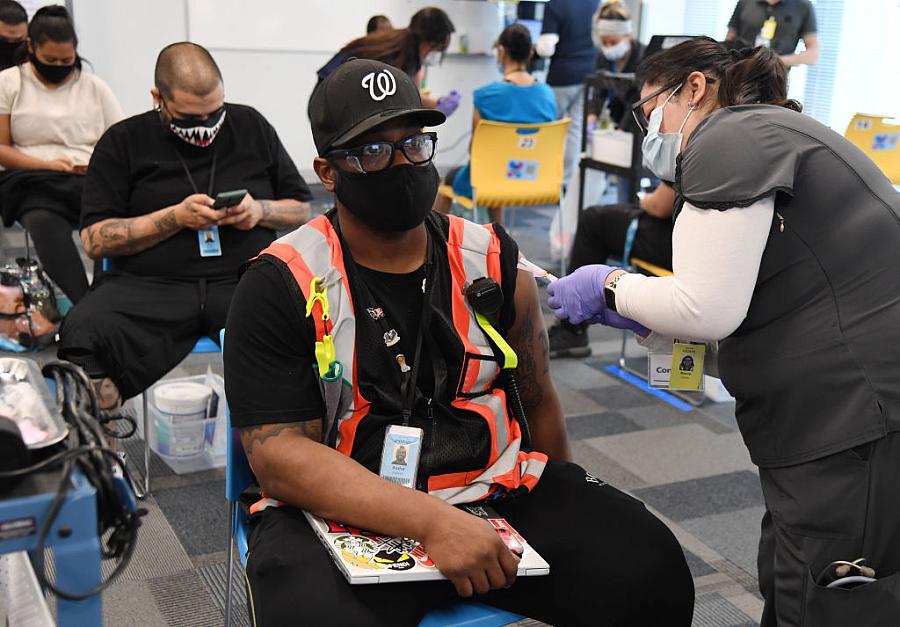 (Photo by Ethan Miller/Getty Images)
Published on
July 29, 2021
First came education and incentives. That was followed by pink-slips.
Last month, about 150 staffers at Houston Methodist who violated a policy mandating COVID-19 vaccinations were terminated or resigned. The Texas hospital system was on the leading edge of requiring employees to get vaccinated.  Major institutions such as the U.S. Department of Veterans Affairs and the University of California recently followed suit, and the state of California announced it will give health workers and state employees a choice: get vaccinated or undergo weekly testing.  
Amid a return to in-person work, employers are pursuing wildly different paths in hopes of increasing employee vaccination rates — including mandates, gift cards and lotteries. This comes as the highly contagious delta variant rips across the country and COVID cases skyrocket, especially in places with low vaccination rates. Unvaccinated people account for nearly all hospitalizations and deaths.
Many hospitals have long required employee flu vaccines, a position that's largely withstood legal challenges. But in a sign of political polarization, some states have targeted COVID-19 vaccine mandates, fueling employer reluctance to act. Montana passed a bill in April that prohibits most private and public employers from requiring COVID-19 vaccination as a condition of employment. Other states are considering similar legislation.
Employers also fear lawsuits. 
In an early legal test, a federal judge in June dismissed a lawsuit brought by 117 employees at Houston Methodist who had sought an injunction against the vaccine mandate. The ruling, which is under appeal, found that employees weren't illegally forced to get the vaccine. A week later, dozens of employees protested the policy outside a system hospital.
But patients — and the hospital system's 26,000 employees — have largely commended the requirement, said Carole Hackett, chief human resources officer.
"I cannot tell you how many letters and phone calls we have received from our patients thanking us for keeping them safe," said Hackett. She emphasized that education preceded the mandate, which was announced in the spring. Houston Methodist mandated the flu vaccine more than a decade ago.
Under federal guidance, employers may require that employees be vaccinated against COVID-19. But there are caveats.
If an employee claims a disability or religious exemption, an employer may have to provide accommodation, such as allowing remote work or a mask, according to the Equal Employment Opportunity Commission. Perhaps not surprisingly, websites have sprung up to sell religious exemption packages, which include a letter from a pastor.
About 2% of Houston Methodist's employees have an exemption, including pregnant women who have deferred vaccination.
As an employer in an at-will state, the hospital system has wide discretion over firing and hiring workers. In an ironic twist, vaccine-friendly states such as California generally have protective labor codes that complicate mandating vaccines in the workplace.  For instance, anti-vaccine employees in California could invoke political belief protections, a strategy that may or may not pass legal muster. 
"I cannot tell you how many letters and phone calls we have received from our patients thanking us for keeping them safe," said Carole Hackett, chief human resources officer for Houston Methodist.
"For employers, these are delicate, delicate situations to navigate," said Marie Burke Kenny, an employment attorney with the business law firm Procopio.

Kenny said some clients that declined to require COVID-19 vaccines expressed an interest in revisiting the idea when the shots receive full regulatory approval. The U.S. Food and Drug Administration authorized the vaccines on an emergency use basis.
For companies, full approval may provide legal cover — but that may be unnecessary. In the Houston Methodist case, U.S. District Judge Lynn Hughes said nothing in the emergency use provision restricts employers from mandating vaccines. 
The University of California initially said it would wait for full approval before mandating vaccinations for students and staff but reversed course, citing additional studies showing the vaccines are safe and effective. With the policy, the University of California became the nation's largest public university system to require vaccines.
On Monday, the Department of Veterans Affairs became the first major federal agency to require health care workers to get COVID-19 vaccines. That same day, the state of California said that more than 2.2 million state employees and health workers must get vaccinated or face weekly testing. New York City announced a similar order.
Surveys show most employers aren't in favor of mandates. The same goes for workers. Some of the largest unions representing public health care workers have registered opposition to mandatory vaccination.
More than half of employed adults oppose employers requiring all their employees to be vaccinated against COVID-19, according to recent survey by Politico and Harvard T.H. Chan School of Public Health.
But most respondents with school-aged children want public schools to mandate vaccination for teachers, and two-thirds of respondents favored a similar requirement for the health care workforce. One in four hospital workers who have direct contact with patients had not received the COVID-19 vaccine by the end of May, according to a WebMD and Medscape Medical News analysis of federal data from 2,500 hospitals across the country.
While employers such as United Airlines and Delta require that new employees be vaccinated,  many companies have instead adopted incentive programs, such as gift cards and time off. Leidos, a government contractor with 35,000 employees in the U.S., took a different tack ahead of bringing people back to the workplace: a lottery. Among the vaccinated, 10 randomly selected workers will each get a year of pay.
"This is where behavioral science comes into play," said Melissa Dueñas, a senior vice president at the company.
Research shows that a remote chance to win big is often more motivating than a guaranteed small reward. Some states have also turned to vaccine lotteries. (California's lottery probably sparked renewed interest in the shots, the Los Angeles Time recently found.)
It's tough to say how many Leidos employees got vaccinated because of the lottery. But after eight employees — who had been working from home — died of COVID-19, the company was motivated to act.
"We want to lean in hard on encouraging folks to do the right thing," Dueñas said.
Health providers that care for frail populations are more likely to mandate employee vaccines. Still, some nursing homes and assisted living facilities haven't taken that step, fearing it would drive away workers in industry struggling with staffing shortages.
In his rounds at San Diego nursing homes, Dr. Pouya Afshar has hosted question-and-answer sessions with employees. Afshar—the CEO of Presidium Health, which cares for medically complex patients—said facilities must take a layered approach to persuade the vaccine-hesitant.
"Maybe that $200 incentive wasn't enough, until you sprinkled in some education," said Afshar. 
**