Hard To Know If Diabetes Camp In Haiti Will Have Lasting Effect
Image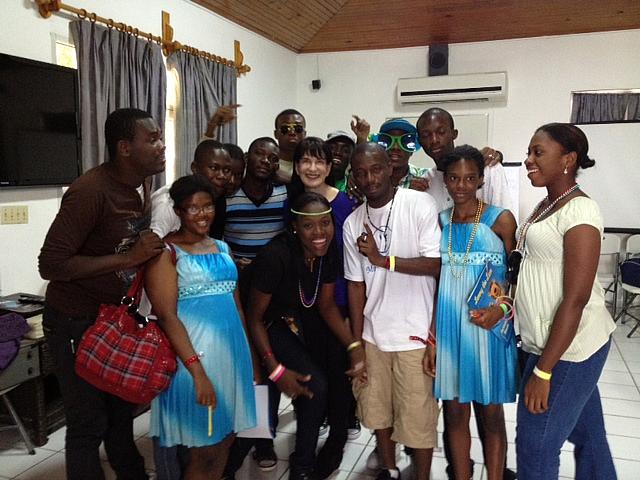 Published on
April 8, 2013
Francine Kaufman, MD, wrote this account of her experience as a pediatrician and diabetes specialist in Haiti on her cell phone. Since the earthquake, Fran has been going to Haiti annually and sharing her experiences with Reporting on Health.
The rest of the days of camp were incredible. The highlights beyond more goat, conch, cheeseburgers (pretty scary) and some unidentifiable creole fish (we survived on the crackers we brought, Haitian rice and beans, and coca cola) were too numerous to count. During the days, the kids took turns bouncing up and down in the pool because almost none of them can swim, despite living their entire lives on a tropical island. There was some time for impromptu soccer for the older boys, done with a ferocity otherwise not seen by these polite and almost submissive youth. 
We had minimal arts and crafts (unfortunately), more flooded toilets (evidently our instructions on how to flush a toilet -- something many of them had never done -- were not sufficient) and a talent show. It was amazing how willing these kids were to stand in front of the group and do just about anything. Most of the boys acted out stories about having a low blood sugar, or forgetting to take their insulin. The girls danced around to blaring music – with too many suggestive poses, and one of the older girls – 23 year old Nadine - with developmental delay, sang off key some well-known Haitian song while all the other kids listened and then clapped, rather than laugh her off the stage.  
Nadine was with us last year, and we wrote about her remarkable journey after the earthquake, which killed most of her family. She lived for a while alone on the streets until she walked alone for weeks to an orphanage in the mountains. Fortunately, she has remained at the orphanage, which usually releases those over 18 years, but between her cognitive problems and her diabetes the nuns of the orphanage have decided to keep her.
Blood checking and insulin times were total chaos.  Most of these kids check their blood glucose levels once a day -- twice at the most -- and more often than not, not at all. So checking them 8 times a day was a curiosity for them all. They were amazed to see low blood glucose values when they had them, and by the end of camp, thrilled when they got a normal number.  They swarmed around us when it was time to check, expecting us to do everything for them. It seemed like such a dichotomy in a country where almost nothing actually gets done for these kids. 
A bunch of the older boys wanted to know where their insulin came from. Since it is labeled "human insulin" and no longer derived from dead animals, they wanted to know if their insulin came from dead people?  When I said, "No," and explained the bioengineering process to them, they seemed really relieved. The education sessions were replete with seeing the "lights go on," and each time, they jumped up and hugged each other, slapped a back, or did a hand bump. 
We had one bad low blood sugar reaction in the middle of the night, Nadine on the night of her song (she was so excited she forgot to eat her bedtime snack), and we had one girl (Anne) "go to ground" in the middle of the day.
They rushed to get me, and when I arrived Anne was totally unresponsive. Her blood sugar was the best it had been, and after a negative medical assessment, while an IV was being prepared, the nurse who knew her charged onto the scene. She announced "hysteria" was not an uncommon activity for Anne.  After we raised Anne's arm over her head and released it, and watched her move it to avoid smacking her own face, we were pushed aside by the nurse who pinched her, splashed her with water and held her nose shut, until she gasped, opened her eyes, and got up and left. It was brushed off as just another day in Haiti.

Image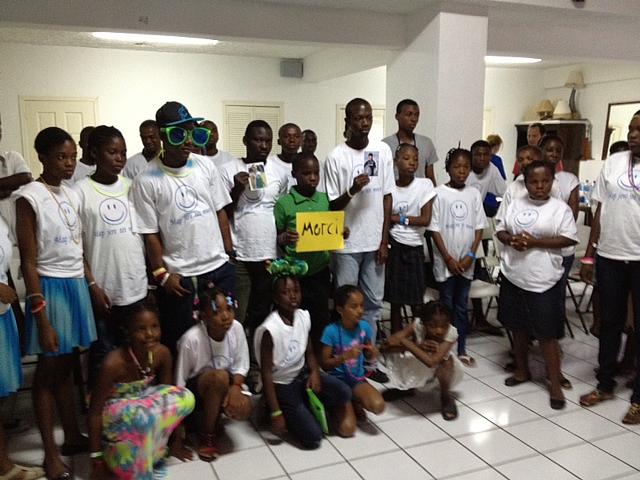 On the last night, we shared with the kids about a family who donated money to support camp. Adam's mother and his brother donated a generous gift to the camp in Adam's honor (Adam died suddenly at age 17 from a cardiac event).  We showed them Adam's picture and told them about the gift. They quickly wrote out a sign that said Merci, took the pictures from my hand, and assembled themselves to take a picture to thank this family. Then they prayed for Adam.
Haiti is like a mix-master for our emotions. We are thrilled to be here and feel we helped make this camp possible and so potentially transformative for these kids. But no matter what we do, the kid's diabetes control is still so incredibly poor. We can't solve the problem of not enough glucose testing supplies, insulin or health care providers, or the abject poverty these kids – this country – have experienced. We don't know if taking them away from their tents or 12x12 homes helps in the long run or hurts.  
Many of these kids saw a flush toilet, an air-conditioned room (one young girl keep complaining it was not natural to be so cold) and a soft bed (the girls were two to a bed, it was not culturally appropriate for the boys to share a bed so we shoved extra beds into their rooms) for the first time, and they had more food (particularly protein) than usual, more attention from adults, more gifts and toys, and more attention paid to their diabetes.  In the long run, are they -- is Haiti -- better or worse, or just simply unchanged because of it all?  We don't know, but we can hope that seeing what health and hard work can bring might motivate them, and knowing their own doctor -- Nancy Larco -- went to such immense lengths to have camp for them, with people from the U.S., might help motivate them past the apathy, or perhaps fatalism, that in some ways characterizes Haiti.        
The hardest part of camp is always saying goodbye. There are new friends to be missed, exciting experiences coming to an end, and the end of a place where having diabetes is the norm. The campers hugged and kissed, danced around, and waved wildly as they left. Many cried. As the bus faded in the distance, we were overwhelmed with the kinds of emotions we find only possible in Haiti. We know we sent the kids back to their uncertain futures. They live in a country still in disarray, and all life seems tenuous, theirs even more so because of diabetes. We struggle to try to find out how to make a difference, how to support Nancy and her efforts in Haiti – knowing full well, she and her colleagues here ultimately have to be the ones making the change that will finally transform their country into a place where these kids will have a chance to dream.