The Health Divide: Record-breaking heat puts vulnerable at risk, and White House plan on environmental justice may worsen disparities
Image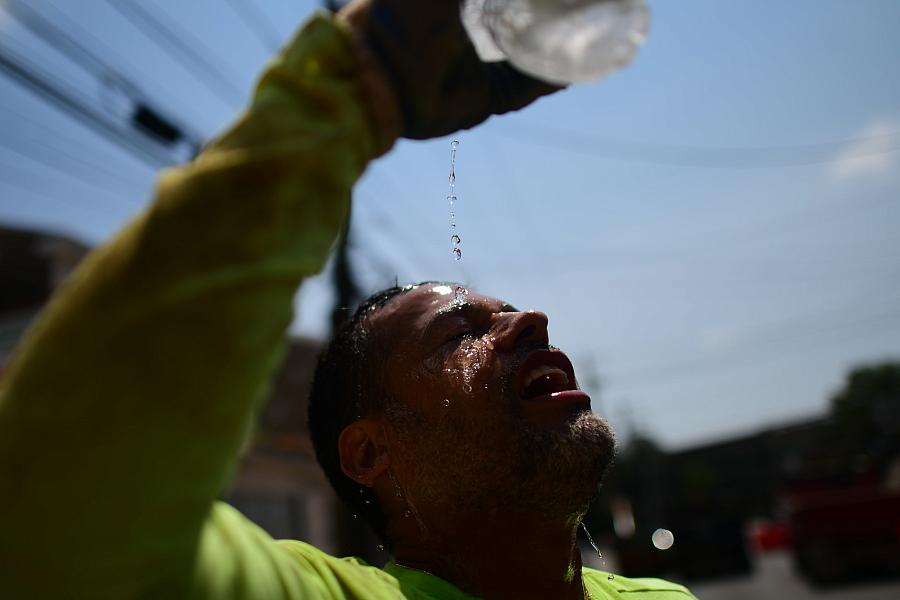 Published on
July 31, 2023
Brutal summer heat poses dangers for poor, Black and older Americans
Much of the U.S. is broiling under an expanding "heat dome" this summer, but the effects of record-smashing temperatures aren't spread equitably.
"People living below the poverty line and people of color were systematically exposed to higher levels of urban heat than wealthier counterparts, who are often white," environmental scientist Angel Hsu told Knowable Magazine in 2022
With electricity costs high and unlikely to drop anytime soon, some people in Arizona are rationing their air conditioning despite the sizzling heat, reports Isabella O'Malley at AP News. Some people sacrifice other expenses, such as medicines or gasoline, to pay for air conditioning.
Also at AP News, Anita Snow has the story of a 72-year-old woman who died five summers ago after her electricity was cut off over $51 in unpaid bills. The incident spurred some changes, and Arizona's utility regulator now bans power shutoffs during the hottest summer days. "But we need more," said advocate Stacey Champion. 
Black populations are also at high risk from the heat, reports Adam Mahoney at Capital B. Black communities are concentrated in the South and in large cities, where heat is most severe, and often lack cooling centers. Black households are less likely than the population overall to have air conditioning and drinking water access, and Black people are more likely to work, and live, outside, Mahoney writes.
They aren't the only population of color impacted; Indigenous people suffered the highest rate of heat-related deaths in a 2020 CDC report. 
Certain health conditions also put people at risk when the mercury rises. "Underlying health conditions like diabetes and cardiovascular disease are actually made worse when people are exposed to heat, particularly in older demographics," Hsu said. While these ailments are common across racial and ethnic groups, they disproportionately affect people of color.  disproportionately affect people of colordisproportionately affect people of color. For example, 47% of Black adults have been diagnosed with cardiovascular disease, compared with 36% of white adults, according to the Cleveland Clinic.
Seniors, who are frequently on limited incomes, are also vulnerable. Many eschew cooling centers where they can't bring their pets, but also keep the thermostat set high to save costs, O'Malley reports.
Older people are also susceptible to serious burns if they fall on hot asphalt and can't quickly get up, report Sam Cabral and Max Matza at BBC News. 
Unhoused people who sleep or rest on pavement and people who work outside are vulnerable to burns as well, reports Jen Christensen at CNN.
Follow heat-related illnesses and deaths with CDC's Heat & Health Tracker.
White House initiative to advance environmental justice may exacerbate racial disparities
A Biden administration initiative meant to provide clean energy and climate protections in disadvantaged communities may backfire because of the way it handles race, reports Adam Mahoney at Capital B. 
The Justice40 Initiative is meant to deliver 40 percent of certain federal investments — including in climate change, affordable and sustainable housing and clean transit — to marginalized and underserved communities that are overburdened by pollution.
According to an analysis in the journal Science, the method used by the program to identify communities in need may not help it eliminate disparities based on race and ethnicity. Half of Black Americans don't live in the communities flagged by the mapping tool.
Application of this tool may in fact increase racial gaps in some instances, Mahoney writes. "This means while air and water will get cleaner across the country, Black people will still be exposed to relatively more pollution than the general population." 
According to a 2023 study, both Black and Latino populations are more likely to come into contact with dangerous pollutants called PFAS, reports Maya Richard-Craven at Word in Black. That's due to the presence of hazards such as landfills in their communities.
And data from the Environmental Protection Agency indicate that communities of color and low-income neighborhoods are more likely to be served by public water systems that don't followviolated the 1974 Safe Drinking Water Act, which was meant to establish minimum standards for tap water.
Race should more directly drive the Justice40 policy decisions, said Regan Patterson of UCLA, a co-author of the Science paper. She thinks it's not too late for the government to fix things if they refine their definition for target communities and invite community organizations to participate in the process.
"Black communities, justice groups, they know what environmental racism looks like and how to achieve these goals," said Patterson.
Insurers accused of overzealous denials on Medicaid, Medicare Advantage claims
A new government report indicates that private health insurance companies contracted by Medicaid denied millions of care requests with little oversight, reports Reed Abelson at The New York Times. 
"People of color and people with lower incomes are at increased risk of receiving low-quality health care and experiencing poor health outcomes, which makes ensuring access to care particularly critical for the Medicaid population," according to the report from the Department of Health and Human Services.
More than one-quarter of requests were denied in 2019.
Denials were more common with Medicaid, a program for low-income people, than with Medicare for seniors and people with disabilities. However, Medicare Advantage plans, run by private companies contracted by Medicare, have also come under fire for denial of legitimate claims in a 2022 report from the same government office. 
Medicare Advantage insurers receive a lump sum from the government for each patient they enroll, so the less they spend on medical care, the more companies pocket.
Part of the problem with Medicare Advantage lies in unregulated computer algorithms used by insurers to evaluate claims, write Casey Ross and Bob Herman in a STAT investigation. 
Insurer Cigna has just been sued in the U.S. District Court of Sacramento for allegedly using its PXDX algorithm to reject claims en masse, rather than objectively reviewing each claim individually as California law requires, reports Tara Bannow at STAT. The lawsuit follows a ProPublica investigation of Cigna published in March, which found the company's physicians made decisions in an average of 1.2 seconds per claim using the algorithm.
Patient advocates told STAT the algorithms' decisions may conflict with Medicare rules or ignore individual patient circumstances. Herman and Ross cite examples of patients denied time in care facilities even though they couldn't walk unassisted or feed themselves. 
"We take patients who are going to die of their diseases within a three-month period of time, and we force them into a denial and appeals process that lasts up to 2.5 years," Chris Comfort, chief operating officer of Calvary Hospital in New York, said in reference to Medicare Advantage. "So what happens is the appeal outlasts the beneficiary."
Federal regulators have not been involved in checking insurer algorithms for accuracy or fairness, but the problem has swelled to the point that the government may act. Medicare officials proposed in December new rules that would mean Medicare Advantage insurers couldn't deny coverage based on criteria beyond traditional Medicare plans.
But even the rule change would still allow insurers to create their own criteria, Herman and Ross write. 
What we
'

re reading