How I learned that low-income patients are left out of health tech — and health tech reporting
Image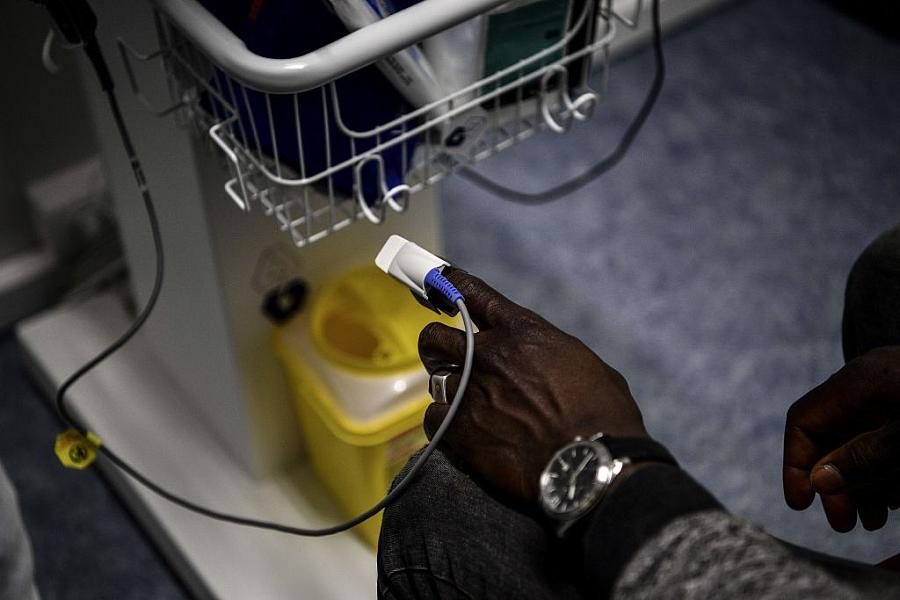 (Photo by Christophe Archambault/AFP via Getty Images)
Published on
May 24, 2023
I spent a day earlier this year zipping around Los Angeles with a street medicine team in a four-seater van outfitted with an exam table in the back and stocked with clean needles, Narcan and other medical supplies. As I stepped into their van, I was prepared for an adrenaline-pumping day attending to medical catastrophes, performing emergency procedures, and saving lives on the spot. 
What I saw instead revealed more about the health challenges low-income patients face than several years as a tech reporter deeply enmeshed in the policy and business of health care. It isn't reimbursement policy or costly devices that kept these patients out of clinics. Instead, it was a battery of much smaller, and simultaneously much bigger issues — not having a phone to make appointments at a clinic that doesn't take walk-ins is just as much a barrier as fear of medical mistreatment and lack of trust. 
I watched the street medicine team deftly and gracefully tackle patients' logistical challenges while also intentionally earning their trust, including the physical demonstration of respect by speaking at eye-level or lower. When I asked one unhoused patient, Rockelle, why she trusted this particular team with her sensitive medical care, she told me they reliably showed up, treated patients with dignity, and were willing to take on deceptively minor logistical tasks, like charging her phone or helping her get on a list for housing programs. 
Among the starkest displays of trust was the team's use of GPS trackers, which they handed out for free to unhoused patients who wanted the staff to be able to find them. Most patients I observed enthusiastically accepted and wore the trackers — I'd expected much more fear of surveillance, despite the team's assurance that they never shared the data. But Rockelle told me they signaled the team's intention to check in on them again, a comfort.
There's a lot journalists can learn from this team about reaching and earning trust from populations who have historically been excluded by traditional health care — and health care reporting. The same challenges that make it difficult for patients to get to doctors' appointments also make them more difficult to reach for phone interviews. Some of the underserved patients I planned to interview over the course of my fellowship with the Center for Health Journalism didn't answer their phones, or encountered last-minute work conflicts, or weren't able to make it for in-person meetings. Some insisted on anonymity, even about everyday topics, for fear that media exposure could have personal or professional consequences. 
Distrust in media is another part of the problem. I asked Rockelle if there's anything journalists get wrong when we report on unhoused populations. She told me a couple things: Too often, she said, we emphasize wealthier residents' health and safety concerns while ignoring those of the unhoused. There's also a perception that unhoused populations don't want housing, instead of simply being unable to access it especially because of labyrinthine application processes. 
It's long been my mission to feature patients' perspectives in stories about health technology. As part of my National Fellowship, I'd hoped to highlight the voices of underserved patients — low-income and uninsured people who maybe can't afford or access mass-market products and services like telehealth and wearable devices. That mission proved to be much more difficult than I anticipated within the scope of my fellowship stories, but I came away with a set of lessons I hope other reporters, even outside health tech, can use to reach these patients. 
These lessons come from conversations with patients, practitioners, tech companies, former and current Medicaid policymakers, and patient advocates — both from reflecting on my own reporting and following an informal, on-background roundtable discussion I convened with some sources to discuss how to better reach underserved patients. I'm also sharing some of these lessons with clinics, tech companies and community organizations who want to better engage underserved patients about health tech. 
Identifying patients to talk to
Health systems and tech companies weren't very helpful in connecting me with underserved patients, partly because they didn't have much incentive to do so — especially if there was a risk patients might malign their services. Over the course of the fellowship, I asked each company and provider I spoke to connect me with patients, and most declined to do so, either because of scheduling, "privacy concerns," or because they said they couldn't find an appropriate patient. Still, it's worth asking them to connect you with users, and potentially noting in the story if they refuse or fail to do so. And even if they can't connect you with users, it's worth asking them for racial and demographic breakdowns of their patients.

Reaching out to patients who have posted about a health system or a health tech product on Instagram, Facebook, Reddit or LinkedIn can be helpful at times, but doing so requires a large volume of requests, the vast majority of which are not returned. 

Going through trusted community leaders — people who work in the field with patients every day — has been the most reliable way for me to find patients. While it's important to be cognizant of any biases that leader has in connecting you to certain patients and not others, patients are most likely to respond to be if it's suggested by a trusted intermediary, like their doctor, social worker, local nonprofits or social services agencies.
Reaching patients to interview
Patients with social needs may not be checking email, text or phones frequently — they may be balancing child care, demanding jobs, and other personal pressures. Talking to a journalist they've never met for a story they don't expect to see isn't a high priority. Budget time for rescheduling, missed calls and appointments, and offer as much flexibility as possible, including potentially communicating asynchronously, over text, email or chat.

Given the structural barriers preventing underserved patients from being reached virtually, it's often easier to talk to them in person where they already are. During my ride-along with the street medicine team, I observed and spoke with several patients who didn't have phones or couldn't charge them. 
Conducting the interview
If you're in the field, don't assume all patients want to talk to journalists, but always introduce yourself if you're speaking to them. Explain carefully who you are, what your publication is, if you plan to quote them, or whether the conversation is just for background. Don't take unnecessary photos or pressure them to give you quotes if they seem uneasy.

Don't use jargon, especially when covering tech. I found that most patients don't use the term "telehealth" to describe video visits with their doctors — instead they'd say "video call" or "FaceTime," for instance. Instead of "remote patient monitoring," they'd just say "wireless blood pressure cuff." 

Ask patients simple questions about the products or services: Did it make their life easier? Did it change their beliefs about the health system, or their own ability to be healthy? Did it save them mental energy? Was it difficult to use or access?
I'm hoping these tips help journalists on any beat reach low-income and uninsured patients, but their voices are especially important to, and especially absent from, reporting on health technology. Services like telemedicine and artificial intelligence promise to vastly transform health care for wealthier or commercially insured patients with easy access to smartphones, computers, Wi-Fi, and unlimited data plans. But who do they exclude, and what can companies do better to reach them?
I've been reporting on health tech for six years. Until I began talking to low-income, unhoused or underserved patients and the people who work with them, I didn't realize that access to a consistent energy source could be a determinant of health, or how difficult it is to catch a free rideshare to an appointment if you don't have a phone. I've been asking investors and health tech companies for years about people they can't reach, and these barriers simply never came up in discussion. 
I'm grateful to the patients who did shed light on these challenges for me, and I'm committing to talking to more of them, even if it requires careful planning and longer timelines.