The immense mental costs of criminalizing LA's street vendors
Image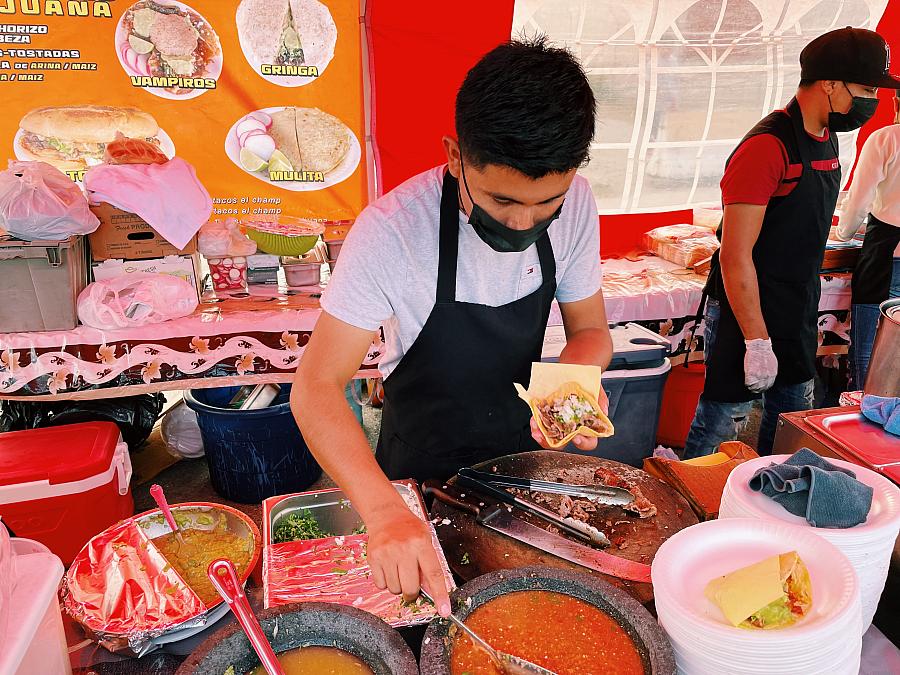 Published on
April 22, 2022
Though iconic and beloved, the street vendors of Los Angeles find themselves caught between public crime and state violence. On the one hand, they endure attacks and robberies, and on the other, fines, misdemeanors and the confiscation of goods and equipment by local law enforcement. 
A new series of articles supported by the 2022 California Fellowship will investigate the mental costs of the criminalization of vendors and their businesses as they navigate the pandemic and inflation. It will also explore the stigma against mental health treatment in the immigrant communities vendors predominantly belong to, and will examine government efforts to overcome cultural, linguistic, and documentation barriers for those most deserving of relief.
Los Angeles' street vendors endure incredible stress as they support families on annual incomes as low as $10,000 in one of the most expensive cities on the planet. They also share qualities with groups with high rates of depression and suicide: Vendors are often undocumented, rent-burdened, food-insecure, and denied access to credit by their immigration status, forcing them into low-income work, dilapidated and overcrowded housing and debt.  
Furthermore, state laws forcing vendors to labor in underground economies leave them vulnerable to violent theft and subsequent post-traumatic stress disorder. In partnership with groups bringing mental health care to Spanish-speaking communities, as well as nonprofits advocating for street vendors in Los Angeles, our reporting will survey vendors about their mental health. What are the psychological consequences of criminalization? Can its toll lead to eviction and displacement? 
Interviews with vendors in street vending markets that have been recent targets of enforcement will further explore the mental health burdens of vending criminalization, as well as the specific harms unleashed on vendors when politicians, businesses, and business associations collaborate to disperse street vending hubs. At Patata Street in Cudahy and Avenue 26 Night Market in Lincoln Heights, over 100 street vendors were shut down without warning in 2021, forcing vendors to move from city to city before finding a new semi-permanent location in Pico Rivera. In some cases, the shock of robbery has driven vendors into homelessness. Although vendors are a celebrated part of Los Angeles culture, officials continue to design policies punishing vendors for working outside of state approval even though vendors provide critical community infrastructure.  
Currently, the state health code is thwarting legalization efforts while law enforcement agencies continue to criminalize vending in California and its urban vending hubs. Because the California Health and Safety Code was designed to rigorously screen restaurant-grade kitchens for the most minor health infractions, it considers outdoor food preparation unlawful and rejects vending carts for approval when vendors try to acquire their licenses — even though city governments, like the Los Angeles City Council, have invested heavily in legalization pathways for vendors and encouraged them to acquire licenses. Current law requires that vendors cooking meats acquire carts with four different sinks and significant refrigeration space, while even fruit vendors are technically not allowed to slice fruits at their cart — that must be done at a remote kitchen approved by the health department, called a commissary. (And commissaries in Los Angeles are not as accessible as one may think — there are only around eight in the county, according Lyric Kelkar of Inclusive Action for the City.)  
In Los Angeles County, efforts to design a code-compliant vending cart capable of "full food preparation" have failed, meaning the state health code itself must change to get vending carts approved, according to frontline advocates at Inclusive Action for the City and the Community Power Collective.
On February 10, California State Senator Lena Gonzalez introduced Senate Bill 972, which will alter the state health code so vendors can finally take their carts online. Ending vending criminalization will likely do more for the mental health of California's street vendors than any mental health initiative.