Journalism stars come out for AHCJ Health Journalism 2011 conference in Philadelphia
Image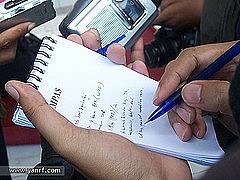 Published on
April 8, 2011
It makes for a sad spring when I can't attend the annual Association of Health Care Journalists conference.
I've been a member for most of my reporting career and attended all but a handful of the national conferences. Sad springs all. After attending perhaps the best conference yet last year in Chicago, I was geared up for a great one in Philadelphia this month. My schedule doesn't permit it, though. To highlight the incredible array of talent that will be on display, though, I am going to write about some of the speakers and then show what some of my favorite health writers are looking forward to at Health Journalism 2011.
First, the speakers.
Walt Bogdanich at The New York Times is a towering figure in health journalism. The author of the must-read The Great White Lie has inspired several Antidote posts. His series on the messy world of medical radiation was one of my favorite stories from 2009 and it has continued in the years since. One of the best pieces from his series was his dismantling of the Philadelphia Veterans Administration hospital's use of radiation to treat prostate cancer. I took my cues from that piece and dug into some similar documents in the Nuclear Regulatory Commission's ADAMS database to showcase problems at Backus Hospital in Norwalk, Conn. Bogdanich is always great about showing how he did his reporting, and I pulled together some of his most useful sources for health reporters last year. He will be part of a panel on how to localize national health investigations.
Gary Schwitzer, publisher of Health News Review, is both beloved and feared by health writers. Beloved because he is such a gifted writer and generous teacher. Feared because he holds health writers to such a high standard on his site and in his blog that rare is the reporter who does not run afoul of him at some point.He especially dislikes question-mark headlines. I interviewed him about why the public needs fewer hot fudge sundaes in their newspaper health sections and newscasts. And I used some of what he has taught me as a mentor (and as my editor when I write reviews for Health News Review) for a piece about how to accurately describe risk when writing about scientific studies. Both he and Health News Review's Harold DeMonaco, one of the great team of medical editors that review every story, will give a talk on using the right criteria for reporting on health studies.
Maryn McKenna  has proven that health writers can succeed outside the major outlets. She left the Atlanta Journal-Constitution, where she had the unique job of covering the Centers for Disease Control and Prevention, and has had a successful career in books. She authored most recently Superbug: The Fatal Menace of MRSA. Her incredible work on that book led to her being tapped by Wired to launch a new science blog site last fall, Wired Science, where she is joined by heavy hitters such as David Dobbs, Jonah Lehrer and Brian Switek. (She's also the only female science writer in this group, a situation that begs to be remedied.) She and I talked about how she first started reporting on the MRSA epidemic, and she shared some great tips for reporters. She is moderating two talks, one on what editors wish freelance writers knew and one on antibiotics in the food supply.
Brian Deer, one of the most tenacious health writers in the world, has written more about the vaccine-autism controversy than anyone in the mainstream press. His work has finally started to encourage other outlets to back away from the hype around a vaccine-autism connection and into spending more time looking into the groups and figureheads spouting anti-vaccine rhetoric. In his series for the British Medical Journal, he showed how to work carefully with parents of ill children, who may have the best intentions but also may be vulnerable to snake oil sales pitches, using medical records to document what actually happened to children diagnosed with autism. He also showed how confidentiality concerns can be used as a smokescreen to prevent health writers from discovering the truth. Advocacy organizations also can be fronts hiding an unseemly agenda, Deer found. Inspired by Deer, I asked health experts – and health writers – to stop calling the effort to hold anti-vaccine theorists accountable a "witch hunt." I said that scientists and reporters who participated in this hoax should be named and shamed, and I said that health writers who do take up the challenge should ready themselves for a fierce backlash. He will be part of a panel on how to spot fraud in research.
And now here is what health writers across the country are saying about the conference.
Lisa Zamosky is the voice behind WebMD's Health Insurance Navigator and, soon, she will be answering readers' questions in a column, Health 411, for the Los Angeles Times. She said the speaker lineup this year is fantastic. "There are also a lot of events designed for freelancers this year --- the Freelance Pitchfest, sessions on blogging and multi-media reporting, contracting, and I've organized a freelance breakfast where we'll be networking and chatting with a few experts about running a freelance business. And it's always great to re-connect with the friends and colleagues who I only see once a year at this event." She will be moderating the freelance drop-in on Saturday.
Charles Ornstein, senior reporter at ProPublica and AHCJ's current president, doesn't like anyone to call him a rock star. But if you ever see him at an AHCJ conference, he rarely is without a small group of fans following him close behind. "Every year, the most exciting part for me is networking with my fellow health journalists and being inspired by their work. Particularly this past year, I read so many amazing health stories. I am eager to hear the back stories about the reporting and writing. No matter how long you've been on the beat, it's always reinvigorating to see the work of your peers." Ornstein will be part of a panel on assessing hospital quality and will moderate panels on localizing national health investigations and investigating health professionals.
Blythe Bernhard is one of the best reporters on the health beat and writes for the St. Louis Post-Dispatch. A California Endowment Health Journalism Fellow, Bernhard recently co-authored a groundbreaking series about the failures of the Missouri medical board with AHCJ speaker Jeremy Kohler. I interviewed both of them about the series and provided some of the great takeaway lessons from the series. "The AHCJ conference is a highlight of my year because I always come away inspired to work harder and dig deeper on my beat. I love hearing what my colleagues are up to and sharing story ideas and reporting tips. It's rewarding to be around so many people who care about good health journalism and want to give you the tools you need to hold hospitals, doctors, insurance companies and drug makers accountable to the public." 
Marshall Allen recently left the Las Vegas Sun where his series "Do No Harm," one of my favorite stories last year, has prompted significant state legislation to make the state health care system more accountable. He now works for ProPublica. "I'm excited to learn from my colleagues across the country who are more experienced and/or have made deeper dives into certain aspects of healthcare coverage than I have myself. The conference allows me to tap into these knowledge bases -- and I've found that people are always willing to answer questions and share their ideas. It's an extremely friendly group and the emphasis is on mentoring and improvement, not cut-throat competition. We're all in the same boat and we understand it's better to work together to help each other improve."He's moderating a panel at AHCJ. He will moderate a panel on health-care related infections.
Phil Galewitz has been active in AHCJ from early on, serves on the association's board and, until recently, edited the association's newsletter, Health Beat. A reporter at Kaiser Health News, Galewitz said he is looking forward to a huge turnout at the conference. "Even in these harsh economic times, we are expected well more than 500 folks at the annual conference and we should come close to matching our biggest crowd which was in DC in 2008. I am also looking to hearing what health topics are most on others reporters' minds, what they want to learn more about and what issues are driving coverage in local markets. While we have a great array of industry and government speakers at the conference, I think it's my fellow reporters and editors who I will learn the most from." He will moderate a very timely panel on accountable care organizations.
Ivan Oransky may be three people, actually. He is the executive editor of Reuters Health. He teaches at New York University. And he is a tireless blogger for both Retraction Watch and Embargo Watch. "I'm most excited, as always, by what will come from serendipitous chats in the hallways, and from sessions I didn't realize were useful to me. I always leave the conference energized and impatient to put new-found tools to work. In particular, I'm looking forward to all of Charlie Ornstein's panels. And at the risk of self-promotion, I'm really looking forward to the panel I'm moderating on investigating fraud in scientific research. I'm going to sit back and learn a lot from Brian Deer, who exposed the Wakefield autism-MMR fraud, John Dahlberg, who investigates NIH grantees for a living, and Adam Marcus, my co-blogger at Retraction Watch." True to his three-person self, Oransky will be part of three different panels at AHCJ: the freelance pitch session, the panel on spotting fraud in research and the panel on best practices in blogging and social media.
Photo credit: Yan Arief via Flickr