Journalists learn more about blogging, social media tools at AHCJ
Image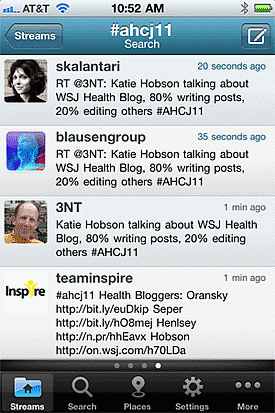 Published on
April 21, 2011
Though blogging and social media have been around for some time now, some people still argue that blogging, social media and journalism should be independent of one another. Scott Hensley of NPR's Shots blog contends that couldn't be further from the truth.
During a panel about "Best practices in blogging and social media" at Health Journalism 2011, Hensley said bloggers and journalists are perfect matches for each other. So how does a blogger decide what to write about?
"I want to write the most interesting stuff online," Hensley said. "The stuff that is burning to be done right now, then see where it goes."
He advised journalists to check their Twitter feed in the morning as it might give you story ideas.
"Twitter and Facebook can be a booster rocket to make a post go viral." He added that it doesn't always work but, if the post is interesting, it's worth a shot. Hensley says that in addition to checking news sites, he always checks his personal Twitter feed - @scotthensley - as well as the NPR's Twitter feed - @NPRhealth - to see what's going on in the Twittersphere.
Ivan Oransky, treasurer of AHCJ's board of directors, is the executive editor of Reuters Health and blogger for Retraction Watch and Embargo Watch. He joined the blogosphere in 2006 for The Scientist. Oransky says that search engine optimization (SEO) is key for any blogger. If you have a subject you are covering, be sure to use key words that will attract people.
"SEO, to me, means using key words where people that were interested in that subject would want to read about," Oransky said.
Oransky has eight tips he says are imperative for any blogger:
1. Find a niche and reporting the hell out of it. Find something that is likely to spin off news events.
2. Embrace the network and its tools. Get on Twitter. Find out about ScienceOnline2012. Also pay attention to trackbacks so you know who is linking to your blog.
3. Curate as well as create. What does that mean? Link like mad and take part in online conversations.
4. Get to know SEO.
5. Keep up volume and frequency of posts.
6. Hat tip' people as much as possible - give them credit for pointing out something you are sharing.
7. Develop a thick skin. Comments in the blogosphere can get ugly. Get used to it, and move on.
8. Build "About" and "What People are Saying" pages.
Katie Hobson runs the health blog for The Wall Street Journal. She agreed that SEO is key and said bloggers should make sure what they're writing about is very clear in the headline and first couple of sentences of the post. Hobson said she doesn't spend too much time and energy calculating it, though; at the end of the day it's the content that is important. Writers can be as savvy as ever in SEO, but if the content isn't there, readers will stop coming.
Chris Seper, the president of MedCity Media, said that journalists who can embrace new media, social media and blogging will get ahead in the journalism world.
Hensley asked the panelists, "How do you link and what should you link to?"
Oransky said, "I think about linking as building trust, it's a way to actually show your work." He referred to his eight tips on social media and reminded bloggers to always check out trackbacks because it's a way to develop great sources and know your audience.
Seper said using other reporting as a source is frequent in blogging, so it's critical to link back to the original article you are referring to. Not only do they link back to stories that other people have done, they also link back to their own content. "Make sure the words you are linking to are common search terms," he says. "Don't link to words or phrases like, 'The newspaper said.' That has no SEO value."
Hobson agreed that linking is imperative.
"Plain old aggregation of content is great," she said. "If you're trying to put yourself forward as the authority on something, every once in while someone will write about something in your niche first."
If you link to them and give them credit, you will continue to be the source people go to.
Likewise, Hensley said, another blogger may have already done a thorough post on a particular subject. Instead of writing what will be a very a similar blog post, link to their post. Hensley says this won't take readers away from you - it'll make your readers feel that you are an authority on the subject.
Comments also are key. Bloggers are going to build community and audience by relationship building, so they should direct emails to core people - high value targets - and ask them to be active in the comments section of their blog. Many will, and it will get the conversation going.
Hensley asked the panelists to offer final tips on using social media outlets like Twitter.
Oransky pointed out that social media is not only a broadcast medium. If that's all journalists using it for, they're not going to get anywhere.
"You use it to build relationship that you couldn't otherwise," Oransky said. "Then when the time comes and you do a story people will tweet it to their network and it'll pay off."
Seper and Hobson added that it's important to learn about hash tags and other key elements of Twitter. AHCJ has a great tip sheep for health journalists, as well as Angilee Shah's Career GPS for Center for Health Journalism Digital. Two other resources: Building a blog/Web site: How to publish and promote your work online, by Christine Capaiulolo, and Getting Started with Facebook for Journalists, from the Knight Digital Media Center.
Consider checking out TweetDeck or Hootsuite for tweeting instead of doing it directly from Twitter (I love using Hootsuite for KQED Public Radio's @KQEDhealth feed).
Hensley said the @NPRhealth feed is automated, but if they had more resources he would like to personalize it more.
Hobson says The Wall Street Journal's health Twitter feed used to be automated, but once she came on board they decided to de-automate it. Now Hobson and others at the Journal do each post individually and give it a personalized touch: and it's helped. She says traffic and engagement went up a lot.
Originally posted on AHCJ's Covering Health blog:
http://www.healthjournalism.org/blog/2011/04/journalists-learn-more-abo…