Less than 1/3 of Penn State media coverage included solutions, prevention info
Image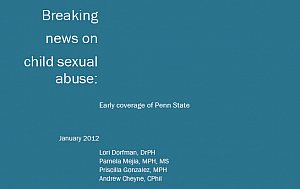 Published on
January 18, 2012
An analysis of early coverage of the Penn State University child abuse tragedy showed that 155 news reports published in the nine days following the arrest of former Penn State University assistant football coach Jerry Sandusky provided a "broader perspective" than a previous analysis of child sex abuse coverage and more "precise language". But the coverage fell short in addressing solutions for preventing child trauma.
Final grade: "C".
The report was released last week by the Ms. Foundation and Berkeley Media Studies Group, a public health research organization in Berkeley, CA.
To briefly recount the events of last year: On Nov. 4, 2011, a grand jury indicted Sandusky on 40 counts of child sex abuse. He was arrested on Nov. 5. On Nov. 9, Penn State president Graham Spanier was fired and Joe Paterno was relieved of his duties as head football coach, but remained a tenured faculty member until his retirement at the end of 2011. On Dec. 7, a second grand jury charged Sandusky with 12 more counts of child sex abuse.
The report, "Breaking News on Child Sexual Abuse: Early Coverage of Penn State", found that less than 5 percent of the stories that
appeared in sports sections mentioned a solution or prevention for child sex abuse. Less than one-third of the articles appearing in the general media did so.
In a media release, Ms. Foundation for Women President and CEO Anika Rhaman was quoted:
Media coverage increases the visibility of societal problems and fuels our nation's collective response. Coverage that is absent of solutions denies us an opportunity to prevent child sexual abuse for the one in four girls and one in six boys who are sexually abused at some time during their childhood.
Let's extrapolate that out to look at some real numbers. Most studies agree: one in four girls and one in six boys are sexually abused at some point during their childhood, which means that one in four adult women and one in six adult men were sexually abused as children. One in four adult women equals about 26 million women in the United States alive now who experienced sexual abuse when they were children. One in six adult men equals about 19 million men. That's a total of about 45 million people who are walking around with memories of being abused.
Another way to look at this is: In church or synagog or mosque on the day of worship, look at the congregation and realize that one in four women and one in six men have suffered major trauma. Or, from your seat in a football stadium or basketball arena or hockey arena, do the same math. It's more than a little overwhelming.
The report did a good job at reviewing most aspects of news coverage, and addressed these questions:
Who speaks in the Sandusky coverage?
Where does the sympathy lie in the coverage? This review is particularly interesting.
Who is held accountable?
Who experiences consequences?
What is the language of child abuse? My conclusion: we need to develop a better way to talk about child abuse.
How is preventing child abuse discussed? As it turns out, the small percentage that addressed prevention talked mostly about better reporting of cases, not prevention.
Dr. Lori Dorfman, director of the Berkeley Media Studies Group, was quoted in the same media release:
The report highlights that prevention continues to get short shrift in news coverage of child sexual abuse. Journalists and advocates can work together on stories like this to help the public and policymakers understand the need for prevention policies.
The report provided recommendations for prevention advocates and for reporters. They're listed here briefly. The report provides more information for each recommendation.
For prevention advocates:
Release statements to the public and the media quickly.
Develop relationships with journalists.
Consider using specific language when dealing with the issue.
Continue research on how best to talk about child abuse.
For reporters:
Keep the issue on the sports pages and elsewhere in the news.
Keep the language specific.
Don't lose sight of the survivors.
Push for solutions.
[Full disclosure: For several years in the 1990s and early 2000s, I worked with Berkeley Media Studies Group on the Reporting on Violence project, an effort to encourage journalists to include a public health approach when covering crime.]
[This is a cross-post from ACEstooHigh.com.]