Native Hawaiians and Pacific Islanders go to great lengths to receive basic care for chronic diseases
Image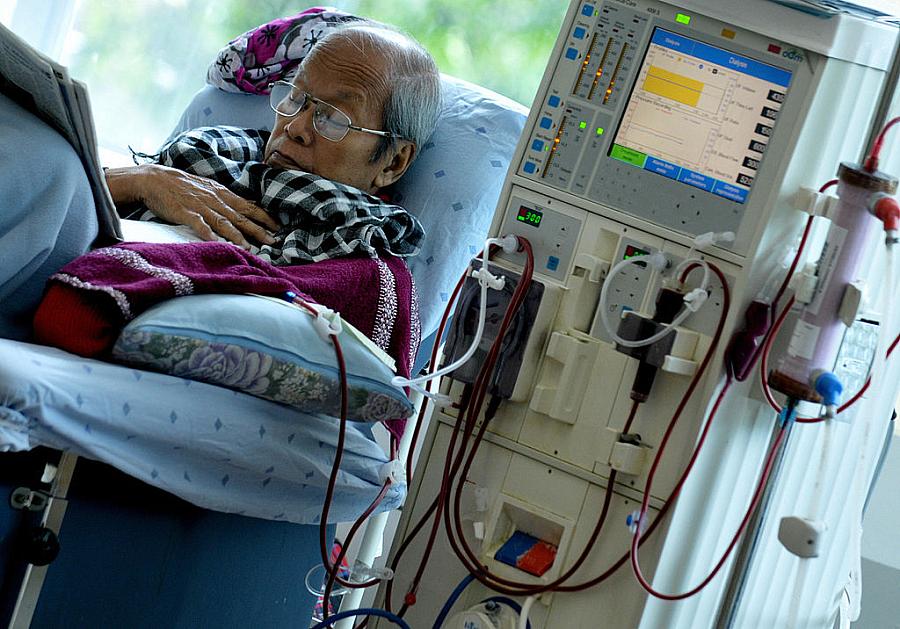 (Photo Jay Directo/AFP via Getty Images)
Published on
March 25, 2022
Growing up in Kahuku on the island of Oahu, 'Atalina Pasi saw diabetes as a fact of life.
Her dad is one of 13 siblings and after Pasi graduated from college, five of his brothers and sisters died from diabetes-related complications within a span of three years. 
When she became a community health worker, Pasi realized that Native Hawaiians and other Pacific Islanders are more likely to get diagnosed with diabetes than any other community in Hawaii, and three times more likely to get diagnosed than non-Hispanic whites.
The high prevalence of diabetes and other chronic diseases is so well known, it's become a given among families. But access to care is not. There's no dialysis center in Kahuku or in the broader community of Ko'olauloa, Pasi says, which means dozens of people who rely on the blood-filtering treatment to survive must travel at least 45 minutes each direction multiple times a week to get life-saving treatment. 
The struggle to access is just one example of how Pasi feels her community is perceived. 
"Being a community health worker just really opened my eyes just to how this community is underserved, underrepresented, lacks so many resources," she said. "We're basically invisible to Honolulu." 
My reporting project, supported by the 2022 Impact Fund for Reporting on Health Equity and Health Systems, will look at the lengths that Native Hawaiians and other Pacific Islanders go in order to access much-needed health care. 
From Native Hawaiians and other Polynesians living in rural parts of Hawaii who are reliant on dialysis two dozen miles away, to Samoans, Chamorros and other Micronesians who fly across oceans to access health care in Hawaii and other states, health care access is often a challenge for Indigenous peoples who call the Pacific home. 
This project will explore the journeys that they embark on in order to get care that other communities might take for granted. 
I'll focus in particular on noncommunicable diseases such as diabetes and heart disease that plague Native Hawaiians and other Pacific Islanders at high rates.  
Native Hawaiians and other Pacific Islanders face some of the worst chronic disease disparities in Hawaii. The community is 3.32 times more likely to die from diabetes than the average Hawaii resident. They are more than twice as likely to be obese than white, Chinese, Filipino and Japanese residents in Hawaii. 
They also have the highest rate of chronic kidney disease and are more likely to have diabetes-induced, end-stage renal disease than other communities, and are more likely to get lower-extremity amputations at a younger age than other communities.
The result is that the communities are more likely to need critical care like dialysis, but such treatments are not always immediately available to them. 
West Oahu resident Nalani Benioni remembers trying to care for her husband, a Cook Islander, before he died. He had diabetes for 30 years, and by the end she had created four-inch ring binders to manage his growing care plans.
"Grandma, how are you doing this?" she remembers one of her grandchildren asking. But she says managing complicated care plans is a way of life for many Native Hawaiians like herself.
This project will explore the lengths to which Native Hawaiians and other Pacific Islanders patients go to access health care and the systemic barriers that affect these communities.