The new infrastructure bill makes historic investments in water cleanup
Image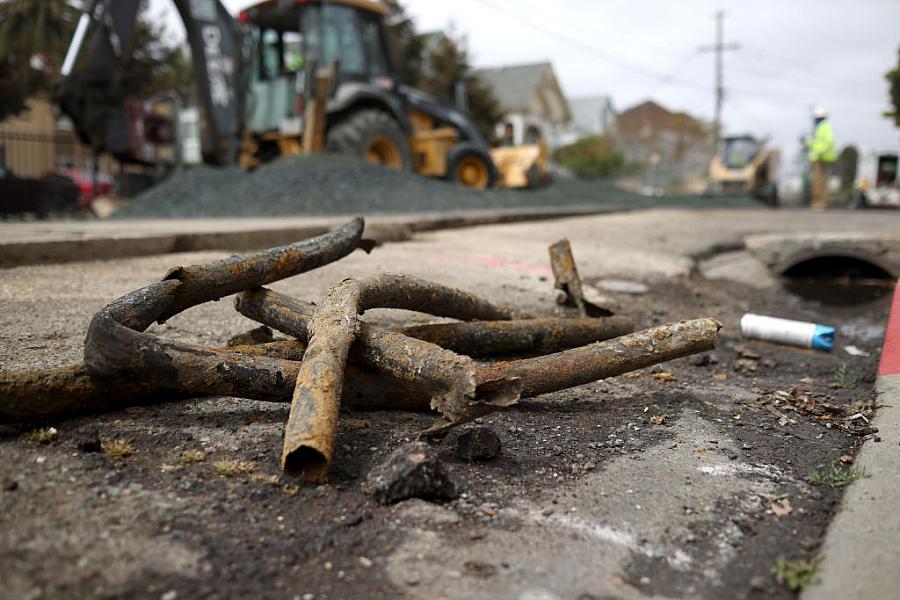 (Photo by Justin Sullivan/Getty Images)
Published on
December 1, 2021
(This post is the first in a series examining the potential health effects of the newly passed infrastructure bill.)
In the summer 2016, I was talking to Kate Long, the mentor for my Center for Health Journalism fellowship project, about why so many babies in Indiana didn't survive past their first birthdays.
"What about pollution?" Long asked me.
I hadn't seriously considered the environment as a cause for my then-home state's high infant mortality rate. Public health officials in Indiana often pointed to other reasons: a lack of prenatal care, too much smoking among pregnant women, not enough breastfeeding.
That week, we toured a lead-contaminated East Los Angeles neighborhood and heard harrowing stories from community members fearful about what the toxin was doing to their bodies. Dr. Bruce Lanphear, a health sciences professor at Simon Fraser University in British Columbia, then walked us through the overwhelming science showing that lead exposure harms our health. Throughout my project, Lanphear sent me studies showing that exposure to lead and other toxic chemicals is particularly dangerous for fetuses and babies.
The $1.2 trillion U.S. infrastructure bill includes billions of dollars to replace the nation's estimated 6 to 10 million lead water service lines. It amounts to the largest investment in water infrastructure in the nation's history. But is it enough to clean up our water and make significant improvements in public health? I asked Lanphear.
"If there was a way for Biden and subsequent presidents to keep up this kind of investment in infrastructure, certainly that would have a positive impact not only on reductions in lead exposure but hopefully diminish the polarization that we're seeing in politics," Lanphear said.
"One of the challenges, of course, is that these investments and infrastructure are coming after decades of no investments, certainly no sizable investments. And so this really should be just seen as the first big installment of what should come next."
In the months and years to come, journalists will want to follow how this money is spent in their coverage areas, whether the cleanups are done safely, and whether the investments ultimately boost public health in the United States. Now is a good time for reporters to assess existing water quality and contamination in their communities. 
Of the $55 billion allocated to water infrastructure, $15 billion is to replace lead pipes, and $10 billion will go to clearing contamination from per- and polyfluoroalkyl substances, or PFAS, chemicals used to produce things like Teflon, waterproof clothing and firefighting foam.
Being exposed to lead is an inevitable part of living in an industrial society. "Even though we can take some comfort that blood (lead) levels have declined by over 95% since the peak in the 1970s, our blood levels today are still 10 to 100 times higher than our preindustrial ancestors," Lanphear said.
Twenty percent of Americans' intake comes from lead service lines. The federal government banned them in the 1980s but they still deliver water to an estimated 7% of U.S. households and 400,000 schools and day care facilities. Many are in older cities and neighborhoods that are more likely to house communities of color.
Lead, Lanphear noted, has been linked to premature births and low-birth weights, lower IQs and attention deficit hyperactivity disorder in children, and coronary artery disease in adults.
Lanphear said he hopes municipalities that replace lead pipes protect residents in the meantime, by providing water filters to use before, during and shortly after the restoration and, ideally, by testing the tap water. People should also be aware that lead can get trapped in faucet aerators, so they may need to be cleaned or replaced.
"If we're not careful, we can inadvertently increase the exposures that children and pregnant women and families have during the replacement," Lanphear said. He pointed to the city of Pittsburgh's approach as one that could be emulated elsewhere.
PFAS, another widely prevalent group of chemicals in water, soil air and fish across the nation, have been linked to fertility problems in women, developmental delays in children, and an increased risk of certain cancers.
Lanphear was involved in research showing that prenatal exposure to PFAS raised the risk of children developing ADHD and becoming obese. It also hindered breastfeeding. The studies looked at Cincinnati residents exposed to the toxins, which were thought to have originated at a chemical plant about 250 miles downriver.
The Environmental Working Group has an interactive map on PFAS contamination. Other PFAS data sources include the Environmental Protection Agency, the National Institute of Environmental Health Sciences, the PFAS-Tox Database, and the Green Science Policy Institute's PFAS Data Hub. CalMatters did an exposé about the extent of California's PFAS problem.
For lead, EWG has a tap water contaminant database, the Centers for Disease Control and Prevention has a state-level blood lead surveillance system, and the U.S. Census Bureau has information on housing with lead risk. In 2016, Vox created an interactive lead exposure risk map of the United States, while Reuters published a report on places where lead poisoning was worse than Flint, Michigan. 
Lanphear said the new legislation doesn't address every issue affecting the country's water supply. More than 43 million Americans rely on private wells that can contain arsenic, manganese and fluoride, chemicals that may diminish IQ scores, affect birth weight and cause bone fractures in adults, among other health problems.
Five years ago, the advice from Long and Lanphear helped change the course of my infant mortality reporting project. I detailed how not only lead but also air pollution were likely factors in the high rates of birth complications and sick babies in Indiana.
Lanphear told me a smarter strategy than spending money to ameliorate environmental disasters — not to mention the health and social costs associated with them — would be to better regulate new chemicals in the first place.
"Industry contributes very little to these cleanups to fixing the problem," he said. "And yet the lead industry went around the cities around the country promoting these things, convincing, if not bribing, local political leaders to require lead service lines in their municipal bylaws, despite the fact that we knew [the consequences] for centuries. 
"Part of the reason the Roman Empire declined was because of widespread lead poisoning, oftentimes used in lead pipes to transport water. The real long-term issue is how do we start regulating these chemical industries so that we're still not cleaning up their mess in 50 years?"
**