New tech explains treatment in new ways to young patients' families
Image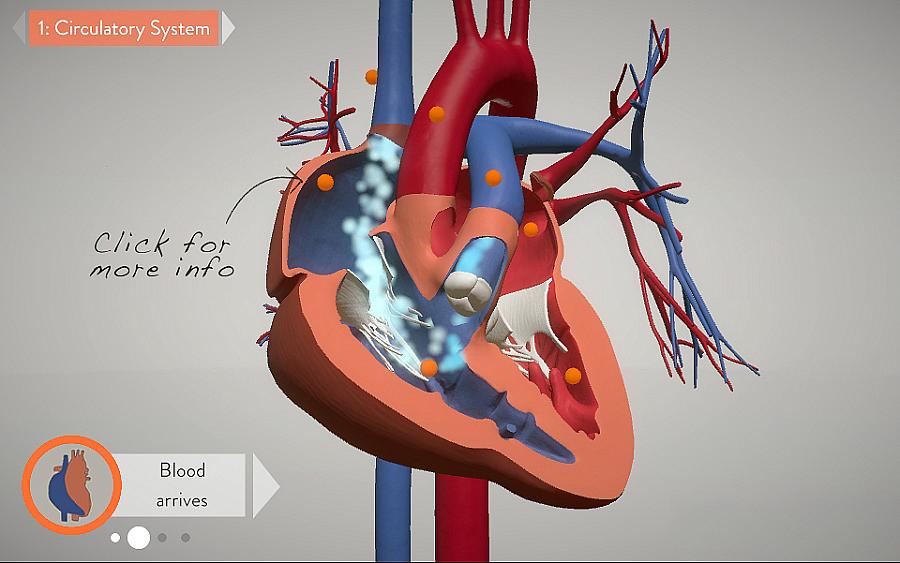 Published on
September 10, 2014
Can changing the way doctors tell stories and explain treatments lead to better experiences for kids and parents facing hard-to-grasp, potentially scary procedures?
Former print journalist David Sarno believes so. He left the Los Angeles Times in 2012 to start Lighthaus Inc., a San Francisco company that creates interactive 3D visualizations using video game technology.
The startup recently collaborated with Stanford Children's Health to create a new 3D interactive video that walks viewers through the causes of a congenital heart defect called tetralogy of Fallot – and the massively complicated 12-hour surgery that can repair the potentially fatal condition.
The new collaboration is notable on at least two fronts, most obviously for its use of next-generation video game technology to better explain complicated conditions and treatments, but also for the fact that the new approach is being led by a print journalist who aims to bring some of these new interactive storytelling techniques back to the newsrooms from which he sprang.
While animated videos showing what a procedure entails are not exactly new – my dentist used a basic one to explain to me how an implant works last week – Sarno says the interactive element is new and important. Patients and parents can learn about the heart procedure – known as unifocalization – by completing an online video-based simulation, and that active role creates a deeper understanding than just watching a video, Sarno said in an interview.
For generations of patients accustomed to plaster-and-plastic anatomical models that might seem more like Mr. Potato Head than 21st century medicine, the infusion of new technology to patient education will no doubt be a welcome advance – particularly in conditions as complex as heart defects. Surgical procedures routinely benefit from new technology, patient education less so.
Stanford's experiment in new ways of educating patients is part of larger trend to educate and make comfortable families of children undergoing difficult procedures, as the Wall Street Journal's Laura Landro recently reported:
Studies show parents often don't understand how complex operations will benefit their child or fully grasp the risks. But they fare better when provided with educational materials that explain surgery in simple language and images. More hospitals are helping families get comfortable with the process before admission by offering preoperative surgical tours, as well as videos that explain specific procedures, such as what happens during anesthesia.
Parents have been appreciative so far. One mother whose son underwent unifocalization surgery a decade ago wrote on Facebook, "Thank you so much for this! Finally I can understand it better."
Another father said, "Just wish this was available then," he added, referring to his son's successful surgery at the hands of Dr. Frank Hanley, executive director of the Heart Center at Lucile Packard Children's Hospital Stanford and a guiding voice throughout the new video.
[video:[video:http://www.youtube.com/watch?v=2QKwmy5BfUA]]
Lighthaus will next work with Stanford Children's to bring the same interactive approach to pediatric brain surgery as part of a larger series of interactive 3D primers. Sarno, whose research included spending 12 hours watching Dr. Hanley repair the heart of a small child, works with a team of artists, designers and video game developers to bring the medical anatomy to the screen in new, visually arresting ways.
But the startup's DNA may owe more to the basic notion of explanatory journalism, amplified by new technology. The idea for the company grew out of the one-year John S. Knight Journalism Fellowship Sarno completed at Stanford. Apple had just launched the first iPad at the time, and Sarno proposed a project that took advantage of the new touchscreen format to tell the story of fracking through an interactive graphic. (He may have been a tech reporter by trade, but it's his degree in computer science that allows him to speak the basic language of computer graphics and video game design.)
"It came directly out of journalism – both in that it was spawned by a journalism program and in that it's gathering complicated information in a way that's useful to people," Sarno said of his entrepreneurial turn.
While the fellowship was the springboard for Lighthaus and its eventual foray into medicine, Sarno still hopes to bring such storytelling tools back home to journalism. The startup's website bills itself as "Interactive 3D storytelling for healthcare and media," and Sarno dreams of seeing these kinds of visualizations adopted by newsrooms to help readers better understand complicated stories – such as his original fracking idea, which he's still working on.
In a Knight Talk delivered at Stanford last year, Sarno tried to head off the inevitable objection that these kinds of interactive graphics are too costly and too time-intensive for all but the most well-off legacy outlets looking to embellish the occasional special feature.
"You can imagine that as we build these teams and develop these processes, we'll be able to do this better, faster and cheaper," Sarno told his audience. "I see a time not far off when news organizations are going to be able to put these graphics together in days, or even a matter of hours."
Until then, he'll be brushing up on pediatric brain surgery.
Image courtesy of Lighthaus, Inc.