By the numbers: The fallout of youth gender-affirming care bans
Image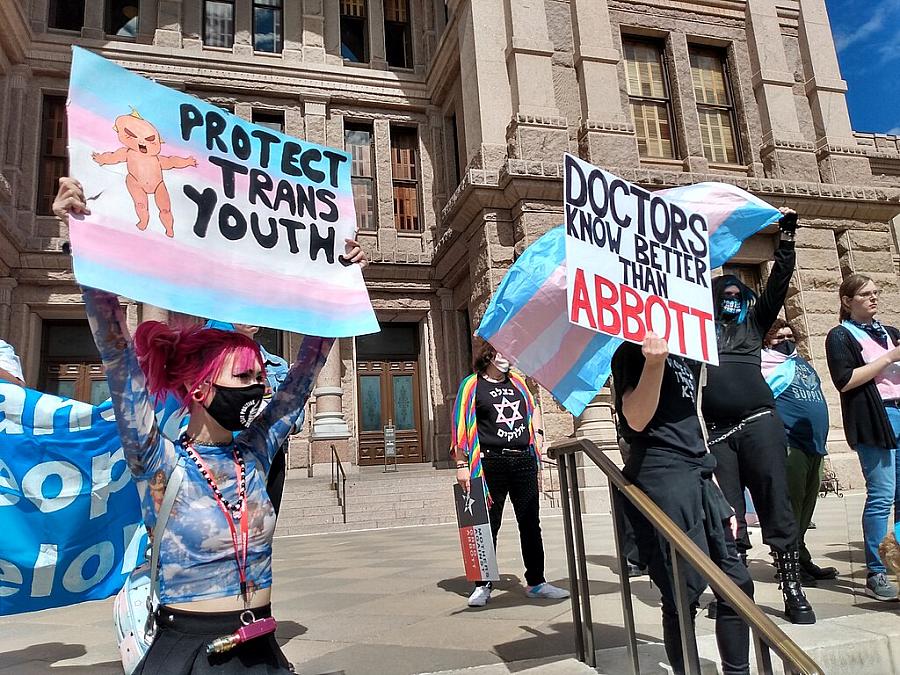 Photo by Brainy J via Wikimedia Commons
Published on
October 18, 2023
In 2020, L.W., a 15-year-old living in Tennessee, finally worked up the courage to tell her parents about something she'd known for some time now: she was transgender. They were supportive, and her father told her he'd always love her, according to a lawsuit her family and others filed against the state.
L.W. hadn't been using the restroom at school, which had led to medical problems. She was uncomfortable changing in front of anyone, even hugging her own family. L.W. felt like she was drowning in her own body.
Nearly two years later, on the recommendation of health care professionals and with the support of her family, L.W. was receiving gender-affirming care. She and her family made the decision after meeting with a team of doctors, discussing risks, and undergoing tests. L.W. started on puberty-blocking medication, and later estrogen, through Vanderbilt Children's Hospital. 
L.W. was finally feeling comfortable in her skin: Gone was the nagging, constant feeling of discomfort. Her mother said she became outgoing, confident, and even started giving and accepting hugs. 
But in March of 2023, Tennessee's governor, Bill Lee, signed into law Senate Bill 1, which banned gender-affirming care for adolescents in the state. Vanderbilt would have to cease the care it was providing L.W. 
As of now, Tennessee has upheld its ban as lawsuits challenging it move through the courts. It left L.W. and her family at a loss — should they travel over four hours to continue her care in another state when the ban took effect? Or leave the state altogether? 
Stories of trans- and gender-diverse youth much like L.W.'s are unfolding across the country. An interactive map created by MedPage Today brought into focus just how rapidly state bans were being passed, and how uniformly restrictive they are. To build on that project, our team wants to report out, in a quantitative way, how those bans have affected care for this vulnerable population, with support from the 2023 Data Fellowship.
By collaborating with a nonprofit health care organization, we will examine private payer claims data on youth gender-affirming care. We hope to evaluate the rate of claims over the last two to three years and compare it with more recent claims rates, both nationally and on a state level, to capture trends in the aftermath of state bans. 
We have many questions we're planning to explore. What is the measurable impact of gender-affirming care bans on youth actually seeking this care? What populations or geographical areas have been hardest hit by state bans? Which neighboring states have picked up displaced patients? How accessible is this care currently? Where are claims being denied most often? 
We also plan to dive into other databases of publicly available health care data, like the Healthcare Cost and Utilization Project's State Inpatient Database, a source of national data on hospital care and insurance, or the CMS Chronic Conditions Data Warehouse, and the National Mental Health Services Survey, if needed. 
Meanwhile, startup telehealth services that offer gender-affirming care, like Folx Health, True U Clinic, QueerDoc, Q, TransClinique, and Plume, have also positioned themselves to fill care gaps in the midst of this upheaval, offering discreet gender-affirming services. Have they truly expanded access for youth? How have they been affected by these bans and by telehealth rule-changes since the end of the Public Health Emergency for COVID-19? Which accept insurance? Do any accept public insurance?
Finally, we will engage families and patients to tell their own stories about how these laws have impacted their care: whether they've had insurance claims denied, switched providers, traveled for care, or used any workarounds to secure ongoing gender-affirming care. Firsthand narratives, in collaboration with families and patients, bring to life any data findings. 
Quantifying this issue is a first step toward ensuring children, families, and trained health care professionals can continue to make the best decisions for their health. Ideally, this information could inform future policy that ensures children have access to the care they need.