As Obama Touts Early Education, Critics Question Value
Image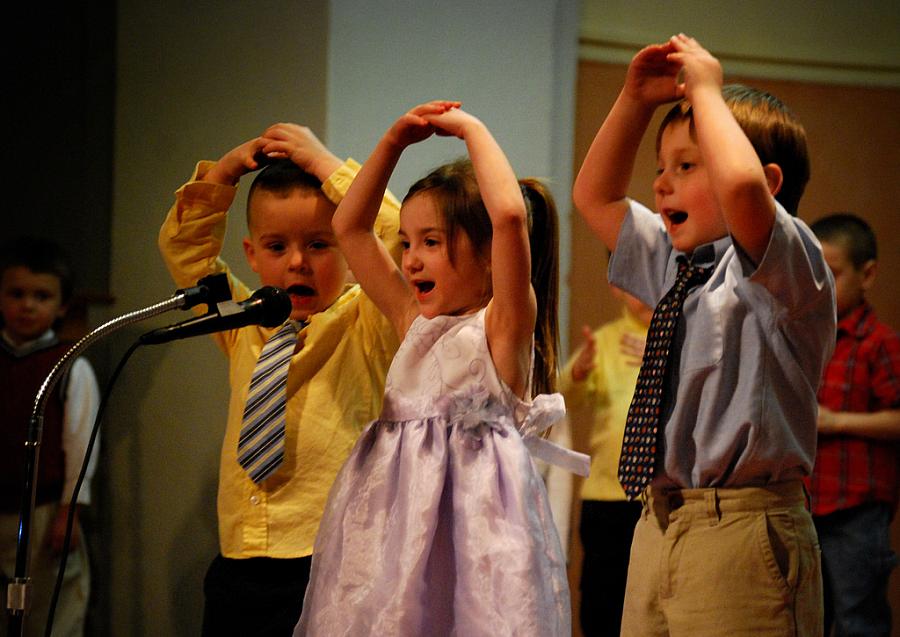 Published on
April 27, 2013
When President Obama unveiled his new budget earlier this month, it called for major new investments to expand preschool access for all low- and middle-income children.
The president's proposed Preschool for All would spend nearly $77 billion over 10 years to provide free preschool for 4-year-olds as well as new Early Head Start-Child Care grants and expanded home-visiting programs for families.
Obama had earlier touted the importance of early education in his State of the Union address in February:
In states that make it a priority to educate our youngest children … studies show students grow up more likely to read and do math at grade level, graduate high school, hold a job, form more stable families of their own. We know this works. So let's do what works and make sure none of our children start the race of life already behind.
Do we indeed "know this works"? Not all congressional Republicans do, as The Wall Street Journal's Stephanie Banchero writes:
Rep. John Kline (R., Minn.), chairman of the House Committee on Education and the Workforce, said Wednesday that while he agrees children should have a "foundation" to succeed in school, "before we spend more taxpayer dollars on new programs, we must first review what is and is not working in existing initiatives."
Mr. Kline noted that House and Senate Republicans have questioned the effectiveness of the $7.6 billion Head Start program, which serves about one million low-income 3- and 4-year-olds.
It helps to begin by looking at where we are now: The United States currently sits just behind the Slovak Republic when it comes to preschool enrollments. "The U.S ranks 28th in the percentage of 4-year-olds in early childhood education, with a 69 percent enrollment rate," according to a 2012 report from the Organisation for Economic of Economic Co-operation and Development. Fewer than three in 10 four-year-olds are enrolled in high-quality preschool programs, the White House says.
Judging from those numbers, preschool enrollment doesn't appear to be a race we're winning. Even as some skeptics question whether that's a problem, there is a growing body of scientific evidence that suggests preschool makes a positive difference on a child's subsequent success and well-being. But questions over how long those benefits persist and which types of students benefit most are topics still being studied and debated.
One of the landmark studies on the benefits of preschool is what's known as the Perry preschool study. The New York Times leans on it in its pro-preschool editorial:
The most famous and frequently cited program was conducted at Perry Elementary School in Ypsilanti, Mich., during the 1960s, where the teachers focused on a creative process in which low-income children were encouraged to plan, initiate and discuss their learning activities. In addition to teaching the children for 2.5 hours during the school day, the teachers regularly visited their homes to reinforce the lessons and forge partnership with parents. Followed into adulthood, the Perry students were found to have lower dropout and arrest rates and higher incomes than those who had not attended preschool. Research led by James Heckman, the Nobel Prize-winning economist, concluded in 2009 that each $1 invested in the Perry program had returned a value of $7 to $12 to society.
The Perry study isn't an outlier: A great deal of peer-reviewed research on the benefits of preschool has taken place since.
In recent years, many universal preschool advocates and media outlets have pointed to Oklahoma as the gold-standard for such programs (This American Life memorably recounted how a Republican-dominated state was the first to pass publicly-funded preschool). Here's the Washington Post's Suzy Khimm on the effectiveness of the state's program:
The effort seems to be paying off. William Gormley and other researchers from Georgetown University's Center for Research on Children in the United States have conducted extensive, peer-reviewed research on Oklahoma's pre-K programs. They've consistently found that the children who've enrolled in pre-K outperform those who don't, across both racial and class lines.
While that seems like a fairly persuasive endorsement for preschool investments, Khimm goes on to point to out where the research is thinner:
However, there's still limited evidence of the long-term impact of a strong pre-K education for certain groups of children—and whether it's really the best kind of intervention. While there are some major studies showing the social and economic payoffs of pre-K for disadvantaged children, there isn't as much evidence about the long-term impact for middle-class children. What's more, many of the seminal studies about pre-K's long-term impact were limited to small sample sizes. Oklahoma's pool is far larger, but researchers are still gathering evidence about pre-K's impact in the long run.
While those methodological caveats seem fair, preschool advocates argue well-run quality programs confer lasting benefits to all demographics. Secretary of Education Arne Duncan recently tried to address early-education doubters directly in a recent Washington Post op-ed:
Skeptics of early learning say these programs "don't work" because some studies have failed to find major effects in later grades — the so-called "fade out." But that's not quite right.
The "fade out" cited here references a specific study that found the benefits of early-education among 3- and 4-year-olds had faded away by third grade. Duncan directly critiques the study, which many critics seize on when questioning the value of more early-education spending: "The study often cited by skeptics — the Head Start Impact Study — isn't a great comparison to the president's proposal," Duncan writes. His basic argument is that kids need to participate in preschool to get the claimed benefits (non-attendance was an issue in the study), and secondly, that the administration will ensure that federally funded programs are higher quality than those evaluated by this particular study.
We already know that health outcomes are tightly linked to education. If Duncan is right, and further studies confirm lasting educational benefits to students who attend preschool, then major public investments in preschool also become major investments in public health.
But unfortunately the success of Obama's push for universal preschool will likely have far more to do with politics than any emerging scientific consensus.
As education reporter Joy Resmovits writes in The Huffington Post, the measure is "no sure bet":
And even if Congress does pass the measure, it would not require states to actually expand preschool offerings. Rather, it would give incentives for them to do so, much like the Affordable Care Act. But the preschool incentive may be even less compelling to states than Obamacare, since Preschool for All doesn't help governors fulfill a federal mandate.
Less compelling to states than Obamacare? Universal preschool advocates might want to hold off the celebratory macaroni necklaces just yet.
Image by ronnie44052 via Flickr