The pandemic is fueling the race for a vaccine against a lesser-known virus that hits children hard
Image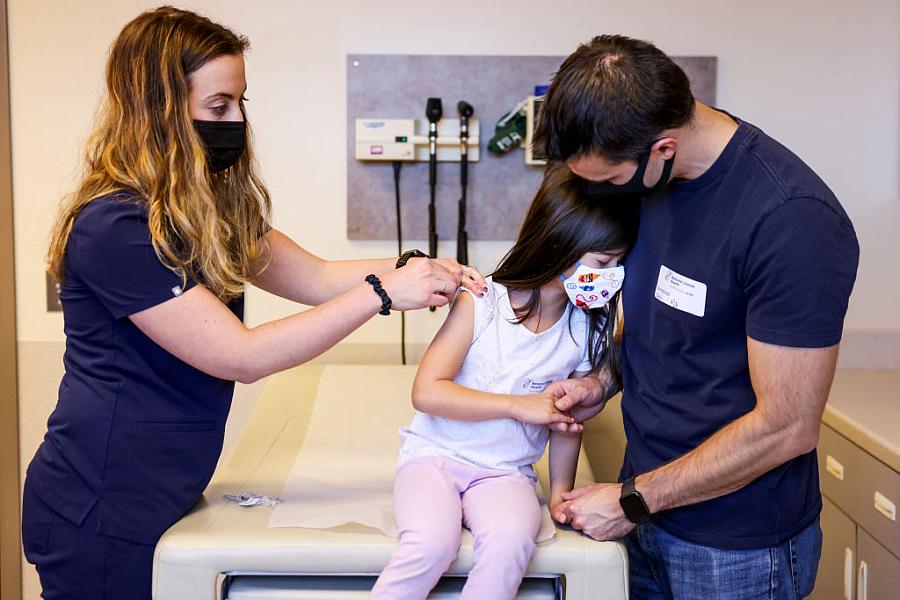 (Photo by Michael Ciaglo/Getty Images)
Published on
April 11, 2022
One after another, my two daughters got sick with what seemed to be a common cold — until their breathing slowed to a wheezy crawl and they could barely lift their heads or torsos. They both had to be hospitalized, tiny tubes in tiny nostrils, filling their pint-sized lungs with oxygen.
This was 2018, when a highly contagious virus rapidly spreading across the globe was still the domain of Hollywood screenwriters. No, my kids had respiratory syncytial virus, or RSV, which was discovered during the Eisenhower administration and has been giving pediatricians — and vaccinologists — fits ever since.
But fresh help may be on the way for the parents of babies and toddlers, in the form of vaccines and other preventive therapies for RSV. While the pandemic recedes from its omicron peak, health reporters still have plenty of stories to tell about how effectively the medical community fights other deadly viruses.
Dr. James Antoon, an assistant professor of pediatrics at Vanderbilt University Medical Center, told me what my kids went through is "extraordinarily common." 
"Parents of young children should be as worried about RSV as they are about COVID," he said. "RSV is the most common cause of hospitalization in children less than 2. … It's something we worry about every respiratory season between October and April, when our hospitals fill up with young children with RSV."
The virus is responsible on average for 58,000 hospitalizations and 100 to 500 deaths annually for kids under the age of 5. Most kids will get the virus by the time they turn 2, and their symptoms will typically be mild — unless they're not. About two of every 100 young children infected will spend time in the hospital. As with my otherwise healthy daughters, it's hard to predict which kids are more susceptible, although researchers are hunting for biomarkers that might provide clues.
Despite the severity of the virus, public awareness of RSV pales in comparison to COVID or even the flu. Even though I'm a health reporter, when my kids came down with it, I had trouble remembering the initialism. RS … what? COVID has obviously drowned out nearly everything else the last two years, medical or otherwise, but RSV is as or more dangerous for young kids.
"We pediatricians, we have a pandemic with RSV every single year," Dr. Asuncion Mejias, principal investigator in the Center for Vaccines and Immunity at Nationwide Children's Hospital in Columbus, Ohio, told me.
Currently, the only treatment for RSV is symptom management. A preventive monoclonal antibody injection exists for babies born prematurely (35 weeks or earlier) or with certain lung or heart conditions. As Antoon noted, "RSV vaccine has been one of the holy grails of pediatrics for a long time."
And that protective elixir may finally be within reach.
Scientists started testing an RSV vaccine in the 1960s, but its development took a major hit when two of the kids in an early trial died after contracting the virus. But researchers kept at it. We're lucky they did.
In 2013, scientists at National Institute of Allergy and Infectious Diseases were able to stabilize the RSV protein that helps cause infection, allowing them to devise strategies for attacking it. Those researchers later used their experience modifying viral proteins to do the same for the SARS-CoV-2 virus that causes COVID-19. They sent their findings to Moderna, whose messenger RNA technology delivers antigens to immune cells. (For further reading, check out these informative pieces in The New York Times, Nature and The New Yorker.)
"Given the heightened awareness towards respiratory viruses, we can and should use this momentum to build on newer platforms like mRNA vaccines for prioritizing preventable diseases in the future," Dr. Priya Soni, a pediatric infectious disease specialist at Cedars-Sinai Medical Center in Los Angeles, told me. "Right now, I am glad to see several vaccine candidates as well as a new monoclonal antibody treatment in late-stage clinical trials for RSV."
Two pharmaceutical companies have been testing RSV vaccines on pregnant women, with the idea being that they would pass on antibodies through the placenta and breastmilk. Newborns are particularly vulnerable to RSV in the first several weeks of life, a time when they're too young to be vaccinated.
Pfizer's RSV vaccine is in a phase III clinical trial, with data expected to be released by the middle of this year. The U.S. Food and Drug Administration recently designated it a breakthrough therapy, expediting the review and development process. 
GlaxoSmithKline, however, recently paused its late-stage trials, citing "further analysis to better understand safety data." (Vaccines for older adults are in the works too; the virus kills an estimated 14,000 elderly Americans annually.)
Also in development is a preventive monoclonal antibody treatment for healthy infants. The intramuscular injection would be given to them before their first RSV season. Phase III results, published in the New England Journal of Medicine in early March, found the shot prevented about 75% of medically attended lower respiratory tract infections, such as bronchitis and pneumonia, compared to placebo.
Those couple weeks my kids had RSV were among the scariest of my life. I remember the day I brought my oldest daughter, then 5, home from the hospital, only to find her sister, 3, lying on the couch, listless, laboring to breathe. My mother brought her to the doctor; the pediatrician rode shotgun in my mom's car to the emergency room, not wanting to separate from my barely conscious daughter until she knew she was safely in the hospital.
My kids each spent just shy of a week in a pediatric intensive care unit (something else I only remotely knew existed). There they were, for the first time, diagnosed with asthma. Antoon told me this is something of a "chicken or the egg" debate in the medical community: Do kids develop asthma because of RSV, or did they get the virus infect them so severely because they were predisposed to asthma? Scientists aren't yet sure. But it's another good reason RSV vaccines and preventive antibodies are currently being tested on humans.
Now would usually be the time of year when RSV cases are winding down. But because of COVID, the virus hasn't followed typical seasonal patterns either of the last two winters. And in 2021, it took the strange turn of surging during warm weather months, likely because young kids who would have otherwise caught it earlier in the year were learning from home or wearing masks.
Public health experts acknowledge that COVID-19 has at least made people more knowledgeable about how to reduce the spread of infectious diseases overall. But such tactics don't always work with little kids. Children under 2 — the age when they're most at risk of severe illness from RSV — are too young to wear masks anyway. RSV can live on surfaces, and there has been less emphasis on sterilizing those since COVID was determined to be mostly spread through the air. But we can be more careful around newborns, Mejias noted, exercising caution when kissing them and washing our hands often, as we await a vaccine for RSV.
"My hope is that we don't lose lessons learned from this pandemic, especially when it comes to what we can do to protect children from respiratory viruses and especially those children who are at highest risk of having severe disease from respiratory viruses," Antoon said.