The pandemic showed us how many American families are left hungry. Now's the time to change that.
Image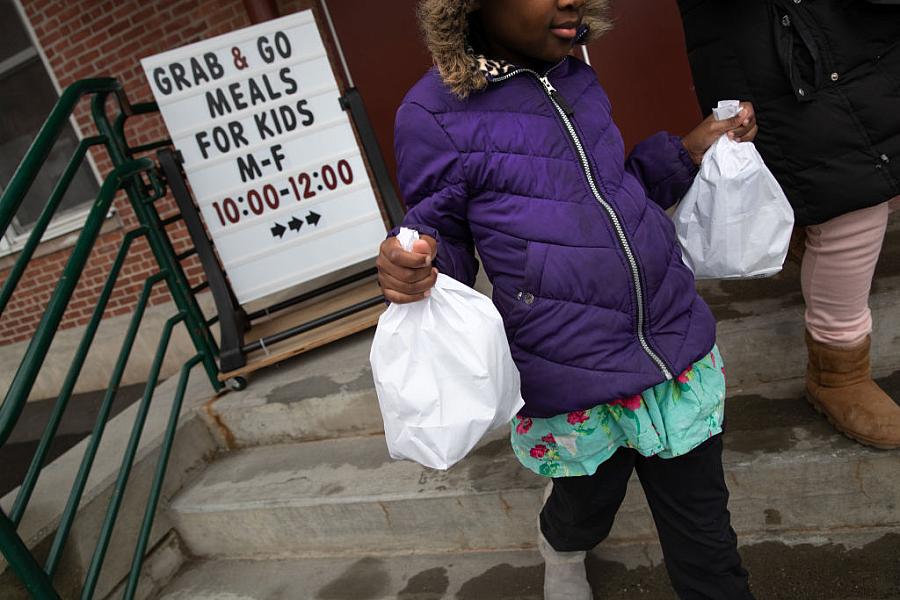 (Photo by John Moore/Getty Images)
Published on
June 15, 2022
It's hard to be healthy when you're hungry. 
According to the USDA, 38 million Americans don't have enough food to eat. Nearly a third of those are children. Black families are three times as likely as whites to experience what experts call "food insecurity" — not knowing where your next meal will come from. One in six Hispanic households are short on food, compared to one in 10 nationally. 
In the early months of the pandemic, the food insecurity rate doubled for American households and tripled for those with children. And while researchers found that racial and ethnic disparities did not widen during the pandemic, differences became more evident, according to a study in the Journal of Racial and Ethnic Health Disparities. "Black households were more likely to report that they could not afford to buy more food; Asian and Hispanic households were more likely to be afraid to go out to buy food; Asian households were more likely to face transportation issues when purchasing food; while White households were more likely to report that stores did not have the food they wanted," the study's authors write. 
Because of the disproportionate impact of poverty in America, lack of food is an issue in many Black and Brown communities. The COVID-19 pandemic shone a bright light on a problem that predated the virus. It illuminated the problem for millions of our neighbors whose health is at risk, not only because of a worldwide pandemic, but also because their refrigerators and cupboards are nearly empty. 
In March 2020, schools shut down while their meal prep ramped up. When classroom doors closed, two meals a day disappeared for many children. Before figuring out how to educate students stuck at home, schools had to figure out how to feed them first. 
One month into the pandemic, I launched a long-planned family engagement advisory team with the school district where I live in Montgomery County, Maryland. We planned to provide input on things like graduation and how to include families in learning. Those issues were put on hold. One of our first tasks was to help identify gaps in food delivery. The district opened meal distribution sites in high density, underserved communities. We needed more. I had so many messages from community members needing food that our PTA Council started keeping a list to share with school leaders. We heard from neighborhoods, apartment complexes and other areas that needed walkable distribution sites, because young children of essential workers learning at home alone couldn't cross busy highways to get lunch. Teens didn't have time to dash to school, pick up lunch, and get home in time for virtual afternoon classes. We had to adjust rules and hours because parents working second shift couldn't pick up their children's meals in bulk and get to work on time.
It turns out food insecurity isn't entirely geographic. A parent leader in one of our wealthiest neighborhoods — where the median income is three times the national average — called requesting meals for isolated families in her community, who lacked transportation to get to the nearest distribution site three miles away.
COVID taught us a lot about feeding people, especially children. Most significantly, we learned that nutritional standards matter because meals provided by schools are the only meals some children eat all day.  We learned that it takes a coordinated community effort by local leaders, restaurants, community groups and volunteers to feed the masses. We learned that rules and regulations that make sense in normal times can prevent people from being fed in a crisis. Leaders must be nimble, flexible and willing to exercise common sense to prevent red tape from getting in the way. And we learned that people may not know who to ask for help when they need it, or may be uncomfortable doing so. 
Now, we have the opportunity to use those lessons moving forward. The federal government responded to the pandemic food crisis by creating new food programs, expanding old ones and making existing programs more flexible. Agencies cut red tape so millions of people — many of them out of work — could eat. For example, USDA created waivers allowing parents to pick up meals in bulk for children to eat at home during virtual learning. The agency enrolled 6 million people in SNAP benefits after dropping its personal interview requirement. The IRS sent three rounds of direct cash payments – stimulus checks – to families in need. Real-time reporting of food insecurity waxed and waned with those payments. This is proof that permanent solutions are needed.
This fall Congress will decide whether to reauthorize and expand access and funding for child nutrition programs like SNAP, WIC, school breakfast and lunch — and lesser-known federal programs such as the law that provides $200 million a year for fresh fruits and vegetables in low-income elementary schools. In a May policy brief in Health Affairs, nutrition experts argue this legislation offers an opportunity to make changes enacted during the pandemic permanent, with improvements. One example: the federal government's Farmers to Families Food Box Program. Struggling farmers and food distributors shipped 175 million boxes of fresh produce, dairy and cooked meats to families across America. The program shut down May 31 due to massive problems, exacerbated by supply chain issues. That doesn't mean it won't work. It means that now, without the pressure of a growing global pandemic, the government can and should figure out how to run this program more efficiently.
The policy brief makes several recommendations, including keeping COVID policies that make it easier for families to qualify for food benefits, incentivizing the purchase of high-quality, fresh food, and more funding to help farmers and other agricultural producers stay afloat by getting healthy food to those who need it most.      
Now is the time to have this conversation, and to act on it. In a few months lawmakers will face the annual September 30 deadline to authorize funding. If they follow the pattern I saw for 18 years covering Congress, they'll miss the deadline. There will be arm-twisting, grandstanding and finger-pointing for months. Everyone will say they're frustrated but no one will act. At the end of the year lawmakers will go home to turkey dinners and holiday feasts while millions of people who sent them to Washington struggle to afford a ham sandwich.          
It's up to the representatives we elected to make food security a priority. It's up to us to remind them why that's important. Now is the time to use what we've learned in this pandemic to ensure that our neighbors aren't hungry, and that they have access to affordable, healthy food. 
Because as a coworker often reminded me: "People gotta eat."
**