Perseverance pays off when it comes to engaging Connecticut residents on rising wave of evictions
Image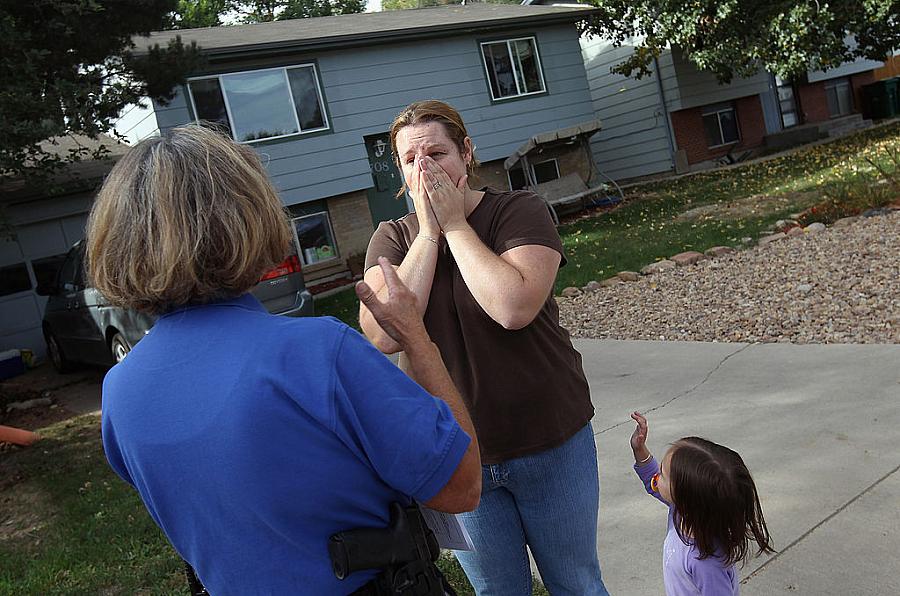 Published on
February 17, 2023
As the number of eviction filings in Connecticut started to stack up — at first a spike when the federal eviction moratorium was lifted, then rising higher after the state's emergency rental assistance program expired — I started to get calls from people facing eviction. 
Evictions rose across the country as COVID-era protections ended and people were still trying to catch up after financial losses incurred because of the pandemic. 
The calls were just here and there, but some sources I'd spoken to in 2021 when the federal moratorium was overturned told me later about the longer-term effects evictions were having on them. They couldn't find a new place to live. They couldn't bring themselves to unpack in their new homes. They had lingering respiratory problems after living in poor conditions. 
And lots of these people had kids. Research has shown that families with kids are routinely at a higher risk of eviction. The state may more closely scrutinize apartments with children because of issues such as lead poisoning. Child protective services might be called if the home isn't safe. 
Children, particularly when there are too many of them in one home, can also be harder on apartments, according to Matthew Desmond, principal investigator at Princeton's Eviction Lab. 
The challenge of reporting on how eviction impacts people — both in the short-term and the long-term — is finding the people most affected. Studies show us who is most impacted: largely women and people of color, and particularly women of color. 
And Connecticut has fairly detailed data on where these evictions occur most often, down to the ZIP code level.
But finding people to actually talk about their experiences is tough. For many people, eviction is shrouded in shame. It's traumatic and hard to talk about. 
In order to connect with people facing eviction, to get to know them well enough to write about them, and to understand what experiences around eviction were most common, we knew we had to do more. 
The Connecticut Mirror embarked on what turned out to be a fairly in-depth community engagement effort, beginning with two events in Connecticut cities with higher rates of evictions. 
The event was a partnership between the Mirror and a couple of legal aid groups focused on eviction and housing instability. The goal of this event, and one that came later," was to offer people access to legal aid and to hear their stories for our series "Notice to Quit, which examined the effects of eviction on children in Connecticut 
We spent weeks planning our first event in New Haven, coordinating details such as ensuring we had a translator, renting tables and chairs, making postcards, and scheduling people to work at the tables. 
Two people showed up to the first event. 
So ahead of the second event, we doubled down. We put up extra flyers, made even more social media posts, and asked organizations to share the information about our event in Hartford. 
Four people showed up to the second event. 
But, in the weeks that followed, our efforts started to pay off. The posters stayed up. They were plastered on bus stops, telephone poles, at libraries, near community centers and at laundromats. And people started to call. 
For a couple of weeks, I was fielding three to four calls per day from people facing eviction in Connecticut. Some were just looking for resources — they'd briefly tell me about their experiences, and I'd give them the information for legal aid.
But others wanted to be part of the series. While not all of them were featured in the stories, some were. And all of those conversations helped inform the reporting — it helped to understand which experiences were common. 
The events were just one of many community engagement efforts we made through the process of reporting "Notice to Quit." Here's a few things I learned through the process. 
1. Just because a community engagement effort doesn't immediately go the way you thought doesn't mean it's a failure. 
 I thought our events would be much better attended, and I left both of them feeling disappointed and unsure of what I could have done better to get more people to attend. In the weeks that followed, I talked to dozens of people who saw the event flyers about their eviction experiences. Sometimes engagement efforts can produce results you weren't expecting, so don't be too quick to count an effort as a failure. 
2. Clueing people in on your reporting process matters. 
Through my reporting, I met monthly with a group of service providers, researchers and housing attorneys to talk about my findings. This often helped by pointing me in new reporting directions. For example, when I mentioned that one of the families I met had to set up a new Individualized Education Plan after a move following their eviction, an attorney on the monthly meetings connected me with a colleague who focuses on education law. 
3. Sources who aren't accustomed to dealing with the media appreciate you explaining the process. 
A lot of the people I spoke with had never talked to a journalist before. They were sharing very personal stories and weren't sure about the process. So, I spent a lot of time explaining to people what a reporter does, the ways I'd report their story, how I fact-check articles, what "on the record" means, and what the next steps would be. It helped sources feel more comfortable and helped establish transparent relationships with tenants I interviewed.
4. Promoting your story is not a passive activity. 
The "Notice to Quit" series had good engagement after publication. Many people reached out either over social media or via email to share their thoughts on the story or to see how they could help the families who were featured. To get that kind of response, it's important to coordinate with your social media and audience engagement staff to make sure you have a plan. Ours included pre-writing social media posts and scheduling times to answer readers' questions on an Instagram Live and in a Reddit AMA. 
5. Keep a list of the other story ideas people give you. 
Both at our events and at another housing event I tabled at for our news organization, people had ideas and experiences related to housing news to share. I kept a separate notebook with a running list of story ideas, as well as who mentioned it to me and their contact information so I could follow up later. Taking notes as people talked, even if I wasn't planning a story immediately, helped indicate that I really was listening. And I came away from the project with more ideas to continue reporting on evictions in Connecticut.