Poverty as a Childhood Disease and the Health Care Expansion Among National Fellowship Themes
Image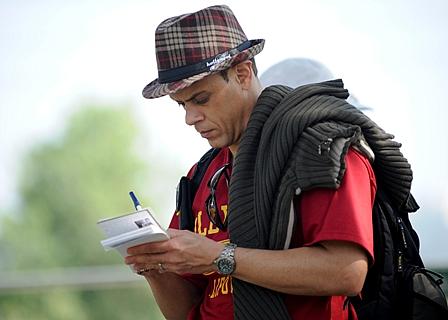 Published on
June 26, 2013
In just a few short weeks we launch the 2013 National Health Journalism Fellowship, opening with a July 14 keynote address by Dr. Perri Klass, a pediatrician and journalist. During our five-day program, we will tackle topics ranging from the country's historic health care expansion to health and homelessness. To follow along, check out our fellowship blog from July 14-18.
The Fellowship will bring together 20 competitively-selected professional journalists who join us from across the country. Each fellow will produce an ambitious project for their news outlet as part of their participation in the program.
Check back with us in the coming days to learn of our National Health Journalism Fellowship and Dennis A. Hunt Fund awards and for details of the projects being undertaken by our new fellows.
In the meantime, here are some highlights of the upcoming program:
Dr. Klass, director of New York University's Arthur L. Carter Journalism Institute, has intimate knowledge of what she calls the "toxicities" of poverty from a medical career treating children in safety net clinics. She shared some of her thinking on the topic in a recent column in the New York Times.
Poverty damages children's dispositions and blunts their brains. We've seen articles about the language deficit in poorer homes and the gaps in school achievement. These remind us that — more so than in my mother's generation — poverty in this country is now likely to define many children's life trajectories in the harshest terms: poor academic achievement, high dropout rates, and health problems from obesity and diabetes to heart disease, substance abuse and mental illness.
Robert Ogilvie, who has worked for decades in community development and planning, will discuss how urban design can affect health and opportunity.
During a half-day exploration of health and homelessness, we'll hear from Steve Lopez, a columnist for the Los Angeles Times, who will talk about his reporting on Skid Row. He'll also share details of his efforts to help Nathanial Ayers, a former Juilliard violinist, to escape the streets and find treatment for his schizophrenia, with mixed results.
That will set the stage for a trip in the field that explores Los Angeles County's innovative approach to addressing the health problems associated with homelessness. The county's public health department has begun to provide chronically homeless and chronically ill adults with housing first, then offer an array of services to treat physical and mental illness. We'll visit a 10-unit apartment building near Compton, where 10 formerly homeless individuals live in safe, affordable apartments with access to an array of supportive services. Then, we'll head to Skid Row, where an architecturally striking new apartment building, with a health clinic on the ground floor, will soon provide safe housing to 102 homeless adults with chronic medical problems.  The Fellows will hear from Marc Trotz, director of housing for health, for the Los Angeles County Department of Health Services, who leads  the health department's effort to house 15,000 homeless people within the next decade; We'll also hear from Dr. Paul Gregorson, director of a Skid Row clinic that serves the homeless and Mike Alvidrez, executive director of the Skid Row Housing Trust.   
We host several panels on health care reform as well as a visit to the Edward R. Roybal Comprehensive Health Center in East Los Angeles. We'll hear from Martha King, a health policy expert from the National Conference of State Legislatures, on the different approaches being taken by states to health care reform, and by Martine Apodaca, campaign manager for Enroll America, who will explain how the national organization is using strategies honed during the Obama presidential campaign to reach out to the many Americans who stand to benefit from Obamacare. Richard Figueroa, director of health and human services at The California Endowment, will brief reporters on why California's implementation efforts puts it in the national spotlight. 
Health care leaders or advocates from  three states that are taking very different approaches to expanding health care access -- California, Arizona and Texas -- will explain how political considerations are shaping their states' activities, as well as what's going to happen to people who are ineligible for Medicaid and can't afford private insurance. Fellows will also hear concerns and perspectives of employers, safety net clinics and hospitals. Sarah Varney, a staff writer for Kaiser Health News, will provide tips about covering the biggest health story in decades.
Fellows also will hear from two reporters who have devised innovative ways to increase their communities' engagement in their reporting. Kate Long, a reporter for the Charleston Gazette and a 2011 National Health Journalism Fellow and Dennis Hunt grantee, will talk about how she used her 60+ part series to mobilize an entire state to begin taking its obesity epidemic -- the worst in the nation -- seriously.  The series led to the convening of a legislative commission, the development of healthy eating curricula, new partnerships between local governments and health care providers and a host of other developments.   
Marshall Allen, a reporter for Pro Publica, will explain how he and his colleagues have used Facebook and an online questionnaire to build a database of hundreds of patients and health care providers who contributed to their stories on medical errors.  
The Fellowship week will conclude Thursday with a presentation on racial, ethnic and income-related health disparities  by Thomas Laveist, director of the Hopkins Center for Health Disparities Solutions.