Programs seek to give kids facing trauma and poverty a better future by wrapping the whole family in services
Image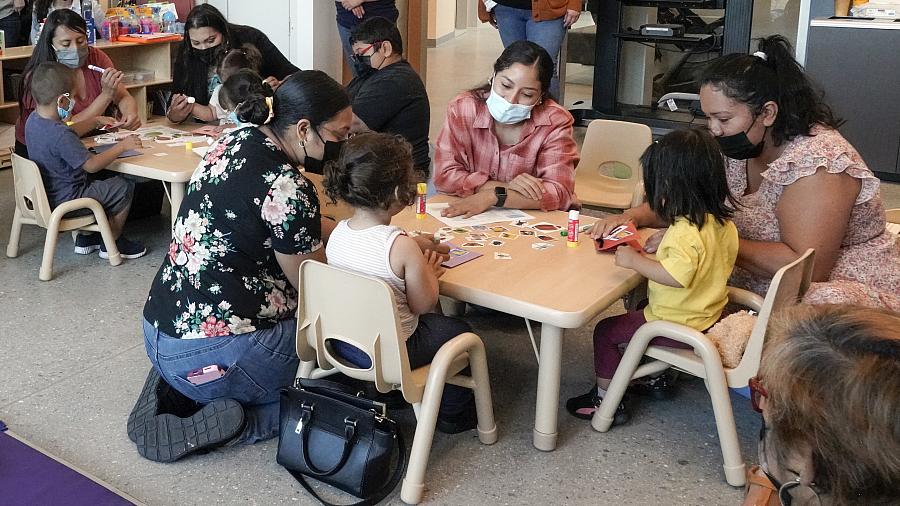 Published on
July 19, 2022
Even when a resource is in their own backyard, people often don't take advantage of it.
That's not the case for Children's Institute in Watts.
The organization offers early childhood education and mental health programs for kids and parents, and their new building is emerging as a community center. The organization operates under the principle that children's development is intertwined with their caregivers' wellbeing, which is in turn influenced by their community.  
To learn more about what a two-generational approach to mental health care looks like in the context of a community, reporters taking part in the USC Center for Health Journalism National Fellowship recently visited the institute's stunning new facility, designed by architect Frank Gehry, in the heart of Watts, one of poorest areas in Los Angeles. 
"What we're really trying (to do) is to help families achieve economic mobility," said Martine Singer, president and CEO of Children's institute.
Singer said educational success and emotional wellbeing are the foundations for economic mobility. Mental health and economics have a two-way relationship. That is, a child's mental health can impact their long-term economic status, and poverty can impact mental health, according to a 2018 report in the journal, Nature.
"I believe in early education," said Monica Moralomeli, a parent who lives nearby. She said the institute's programs helped her older children, 8 and 10, who have autism.
Currently, Moralomeli and her 14-month-old son Kenji participate in a home visitation Early Head Start program. This was their first visit to the center. Kenji, whose development is on track, was happily playing with the books and toys in the toddler room, oblivious to the reporters observing him. 
"It's not just about the educational milestones for the kiddos. It's also about health," said Ana Palacios, director of the institute's home visitation program.
Head Start and Early Head Start are federally funded programs designed to help disadvantaged children younger than 5 enter kindergarten ready to learn, or "school readiness."
These national programs to ensure that the kids have nutritious food and regular medical care, including checkups and vaccinations. 
Palacios added that social-emotional development is an important focus given the elevated risks for trauma in the areas they serve. Young children can't easily achieve school readiness without mastering emotional regulation, which is the ability to control one's emotions. 
Children who have experienced trauma, such as abuse, neglect or poverty, or have an emotionally unavailable caregiver are at higher risk for emotional dysregulation. Uncontrolled emotions in young children often manifest in behaviors such as screaming, hitting, hurting others or social withdrawal. 
Researchers have demonstrated that building resilience in a child, including those with previous trauma, can occur within the security of a stable relationship with a supportive, caring adult. A strong community that offers children and their families resources, such as libraries and grocery stores, economic opportunities and a chance for connecting with others can also help build resilience. 
"If a child's (behavioral) needs go beyond the classroom, we are able to refer to our internal BHW (Behavioral Health and Wellness) programs," said Justine Lawrence, vice president of the institute's Head Start. The behavioral program may provide services such as parenting classes or intensive therapy on-site.
For children with high needs due to extensive trauma or other behavioral and emotional problems, the organization offers therapeutic day treatment. "This looks like a regular preschool but includes mental health, and the primary work is with the caregiver," said Jesus Parra, vice president of Behavioral Health and Wellness.
A separate community schools program run by the institute provides trauma-informed services on a few local school campuses. Programs cater to infants, children and adolescents, pregnant people, transitional age foster teens and adult caregivers. 
Angelica enrolled her daughter, now 2, in Early Head Start early in the pandemic, after seeing how excited she was watching her big brother's classes on Zoom.
"I saw her interest in learning, so I wanted to help her and help myself to teach her, because she's very curious," said Angelica.
Her husband lost his job when COVID-19 started. She said her daughter's teacher encouraged her to join therapy, which was taboo growing up in a traditional Mexican family. 
"I didn't want my kids to have my traumas, so I took the steps to go to therapy," said Angelica. She said to be a better role model for her kids, she's planning to return to school to get her high school diploma.
Many families are connected with parent-child support programs through Los Angeles County child protection services (CPS), which was the case for several of the panelists who spoke to fellows at the institute. 
Rodrigo and Isaiah are single fathers active in Project Fatherhood, a program which provides parenting skills and support groups for men in caregiver roles. CPS has been involved in both men's lives. Rodrigo said he sought out the program because of a custody battle with the mother of his kids. Isaiah said he was sent by the court after his daughters' mother had an open CPS case.
"They help me and support me in any situation. We have a network of fellas just like me," said Isaiah. He has shared custody of his twin 10-year-old girls, whom he describes with visible pride. He added, "I wanted to do something to better myself and benefit my daughters." 
A stable relationship with responsive caregiver is essential for a child's healthy development, according to Harvard researchers. Programs like those offered by the institute can help. 
Parra of the Children's Institute said, "If we can affect a parent, foster parent, biological parent or any caregiver, who is essential in the life of this child, that's where we can make a difference."