Salmonella outbreak from 'scrape' yellowfin tuna continues to sicken many
Image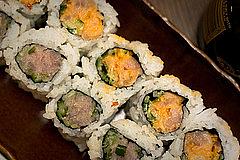 Published on
April 17, 2012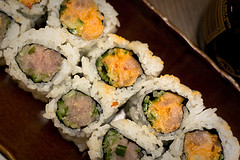 Food Safety: So far 116 people in 20 states have been sickened by salmonella associated with yellowfin tuna. Here's the CDC page on the outbreak. The tuna in question is a ground meat known as scrape - that sounds similar to "pink slime" - reports Nancy Shute at NPR.
Wellness: People with a higher quality of life don't get sick as much and cost less to take care of when they do. That's leading some to look beyond what is normally thought of as medicine for better ways to reduce costs writes Laura Landro for The Wall Street Journal.
Medicare: Last month, doctors in the Midwest received the first reports from Medicare on the quality and cost of their care. Under the Affordable Care Act, all doctor's pay would eventually be tied to the quality of their care. The trick is measuring quality, and rewarding the right people, reports Jordan Rau for Kaiser Health News.
Health Reform: There's just one problem in the calls for market-based reforms to bring down health costs - markets don't work when people have no idea how much they are paying. Merrill Goozner explains the barriers to price transparency for The Fiscal Times.
Abortion: In Mississippi the governor signed a bill into law that could put the state's only abortion clinic out of business, reports Richard Fausset for the Los Angeles Times. In Washington a bill that would have required insurers to cover abortions failed to muster the votes needed to pass, reports Christian Torres for Kaiser Health News. And in Idaho a lawyer is taking unusual legal measures to challenge the state's recently passed anti-abortion law (AP).
Want more from Reporting on Health? Join us, sign up for our newsletter, like us on Facebook or follow us on Twitter. Check out our Tumblr, too!
Photo credit: Jeremy Lim. via Flickr