The Supreme Court closes the book on a Trump-era policy that kept immigrants from obtaining essential government benefits
Image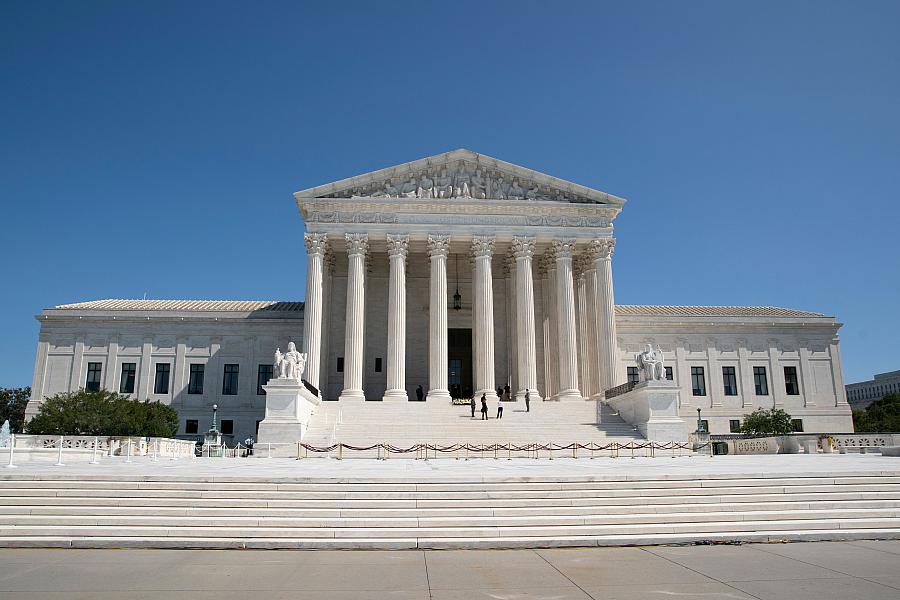 Photo by ALEX EDELMAN, AFP via Getty Images
Published on
June 21, 2022
In 2021, President Joe Biden threw out a Trump administration rule that had a crushing impact on immigrants. Known as the public charge rule, it allowed the government to deny green cards to people who received Medicaid, food stamps, rental support and other essential non-cash aid.
But even though the rule was gone it cast a long shadow. Surveys showed that most immigrant households in the country did not know it had been rescinded, said Daniel Sharp, chief of Los Angeles County Office of Immigrant Affairs. And those who understood the rule had been lifted wrestled with the possibility it could be reinstated, because more than a dozen states sued to do just that. Whether because they mistakenly believed the public charge rule remained in effect, or they felt vulnerable while the legal battle dragged on, many immigrants did not take part in government programs their households desperately needed even though public charge rules cannot be enforced retroactively.
Last week, the U.S. Supreme Court rejected the states' effort by preserve the Trump rule. The decision, in  Arizona v. City and County of San Francisco, ensures that eligible immigrant families can use certain safety-net programs without hurting their chances for legal residency.
"Households can safely access housing, nutrition, and many other benefits without concern for an impact on their immigration status," Sharp said.
Longstanding federal regulations have allowed immigration authorities to deny green cards to people deemed likely to become a public charge because they received cash benefits such as General Assistance of Supplemental Security Income, SSI. The Trump rule, finalized in late February 2020, expanded the definition of public charge to include recipients of non-cash assistance. Immigrant advocates predicted the rule would not only make it more difficult to obtain a green card, but also have a chilling effect on immigrant participation in government programs for people with low incomes.
Research bore that out. Census data showed that participation in programs such as Medicaid and food stamps declined among non-citizens and their U.S.-born children after the rule took effect, which, coincidentally, occurred just as the COVID-19 pandemic took off. 
The Supreme Court decision comes as a relief to people like 33-year-old Gina, who emigrated from Russia 10 years ago and is in the process of obtaining her legal permanent residency. She is a stay-at-home mom of a 1-year-old daughter. The family is struggling to get by on her husband's income. 
Before she gave birth, Gina, who didn't want to provide her last name, had health insurance through her job. Once she stopped working, she enrolled her daughter in Medi-Cal, California's version of Medicaid, and Gina signed up for LA Care, the Los Angeles County health care plan. But she didn't apply for other services such as Special Supplemental Nutrition Program for Women, Infants, and Children (WIC) or CalFresh, California's food stamp program, because she worried about jeopardizing her immigration process.  
"It was my idea that any type of government help was considered a public charge," Gina said. 
Marisol, a 58-year-old immigrant from Mexico, understands that concern. She recently went to renew her emergency Medi-Cal, but a new law in California allowed her to roll over to full Medi-Cal coverage. She hesitated. She does not currently have a path to legal residency, but in case the opportunity ever opens up, she does not want to risk being considered a public charge even though past participation in such programs cannot be penalized after such rules go into effect.
"I'm very healthy, I don't take medication, I don't have preexisting conditions and, if anything, I just need the Medi-Cal for the dentist and optometrist," said Marisol, who declined to give her last name. "If someone told me Medi-Cal could affect my legalization, I would reject it right away."
Some programs were never part of the Trump public charge rule but still confuse families. These include the Children's Health Insurance Program (CHIP), school lunches, food banks, shelters, child care assistance, and student loans and grants. Unemployment insurance, tax credits, stimulus payments, and COVID-19 health-related services also never fell under the public charge designation, explains the LA County Office of Immigrant Affairs. And some families of "mixed status," with children with legal status and parents without, opted out of all such services, even for children with citizenship, out of fear in the climate of uncertainty.
This month, U.S. Citizenship and Immigration Services updated its public charge resources webpage to provide information on the benefits that do and don't jeopardize a green card application.
Adriana Cadena, director or the Protecting Immigrant Families coalition, said it is important to know that in mixed-status families, a U.S. citizen's use of public programs never affects an immigrant relative's immigration status or applications. 
"Even under the now-reversed Trump public charge policy, a U.S. citizen child's use of health or social services programs had no immigration consequences for their immigrant parents," she said.
She said the Supreme Court's dismissal of the "frivolous lawsuit" clears the way for the Biden administration to finalize a public charge policy that strengthens protections for immigrant families. 
But since the next president could reinstate a broader public charge definition, without comprehensive immigration reform, immigrants will remain vulnerable to the rules, whims or anti-immigrant fervor of the moment.